Changing narratives − Ashoka alumnus gets selected for the coveted IFSA 25 Under 25
Md Faiz Yusuf, an Ashoka alumnus, recently got selected for the prestigious IFSA 25 Under 25 Class of 2021.
Shreya Chatterjee
1 November, 2021 | 4m read
Today, let me tell you about Md Faiz Yusuf, a 2021 Ashoka graduate who recently made it to the illustrious cohort of the IFSA 25 Under 25 Class of 2021. Founded in 2014 at the Erasmus University in Rotterdam, Netherlands, the International Finance Student Association (IFSA) is one of the largest global non-profit organisations in the field of economics, finance, and management. Ever since it was established, the IFSA Network has been committed towards providing its members with personal growth, network expansion and international opportunities to help them kick-start successful careers in finance and beyond.
Ashoka was invited to apply to the premiere edition of the flagship initiative by IFSA Network 'IFSA 25 Under 25', aimed at recognising the journey of young and talented individuals who have surpassed all barriers to achieve remarkable feats in their career at such a nascent stage in their life. And Yusuf is one among them, from around the world.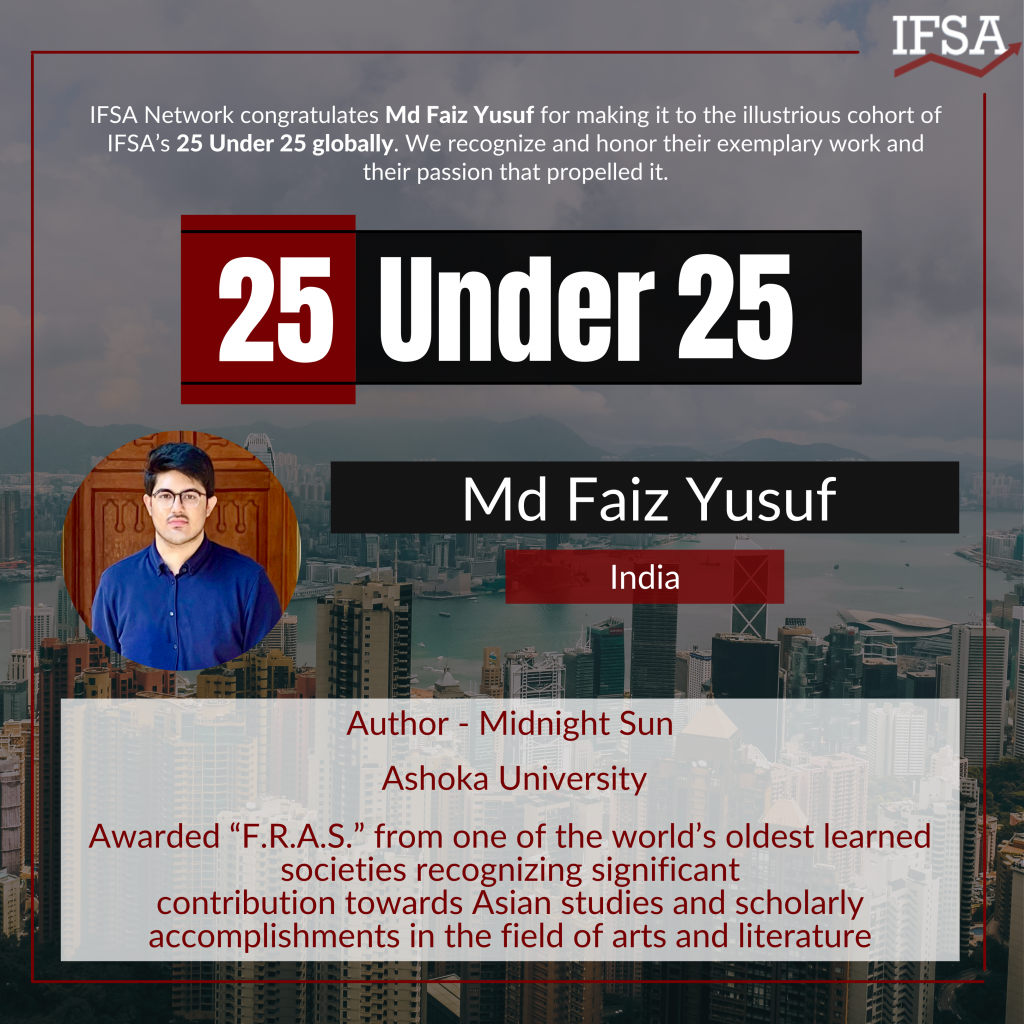 I asked him how he was feeling, to which he exhilaratingly replied that the feeling has not sunk in, quite yet!
"Operating through its chapters in the esteemed educational institutions across the globe, IFSA network has always been at the forefront of leading change, driven by the best young minds," said Yusuf.
The selection process for the initiative was quite rigorous as it saw an overwhelmingly large number of applications from brilliant young minds across the globe. As a post of IFSA read, "The jury had a hard time choosing the final 25 from a host of exemplary minds.
"These 25 young achievers, through their diverse endeavours in a multitude of domains, have successfully carved a unique place for themselves. Their stories of success reflect the passion and tireless effort that went behind what they have achieved today. These are people who went beyond doing just the bare minimum, people who treaded the path less travelled by.
We feel honoured to recognise these young talents. Through this felicitation, we aim to take their stories to the global stage. We aim to inspire others to not give up on their aspirations and keep their passion alive."
Yusuf's talent and achievement know no bounds. For the 2021 IFSA cohort, he was elected as a Fellow at the Royal Asiatic Society of Great Britain and Ireland, known as one of the world's oldest learnt society. And guess what – he is the first Ashokan to be inducted. He was also awarded "F.R.A.S." (Fellowship at the Royal Asiatic Society) for his scholarly accomplishments in the field of arts and literature. The Society's past Fellows include Nobel laureate Rabindranath Tagore and British advocate Sir Alexander Johnston, among many more.
His stand-alone projects include writing poetry, for which he was featured on Indian television channels like DD National (special masterclass episode aired on DD Bihar and DD Rajasthan teaching students from unprivileged background the intricacies of poetry writing), All India Radio and London Spin Radio.
In addition to all of these, he has steadfastly contributed to meetings, and was actively involved in research in collaboration with other Fellows.
I asked him how it felt to be a changemaker, to which he responded, "I always imagined what it would take to be a "changemaker." While I stand very early in my journey of rightfully owning that title, I genuinely feel that going against the currents and challenging what is now accepted but is not necessarily the right path — or your path for that matter — has its dreadful risks. Still, then again, a myriad of a few calculated and sometimes even reckless ones lead to something like this.
"I am incredibly grateful for being recognised for the efforts of not just me but people around me that have helped me shape these aspirations into now what seems to be coming close to reality."
His humility, and the sincerity in which he said, astounded me. It is so lovely to see young grounded individuals at Ashoka who are going onto to do amazing things.
Yusuf majored in Economics while pursuing a concentration in English during his undergraduate studies at Ashoka. His liking for Economics and Creative Writing are as he said, "intertwined, which has now resulted in me finding a passion for what seems to me like their perfect intersection — marketing."
Talking about Ashoka, he heaped praises on his alma mater. He continued, "When Ashoka says it stands for interdisciplinary education, I stand as a testament to its extent of genuineness and utility. The notion that I was able to pursue Economics as my major, alongside taking up courses in Literature, Sociology, History, and Psychology, continues to amuse me. It allowed me to broaden my horizons and supported me in ways I could not even imagine.
"For instance, I took three literature courses with the brilliant Prof. Alexander Phillips, Assistant Professor of English at Ashoka. His scrutiny of my written papers allowed me to reduce redundancy, develop authenticity and ensure precision in my word choices. These learnings have long journeyed with me into today, where I work for the Columbia Business School Professor Dr. Hitendra Wadhwa's firm as a Marketing Associate and utilise these skills in brand management and content marketing where one needs to create maximum impact in the least amount of space."
He further added, "Moreover, I was able to take a semester off to work on my third book and complete the courses I missed at the London School of Economics and Political Science during the summer to graduate just in time. I am aware that it is not even a possibility in most other institutions, yet Ashoka was incredibly supportive of my decision."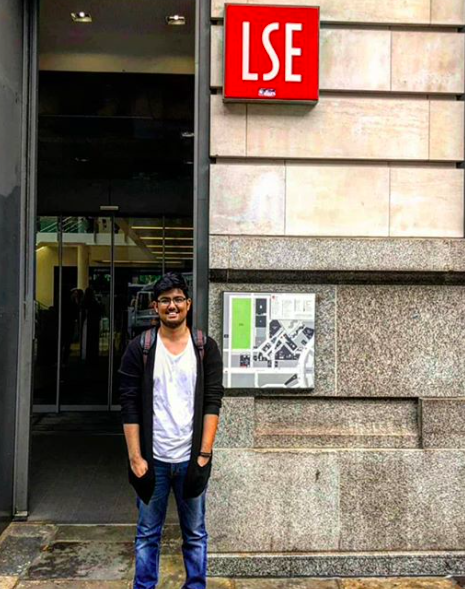 By this time of the interview, I am well aware of his modest nature. "I firmly believe it would not have been possible for me to secure offers from Northwestern University and ESSEC Business School, if it had not been for Ashoka's reputation, owing to its faculty, alumni and global rankings," said Yusuf.
During his first-year of the undergraduate degree, he got an opportunity to intern for HarperCollins Publishers, an experience which he described as "life-changing as I found my calling there." As a marketing intern, he was able to join the former IMF Chief Economist and former Governor of the Reserve Bank of India, Dr. Raghuram G. Rajan for a press tour for his book. He said, "In the press tour I felt gratified to explore areas where I did not have to compromise either of my passions.

Yusuf eventually went onto work for the Penguin Random House, UNESCO and Times of India, where number crunching and creative intellect went hand in hand. He reminisced, "Being able to delve into both these fields and utilise one's learning in the other fostered my growth professionally, especially since employers today look for a more holistic approach in a candidate rather than one skill set in isolation."
Post-Ashoka, he worked at Mentora Institute, a New York-based executive training firm serving Fortune 500 companies. Recently, Yusuf received an opportunity to share his insights as a writer and a marketer at the Warwick Economics Summit, alongside the Nobel laureate Muhammad Yunus, Queen Rania of Jordon and other world leaders.
Yusuf's quest is very simple. "I intend to use these platforms to help in breaking the traditional archetypes of marketing to adapt to more sustainable, ethical business practices. Alongside, I also wish to keep pursuing my passion for writing," he said.
At present, he is pursuing a Master in Marketing Management programme at the ESSEC Business School's Singapore campus. All the while in this interview, Yusuf has shown his passion for marketing. But I wanted to know about his deeper love for the domain, to which he responded, "As an author, I realise the importance of guiding the overall narrative for a business to achieve its pursuit. Indeed, marketing creates demand for a product, but its synergy with prudent brand management sustains that demand in the long run. I intend to leverage the digital marketing skills I gain at ESSEC to become a stakeholder in extending the idea of a product beyond its commerce and sales to drive sustainable, long-lasting cultural and societal shifts."
His latest book 'Midnight Sun', a compilation of poetry is going to be published soon by Emerald Publishers.
Md Faiz Yusuf is an author, a marketer, a changemaker and I hope that he continues to do such incredible things time after time. Ashoka congratulates his incredible feat!