Amherst College's Professor Amrita Basu visits Ashoka Virtually
In collaboration with the Office of Global and Strategic Programmes (GESP) and the Department of Political Science, Professor Basu gave 3 lectures that spanned November 2021 to January 2022 and were delivered on zoom.
Ashoka was delighted to host the second faculty member from Amherst College, Prof. Amrita Basu virtually under the existing Faculty Exchange agreement signed between the two institutions in 2019. Professor Amrita Basu is Domenic J. Paino 1955 Professor of Political Science, and Sexuality, Women's and Gender Studies; Chair of Sexuality, Women's and Gender Studies.
In collaboration with the Office of Global and Strategic Programmes (GESP) and the Department of Political Science, Professor Basu gave 3 lectures that spanned November 2021 to January 2022 and were delivered on zoom.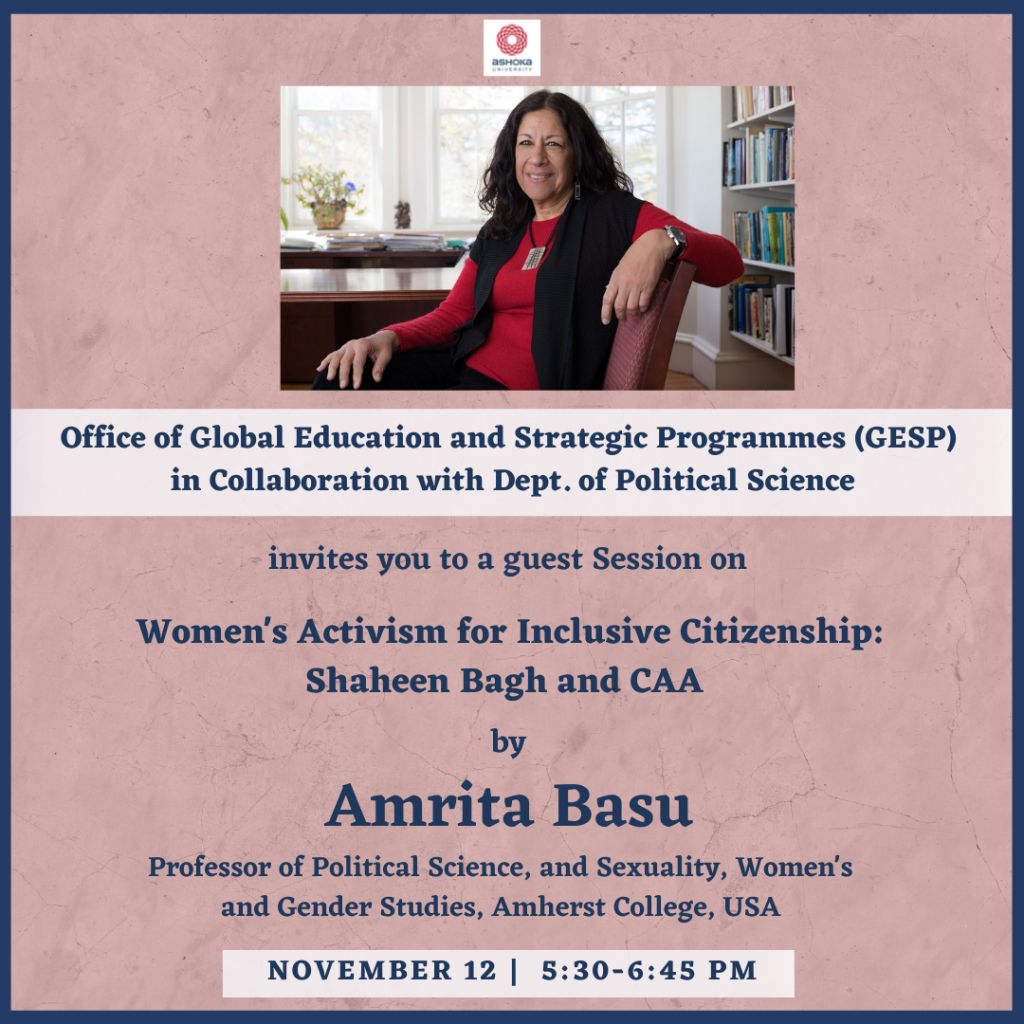 The first of these talks was on "Women's Activism for Inclusive Citizenship: Shaheen Bagh & CAA" (November 12, 2021). The talk analyzed the Shaheen Bagh sit-in from December 2019 to March 2020 against the government's passage of the Citizenship Amendment Act (CAA) which provides non-Muslims accelerated paths to citizenship while threatening to displace Muslims. Prof. Basu traced Muslim women's experiences of displacement since Partition to their roles in resisting the CAA. She attributed the protest's strength and longevity to women's leadership, demonstrating how gendered modalities of protest champion inclusive community-based citizenship.
Prof. Basu's second talk was on "Women, Dynasties and Democracy in India" (November 29, 2021). In this presentation she highlighted how in the past few national elections, women from dynastic families (i.e., who had a male family member precede them in office) were far more likely than non-dynastic women to be elected to parliament. Dynasticism has been more important to the electoral success of female than male candidates. She argued that in the absence of reservations, dynastic ties enable women to achieve greater political representation than would otherwise be possible. The broader theme of the talk was the relationship of dynasticism to democratic politics.
Her third presentation on January 31, 2022 was entitled, "Enlisting the Rudolphs to Chart the Path from Mahatma Gandhi to Narendra Modi." This talk drew on the scholarship on Mohandas Karamchand Gandhi by Lloyd and Suzanne Rudolph to understand Prime Minister Narendra Modi's affective appeals. Comparing Modi, one of India's most powerful post-Independence leaders, and Gandhi, India's most powerful pre-Independence leader, enabled her to explore the temporal influences on charismatic leaders. She highlighted that as the Rudolphs argue, Gandhi's leadership of the freedom struggle resulted in part from the social and psychological costs of colonialism, while Modi gives expression to deep seated resentments at elites who possess wealth, education, and social connections. Modi's ascent reflects both the success of democracy in generating aspirations for a more level playing field and popular disenchantment with the failures of democracy to dismantle hereditary social and political power. However, she highlighted that as the Rudolph's pointed out, it is vital to recognize the agency of political leaders in fashioning a response to the conditions of the times. She pointed to the significant contrast in the views of Gandhi and Modi on nationalism.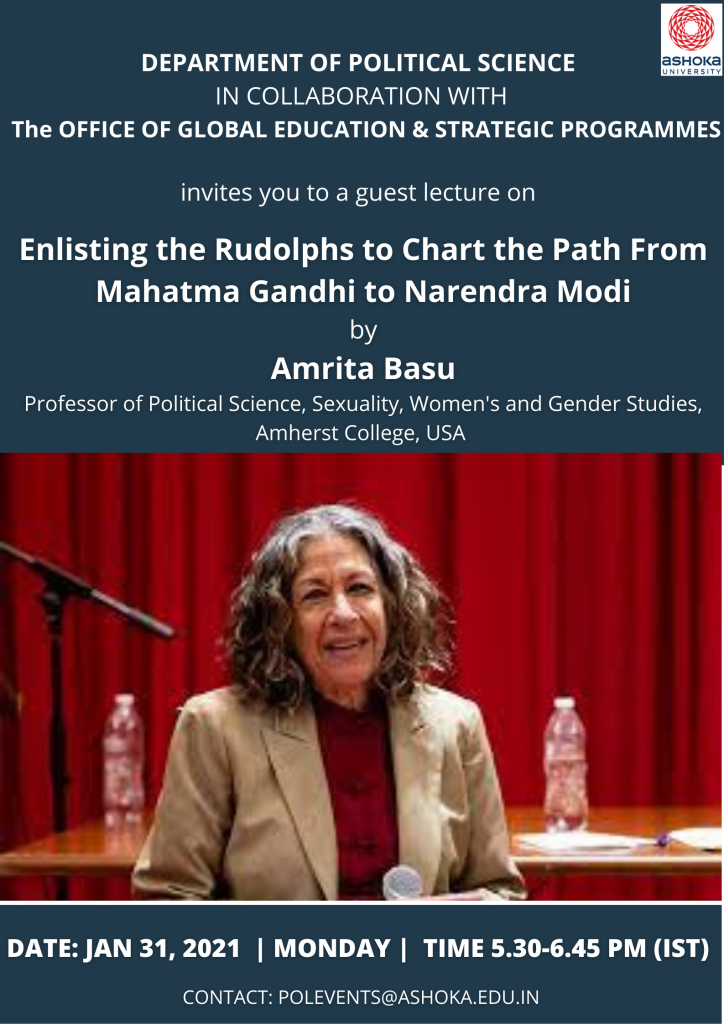 Prof. Basu enjoyed her experience and had this to say, "I thoroughly enjoyed interacting with the wonderful Ashoka University community. I was especially impressed by the students' thoughtful comments and questions. I look forward to returning to the Ashoka campus and to having some of you visit us in Amherst in the near future."
Prof. Gilles Verniers, who hosted these talks on behalf of the Political Science department said, "I want to thank Prof. Basu for her three talks. They have been much appreciated both by students and faculty, and led to further discussion and debates into some of our classes. We will be happy to host her again for similar engagements, and dearly hope that she will be able to visit India and our campus in-person soon."
In the continued efforts to build stronger ties between Amherst and Ashoka through the Faculty Exchange Agreement, Ashoka University looks forward to sending a Faculty member to Amherst College this spring and facilitate exchange of ideas and institutional cooperation.