Ashoka Outreach Impact: The Nanakmatta Story
The outreach team of Ashoka University shares how their visit to Nanakmatta Public School turned out to be a significant one
One of the core visions of Ashoka University is to ensure that students from different cultures, geographies and socio-economic backgrounds have access to world-class education. In the quest to realise this vision, the Office of Outreach traverses great distances to craft success stories in order to fulfil our commitment to provide equal opportunity to all.
While travelling to these rural and semi-urban areas, our team often comes across educational institutions, educators, and students who truly make all the challenges faced along the way worthwhile.
The outreach team's visit to Nanakmatta Public School, nestled in the small town of Udham Singh Nagar, 100 kilometres from Nainital, turned out to be one such adventure that made a significant impact not just on the lives of the students of the school but also on us.
A school in the Kumaon region of Uttarakhand, Nanakmatta is a collective of citizens who envision a holistic learning space for their students. Having students from diverse social and economic profiles, the majority of them come from rural backgrounds and represent the middle and lower socio-economic communities. While 95% of them are first-generation English-medium school-going kids, 20% of them belong to families below the poverty line.
The school's founder, Mr Kamlesh says, "Nanakmatta's vision is trying to build a student agency in the rural areas with a special focus on 21st-century skills which have a broad universal approach to thrive in the world."
When the Outreach team went to the school for a session, we started with a brief introduction about Ashoka University as a place of higher learning and the value of interdisciplinary education. Educating them about the concept of liberal education, our team members emphasised the importance of co-curricular activities in a student's personal growth and development. Ashoka's commitment to making quality education accessible through need-based financial aid, ensuring that deserving candidates have access to quality education, especially struck a chord with students.
The impact of this extensive outreach initiative became evident through the submission of applications from Nanakmatta Public School – a notable first. In 2022, out of the two students from Nanakmatta School who applied to Ashoka, 1 secured admission!
This success inspired a significant increase in applications in 2023, with four students securing admission at the university, three of them being girls! What's also noteworthy is that each of these students received 100% financial aid.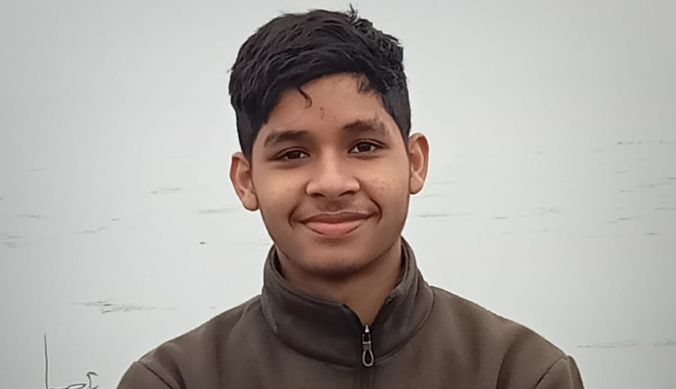 An alumnus of Nanakmatta Public School and a second-year student at Ashoka, Mohit Joshi, reflects on his initial year at the university as a period of self-discovery. He expresses, "From formulating my application to acclimatising to university life, Ashoka has consistently offered support. As my perspectives and convictions are challenged daily, this journey propels me towards realising my latent potential."
Talking about Ashoka, Mr Kamlesh says, "All of our learners are first-generation students in their family, to get higher education only because of the financial support offered by Ashoka." He further adds with pride, "When the story of these students spread in the community, it inspired hundreds of students as well as the parents. Now a mother engaging in household work can also dream about having her children have access to higher education. Ashoka University has truly been an enabler to people from rural backgrounds!"
Stories such as this are a testament to Ashoka's mission of empowering individuals from diverse socio-economic backgrounds. It ensures that education serves as a conduit for improving lives, unhampered by financial constraints.