Ashoka Ph.D. student awarded the prestigious Inlakhs Research and Travel Grant 2020
Himani Upadhyay, a third-year Ph.D. student in History has been awarded the grant; she will be consulting archives in London for her PhD research.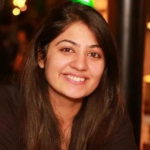 Yukti Arora
2 September, 2021 | 4m read
Himani is a third-year PhD student in History working under the supervision of Prof. Aparna Vaidik (previously with Prof. Mahesh Rangarajan). She has been awarded by the Inlaks Shivdasani Foundation. IRTG is a Research and Travel Grant awarded to PhD students in Indian universities for short-term research visits abroad.
Himani joined Ashoka in 2018 as a part of the first batch of History PhD students. She completed her M.Phil. in History from Centre for Historical Studies, JNU.
At Ashoka, her thesis examines mapping and surveying practices in the Himalayas in the colonial period. The focus of her study is British Kumaon, roughly overlapping with the Himalayan state of Uttarakhand. She aims to investigate the varied roles played by local and indigenous communities – as intermediaries, guides, porters, and native surveyors – in scientific knowledge-production about the mountains in the nineteenth century CE.
With the help of this grant, she will be able to access historical maps, private papers and correspondences of colonial officials and naturalists who were associated with topographical and trigonometrical surveys in the British Kumaon region. This material is spread across the archival collections of the Royal Geographical Society, Royal Botanic Gardens (Kew) and the British Library. Additionally, she will observe botanical specimens that were collected from Kumaon and its high-Himalayan Tibetan frontier which are currently preserved in the herbaria collection at Kew.
During her stay in London, she will also be a visiting PhD student (under the supervision of Prof.Felix Driver) at the Department of Geography, Royal Holloway, University of London.
Her research aims to contribute to existing histories of geographical exploration and knowledge-production in British India by highlighting regional specificities of colonial rule. By taking a historical approach to the assembling of knowledge about mountain societies and environments, she aims to dig deeper into the social relations of production of knowledge in the colonial period.