Ashoka Students and Alums headed to top universities for Graduate studies 2023
This year Ashoka students & alums have made the university proud with the wide scope of subject areas and degrees that they have received offers for graduate admissions. Over 117 of them have joined top universities for their graduate studies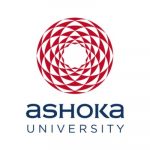 GESP
12 October, 2023 | 4m read
The process of applying for Graduate programmes is a long one that usually starts in the monsoon semester and ends by spring or even summer with Ashoka students getting into top universities and programmes for higher education. The Office of Global Education and Strategic Partnerships (GESP) at Ashoka tracks and collects information on where students are headed through surveys and other methods. This year as well, GESP tracked over 117 students who have received admissions to prestigious universities across the globe. These include Harvard, Yale, University of Chicago and Columbia University in the USA and the Universities of Cambridge, Oxford and LSE in the UK. The break up by batch is the following; 46 ASP students, 21 UG 3rd year, 5 YIFs, 1 Master's and 41 Ashoka alumni.
The universities with the largest intake of Ashoka students are the University of Oxford (8), Harvard University (7), London School of Economics & Columbia University (5 each), Yale (2), NYU (1) and several others.
Here are some highlights from 2023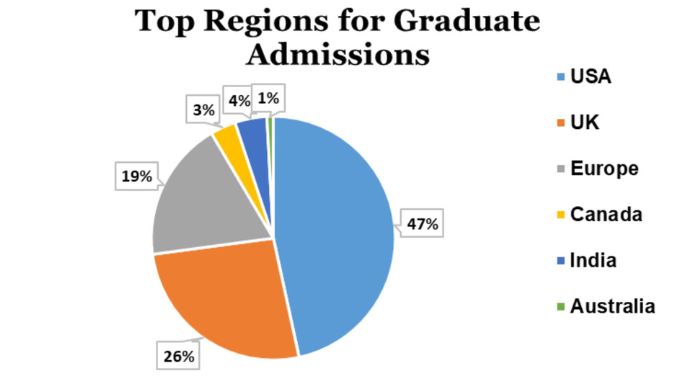 The majority of the students have been admitted to MSc and MA courses. The USA is the most favoured destination for graduating Ashoka students, with the UK coming second, then Europe, Canada & Australia. A few students also took up study in India for post-graduation. The Ashoka UG departments and majors that had the most students getting accepted to international universities this year are English (17), Psychology (14), Interdisciplinary Major (13) and Biology (9).19 Ashoka students, 13 alumni (of which 2 are YIF) and 6 from the current batch (1 YIF) are headed to do a Ph.D. in the United States. They have majored in English (9), Computer Science (6), Economics (1), Physics (1) and Sociology & Anthropology (2).
This year 7 Ashoka students have been admitted to Harvard University to pursue their higher studies. 2 of them into the Ph.D. programme in English. They are Robin Singh Arya of MA'22, who first went to Oxford University for a master's last year and has been admitted to pursue a Ph.D. in English, this year, and Aditya Banerjee of UG'21, who also majored in English. Both have started their Ph.D programmes in English at Harvard University. The other 5 are YIF alums who worked at Ashoka University or elsewhere after graduation and have been accepted into the Master's in Education at Harvard University. They are Sanjay Deshpande (YIF'15), Tanita Abraham (YIF'14) Bhaswar Khan (YIF'19) Tarika Seth (YIF'15) & Srija Jampana (YIF'19). 2 students who got into Yale University are Isha Singh, ASP'23 for a master's in Computer Science and Aadya Sachdeva (YIF'20) for an MBA at the Yale School of Management.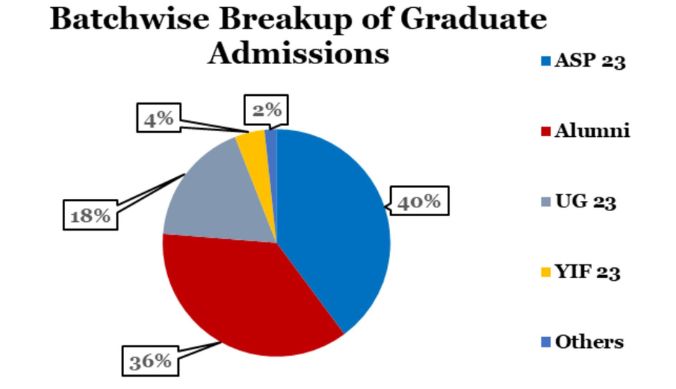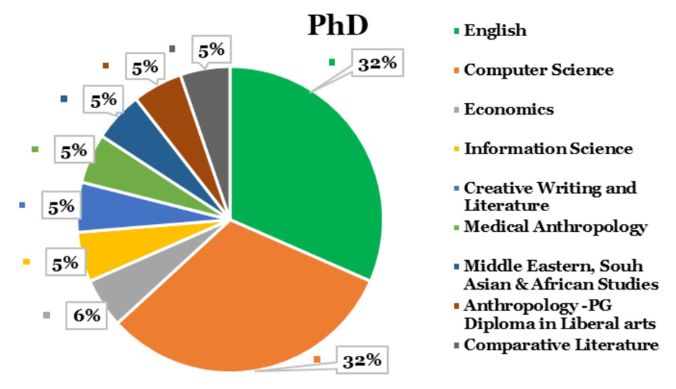 A particular mention should be made of Nitin Jha, UG'23 who majored in Physics and is off to pursue a Ph.D. in CS (Quantum Networking) at Kennesaw State University in the USA. Two students, from Nepal got into Ph.D. programmes as well. They are Jenish Raj Bajracharya of ASP'23 to start an integrated Ph.D. at the University of Massachusetts at Amherst and Abhinav Nakarmi of ASP'21 who majored in Computer Science will pursue a Ph.D. in Computer Science and Engineering (CSE) at the University of Michigan in the United States.
For the first time, 2 Ashoka University students received the McCall MacBain Scholarships in 2023. Mohit Kumar ASP'23, who graduated with an Advanced major in History and International Relations was awarded the first McCall MacBain scholarship, which fully funds a master's at McGill University. He is also the only Indian to be part of the 20 International McCall MacBain Scholars for 2023. Rohit Vasishta, ASP'23 who graduated with an Advanced major in Mathematics and Computer Science, received the International Finalist Award of Canadian $20,000 to support his master's programme. Both Mohit and Rohit have been accepted into master's programmes at McGill University in Canada where they will begin their graduate studies in fall 2023.
This year, Ashoka students were accepted into several unique and exciting new areas of study. This includes Biomedical Engineering (Bhavana Pulipaka, UG'23); MEME in Biomedical Engineering (Tanmay Singh, ASP 23); MPhil in Islamic Art and Architecture (Akshaj Awasthi, ASP'22); M.Sc. Cancer (Adheesh Ghosh, ASP'23); M.Sc. in Behavioral Science (Aayushi Prasad, ASP'23); M.Sc. Cancer Biology and Therapeutics (Brenda Ghosh, UG'23); Neurasmus Program: Erasmus Mundus Joint Masters Program in Neuroscience (Shubhi Pal, UG'23); M.A. Film Editing (Vidit Singh, ASP'23); M.Sc. in Evolution, Ecology, and Systematics ( Besufekad Wolde, M.Sc. Bio'24); M.Sc. in Digital Humanities (Arundhati Balasubramaniam, UG'23); M.A. Decorative Arts, Design History, Material Culture (Nishtha Dani, ASP'23); Masters in Environmental Management (Prisha Tiwari, ASP'23); Masters in Astrophysics (Kartik Tiwari, ASP'23); MPhil in Archaeology (Siddharth Kutty, ASP'23); M.Sc. in Biodiversity, Conservation, and Management (Soham Kacker, ASP'23) and M.Sc. in Neuroscience (Mihir Nath, ASP'22).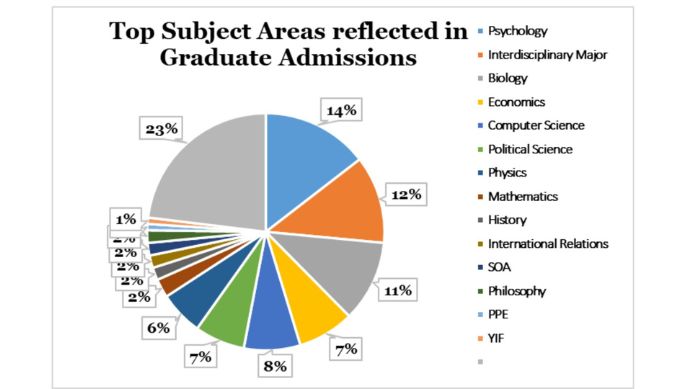 Note: The data for this piece is based on self-reporting of students in response to a GESP survey and pieced together from information from various sources.