Ashokapreneur Highlight: Abbas Ali Zaveri, Founder, Hypefly
This interview attempts to capture the entrepreneurial journey of Abbas (UG'23) and the trajectory of Hypefly

Manoj Kumar Reddy Dinne
26 December, 2022 | 4m read
What is Hypefly? How did it start and what is the story behind it?
Well, it all started back when I was in 11th Grade, just another broke teenager who wanted to buy a pair of limited-edition premium sneakers. I faced 2 major problems with this purchase, one being the fact that a pair of such sneakers was way over a student's budget and, the other factor being that I had absolutely no idea where to find these types of sneakers in India. This drove me to speak to a lot of people, and make new connections, all in an attempt to figure out how to purchase these sneakers in India. Soon, I was able to find a community of such sneakerheads who were willing to sell me a pair. When it came to the problem of my budget to fund this purchase, I had an idea. Why not find people with similar interests, facing the same problem, and solve it by supplying these pairs which I had managed to track down? This search for buying my first pair of sneakers led to the birth of a business idea. One by one I began selling these pairs to my friends over Instagram.
The beginning was tough. I would make one sale a week, or at max. two. However, as time passed, the sale picked up. I had generated enough capital to invest in my own inventory which allowed me to create an online store as an Instagram page to put these sneakers up for sale. That was when we initially launched our Instagram page – @hypefly.in. We had a successful start since we had great organic growth and the number of sales kept growing.
Eventually one and a half years after operating from Instagram, I decided it was time to take it to another level. We formally registered as a private limited company and began the journey to create a website. From the inception of the idea and accounting for every small detail ensuring it was perfect, it took us six months until we could launch the website www.hypefly.co.in. This is the story of our journey.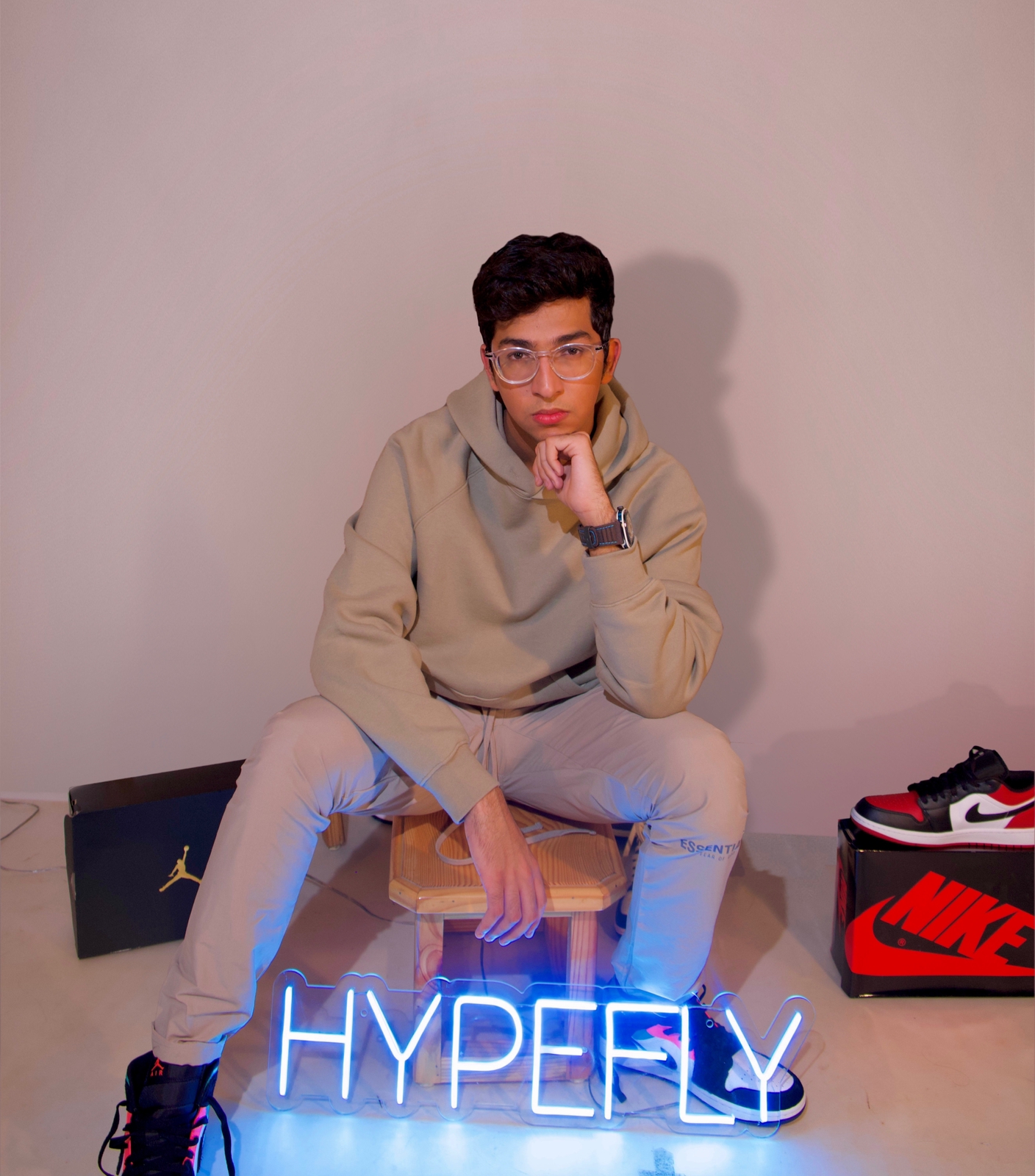 From a click on the website to order to doorstep delivery, could you run us down the seamless operations you do?
Our process is smooth and convenient for the customer and us too. On the customer's end, once they make the purchase on the website, they receive an order confirmation along with an order number. On our end, as we receive this order, it is at once located in our warehouse and sent for a quality check. This is followed by packaging and branding. We double-box and wrap all our products so our customers receive their sneakers in perfect condition. Post packaging a shipping label is generated, after which the pair is shipped and the tracking details are mailed to the customer. The whole process takes about 24 hours until dispatch after which in 36-48 hours our customers receive their kicks right at their doorstep.
What is Hypefly's USP?
Hypefly solved the three major problems when it comes to the purchase of hyped and limited sneakers. We guarantee 100% authenticity, providing a full refund for even the smallest flaws, we solve the pricing of the collection trade off providing a large collection of 450 pairs in 10 different sizes at highly competitive prices, further we make the whole process of shopping for such sneakers seamless with our simple to use UI/UX over on our website.
Bollywood stars like Ranveer Singh, Deepika Padukone etc. are Hypefly's customers—how did that happen?
It all started one day when I got a call from celebrity stylist Shaleena Nathani, who was making an inquiry regarding sneakers for Deepika Padukone. Stunned by her words, I quickly rounded up some options at great prices and sent them over to her. Soon after I got a call that she had made her picks and they required it delivered to the film set. That day I was able to interact with her while she tried on the shoes, and she was no doubt in love with the pairs. Later that year Shaleena requested pairs for Shah Rukh Khan and Hardik Pandya too! Over time, word spread in the industry, and stylists would contact us to style celebrities. This gave me the opportunity to interact with many celebrities, and have the biggest stars like Ranveer Singh, Siddharth Malhotra, and KL Rahul wear Hypefly.
Can you tell us about any milestones/memorable moments for you at Hypefly?
The day we launched the website will forever be one of my favourite moments. The result of six months of hard work and planning was going to be decided. The moment the website went up we saw a rapid rise in the number of live viewers resulting in issues with payments, servers, etc. We had never anticipated such a great response. Gathering the web development team, we spent the whole night troubleshooting and ensuring the performance of the website goes as per our standards. Eventually, our stress came to an end, the website took off perfectly and the orders started growing exponentially. The moment it hit me that this project was a success is one which I can never forget. The whole process from brainstorming the website, and orchestrating and marketing our launch to the excessive stress finally paid off when it went live.
What is the next big thing Hypefly is planning to do?
Over the next few years, we plan to expand into other subsidiary products ranging from sneaker care to sneaker storage. Currently, we are in the works of launching our very own clothing brand, a sustainable and affordable streetwear label. Over the next few months, we expect development with this and hopefully will launch soon. Apart from that, we have a long-term goal of launching our very own sneaker experiential store in Mumbai, which hopefully we will achieve soon!
Describe Hypefly in 3 words?
Culture, Authenticity, & Fashion
---
The interview was conducted by Manoj Kumar Reddy Dinne (MLS'23), who TA'ed for the Startup Incubation Lab by Srikant Sastri in Monsoon Semester 2022 where Abbas was a course participant.