Changing the World One Achievement at a Time
Mohammad Shadab looks back on his time at the YES Programme and AFS Youth Assembly
Mohammad Shadab has recently been the recipient of several awards and opportunities. He received the highest civilian award by the Government of India—Bal Shakti Puraskar (National Child Award)—for his academic achievement. The award is given each year to approximately 30 Indian citizens under 18 who demonstrate exceptional abilities and outstanding achievements in innovation, sports, arts and culture, social service, scholastic endeavours, and bravery. Prime Minister Narendra Modi spoke directly to the recipients, at the award ceremony. During Special Presidential Envoy for Climate John Kerry's recent visit to India, Mohammad had the opportunity to ask Special Presidential Envoy Kerry a question regarding the Paris Agreement. Mohammad was also selected by the Asia and India Book of Records for his many hours of volunteer service.
Mohammad reflects on how the Kennedy-Lugar Youth Exchange and Study (YES) programme and AFS Youth Assembly inspired him to dream big and to help others through community service:
What I have learned throughout life is that always keep your soul and mind positive and focus on the things that nature and the world are offering you. The end of a cultural exchange programme is only the beginning of a lifetime of opportunities, making change, and creating impact.
Going to a country with a culture entirely different from ours was challenging, however, my host family and the people I met from more than 120 countries never made me feel excluded or homesick, and their house felt like home. Experiences are not worth anything if you do not come out of your comfort zone because every journey you undertake contributes to the making of you.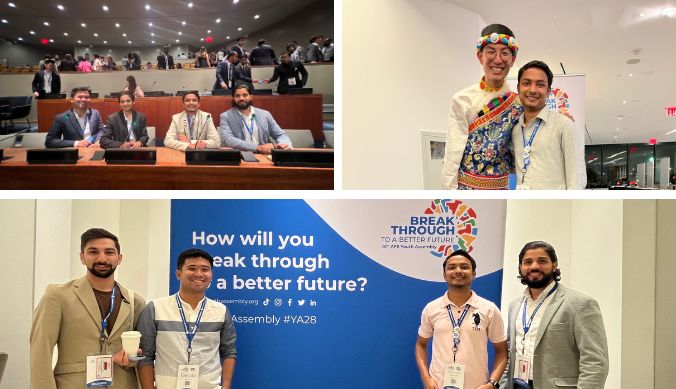 Every single person I met at the UN Sustainable Development Conference at the United Nations headquarters in America, taught me something new and different. Connecting with another person is something that stays with you forever. My UN visit helped me to develop better leadership skills by getting involved in my host community. Volunteering for more than 200 hours made me more responsible, enabled me to understand different perspectives and made me realise I want to start volunteering in my home community. As exchange students, I believe that it is important for us to promote global peace and celebrate cultural differences. Ashoka University particularly supports these goals. UN programmes like the AFS Youth Assembly promote unity, peace, and love. They help us to connect our lives with others, to find something new within ourselves, and to realise that we are all one. The AFS Youth Assembly provides youth with an immense amount of exposure and confidence at an age when they are accepting of new learnings and finding their place in the world. It makes you more tolerant of other cultures and lifestyles. One becomes a person who understands the value of peace and unity across the globe. I sincerely thank the U.S. Department of State, AFS, and CIEE for playing such a significant in providing a platform to harness my intercultural understanding and leadership skills and strengthening me from the inside.
My message for Indian youth is to fly and explore the world around you.
(Mohammad Shadab is a History and International Relations Student from the class of 2025 at Ashoka University)