Developing Ph.D. Programmes for Computer Science at Ashoka
The Department of Computer Science at Ashoka University is designing innovative research programmes to increase the number of students from varied backgrounds who can participate in CS research. Prof. Manu Awasthi tells us more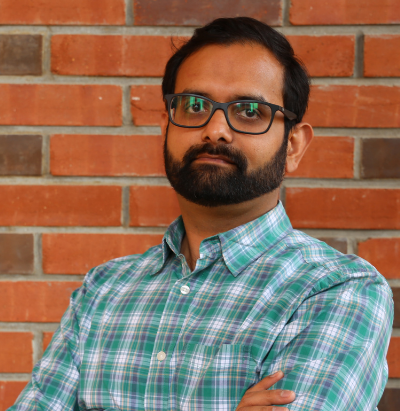 Manu Awasthi
12 July, 2023 | 4m read
One of the hallmarks of a research-led university is the production of new knowledge. In such universities like Ashoka, faculty double up as educators and researchers. They are responsible not only for imparting existing knowledge via teaching, conducting seminars/workshops and interacting with students via activities like independent study modules but are also tasked with generating new knowledge via research.
In basic sciences, most of which are experimental in nature, new knowledge is oftentimes produced not because of the brilliance of individuals but can rather be attributed to the hard work and commitment of a research team, led by a Principal Investigator (PI) who is typically also a faculty member. Depending on the area, a research team is made up of a combination of faculty members, postdoctoral researchers, Ph.D. scholars, undergraduate and postgraduate researchers, lab technicians and other support staff.
One constant across all serious research groups is the presence of a few Ph.D. scholars who are responsible for carrying out the bulk of the research work. This includes designing and conducting experiments (typically in conjunction with the PI and research team members), collecting and analyzing data and finally disseminating the results of the research via academic publications in journals and conferences. These publications, which are the record of newly created knowledge, are then used as the base by the research community to create newer knowledge.
Many of these Ph.D. scholars, after graduation, go on to become faculty at other academic institutions and not only help in the creation of new knowledge but also train the next generation of Ph.D. scholars, leading to a virtuous cycle with a dual aim of training competent researchers and knowledge production.
The quality of research done by a university and the quality of training of their Ph.D. scholars is correlated. If an institution wants to produce good, defensible, and reproducible research, it must take the training of the producers, like the Ph.D. scholars, extremely seriously. As a result, most research-led universities across the world pay diligent attention to the structure and quality of their Ph.D. programmes.
This includes recruiting the best students with the right aptitude and attitude, developing exciting research agendas around relevant problems, providing conditions conducive to carrying out good research which include good quality labs, collaborative opportunities with researchers within and outside the country, all the way to providing attractive stipends to Ph.D. scholars and support for research-related travel other expenses.
As is the case with any new endeavour, its success depends on the people you can hire for it. For a Computer Science department nestled within a new Liberal Arts university, attracting Ph.D. students and research grants can both be challenging. Part of the reason is that Computer Science in India has been clubbed with engineering schools and is largely perceived as an engineering discipline. CS is also a very popular major for UG (BE / B.Tech) students which provides lucrative employment opportunities to people who have been able to develop relevant skill sets after graduation. With graduates spoilt for choices in the industry, all institutions must develop innovative strategies to attract excellent Ph.D. scholars, especially in CS.
India has a large, diverse pool of college students. Almost all undergraduate CS programmes are in engineering schools, the entry to which is gate-kept by entrance tests. Since not everyone is good at taking standardized tests, many good students are unable to get admission to a 4-year undergraduate (BE/ BTech) CS programme. Many others end up studying allied subjects or opt for 3-year BA/BSc programmes at various colleges. Additionally, with the democratization of CS knowledge via YouTube, Coursera and NPTEL, a number of students who have not formally studied CS, want to chart a research career in the discipline, but have no formal entry mechanism to do so.
The Department of Computer Science at Ashoka recognized this challenge and is actively working towards developing research-based programmes to attract quality students to CS. The department has launched the Integrated MSc – Ph.D. programme for students who do not have formal training in CS but are interested and motivated to pursue a research career in the field. Students with a three-year undergraduate degree in CS, or allied areas like Information Technology, Mathematics, Statistics, Economics etc. and with some exposure to CS fundamentals (e.g. via coursework, self-study, certifications etc.) are eligible to apply for the programme.
Once selected, they are trained in the fundamentals of computer science via rigorous coursework and hands-on projects, so that they can prepare themselves for carrying out research. Once ready, they can pick up challenging research problems to work on either in core CS or apply CS / computational techniques to problems that fall at the intersection of CS and other disciplines. The presence of many science, humanities and social science departments at Ashoka provides ample opportunities for students to delve deep into a research problem of their interest.
The CS department faculty, who are responsible for training Ph.D. scholars are also actively engaged in research and have received research funding from various external sources, both in the government and industry. These include funding through extremely prestigious and competitive research grants from the Science and Engineering Research Board (SERB, through the prestigious SUPRA scheme) and Semiconductor Research Corporation's (SRC) India Research Program (IRP). Some other sources from where the CS department's faculty have secured research funding include Facebook (to Debayan Gupta), Defense Research and Development Organization (to Mahavir Jhawar) and SRC, LAM Research, Huawei Technologies and SERB (to Manu Awasthi).
It is hoped that with the combination of attracting great Ph.D. scholars, creating research agendas that are relevant to the geographical context, and generating research funding from both internal and external sources to support these research goals, the Department of CS at Ashoka University will soon emerge as the hub from which many significant contributions to the field of CS, and other domains of knowledge could be made.
---
(Prof. Manu Awasthi is an Associate Professor of Computer Science at Ashoka University)