From Art to Policy: A Journey of Serendipitous Discoveries and Creative Interventions
Vishnupriya Rajgharia has been recognised for her work in the domain of art and policy by the Forbes Asia 30 Under 30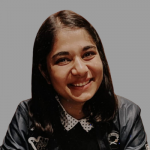 Saman Waheed
29 August, 2023 | 6m read
Vishnupriya Rajgarhia (YIF'16), is an interactive artist, researcher and academic whose work explores the intersection of arts, education and policy. Rajgarhia was the only South Asian Research Fellow to represent the British Pavilion at the 58th Venice Biennale in 2019. She has exhibited her work globally, including at the London Met, Canterbury Christ Church University, KHOJ International Artists Association and India Art Fair. After completing a Masters in Fine Arts as a Levett Scholar at the University of Oxford, she joined the University's Centre for the Changing Character of War, where she worked as a Research Assistant to analyze changes in conflict using visual art techniques. Furthermore, Rajgarhia has won International and National Awards for her art and is currently a Consultant for India's G20 Presidency.
She has been featured on Forbes 30 Under 30 Asia. We recently spoke to her about her recognition, her field of work and her experience at Ashoka University. Here is what she had to say:
What was your first reaction when you found out about your Forbes recognition? How are you feeling about it now, as you have had time to process the news?
My first reaction was disbelief. I was scrolling through my phone when I saw an email that said "Congratulations, you are on the Forbes Asia 30 under 30, class of 2023." Instinctively, I refreshed my email several times. I genuinely thought that it was a mistake or a scam. It was such a surreal experience for me and I did not know how to process it. I was not expecting to be at the receiving end of uncountable congratulatory messages. It was very overwhelming. I could not process that information itself let alone the reaction of other people. It has been over two months since I found out, and I do not think it has still sunk in. It feels good that my work has been recognised and people I look up to think that it is worth celebrating.
It has not been an easy journey, pursuing something that is not charted out for you. There has just been a lot of gratitude for certain experiences that felt very difficult, unnecessary and overwhelming at the time that they were happening. In retrospect, I have understood that if it had not happened, I would not have taken certain steps to reach where this has taken me. At the same time, this also feels like a starting point. You are on a list because you are under 30 and they recognize the work you have done so far. But for your contribution to remain relevant, you have to keep working harder, especially now because people are watching.
What were some of the key foundational experiences that helped you realize that you wanted to work at this intersection of art and policy?
I had not been introduced to policy or politics till I went to college. I had always been trained in art and was good at it. I won several competitions. I also won the Principal's Award at school for eight years consecutively
and became the first and only student from DPS RK Puram to get a gold medal for art. So, I always knew that this was a skill I was known for. But continuing it after school was a different ballgame altogether.
My journey of landing at LSR, where I pursued my undergraduate degree in Political Science and History, was very serendipitous. When I look back at it, I realise that had it not happened, my life would have turned out to be very different. It was one of the lectures on International Relations where we were talking about the theory of complex interdependence. I remember distinctly wondering why can disciplines not be seen as complementary as opposed to contradictory. So that was the first time that the seed was sown in my head, and I was thinking about it a lot.
I was supposed to go to the UK for my master's. I went to Ashoka instead. The way we learnt courses and displayed their learning outcome was very unique. We could do a slam poetry piece, an academic paper, a presentation, a painting or even start a company—the options were limitless. So, the way to look at learning from disciplines changed very firmly for me. Even then, I knew I wanted to work at the intersection of art and policy, however, I did not know how to articulate it.
When I went from my master's to the University of Oxford, there was an incident that forced me to look at my identity differently. That unpleasant experience led me to start FreeTrade Museums, which is the world's first live museum that connects citizens across five-plus states impacted by the same conflict. It focused entirely on intangible cultural heritage, so there was not a single object within it. That was the first time I actually worked in the domain of art and policy because I saw how certain projects when executed at scale, had the potential to bridge differences between countries.
How did your YIF experience contribute to your overall growth both professionally and personally?
I cannot think of a concise way of answering it. I was 20 years old when I went to the Young India Fellowship. Whoever I spoke to, told me that it was going to be an experience. I still had no clue what to expect out of it. It has now been close to eight years since I graduated and I feel immense gratitude towards YIF because it introduced me to some incredible people. It was all about unlearning things that you have been conditioned to believe to be very true.
The amount of love I received from my batchmates whenever I made an installation, a graphic novel, or an illustration, was so deeply nourishing. I remember my first National Exhibition was in January 2016 and close to 50 fellows from my batch travelled over two and a half hours just to come and see me there. I remember I had made a keepsake memento for everybody in my batch, a graphic novel called, 'The Year That Was'. It comprised key experiences that all of us had at the fellowship.
Ashoka has been incredible, and I am grateful to be from the relatively earlier batches. The founders, faculty, and alumni have been some of the most amazing people I have interacted with. It is rare to come across something like the YIF, and it will be some time before there is another environment like this.
In what ways can art-based interventions play a role in policy discussions and decisions and how have you showcased it through the work that you have done?
I think art, as a sector, needs to be recognized formally in terms of its economic contribution to individual nation-states, the employment it generates and the way that it crafts a social fabric that acts as a unifying force for different communities. If we look at art and culture as a sector, that has a lot of potential, then it will be taken into consideration when policy decisions are rolled out.
This sector is only going to grow, especially when you have interventions like artificial intelligence coming in.
Art and culture are not isolated skill-bound sectors. These are things that have a lot to do with the person who is practising it. So, it retains a very unique part of what it means to be human. So these skills are only going to get more precious with time.
The way that I have tried to articulate it in my work is firstly through FreeTrade Museums which I mentioned earlier as well. Along with this, I have also developed a lot of curricula. One of them was called, 'How to Think
Creatively' because I believe that it is a skill that can be learned. I teach it at a fellowship. The other is called 'Art and Entrepreneurship' which I incidentally taught at Ashoka!
What is your creative process like? Does it change with space you are in or does it remain constant?
My work is very space-agnostic. Being an interactive artist, I tend to either make installations or create experiences, which do not always need a fixed space to work from. I feel that a space has the power to inform your behaviour in more ways than one—it can calm you down or it can agitate you. So, the space that I retire to when I am thinking about an idea is a closed room with good light, preferably. I keep a lot of Micron pens or black pens with a blank diary to doodle my way out of a mental pathway or a complicated thought. If it is early in the morning, or if it is late in the evening, there is usually a hot beverage. There is always music because it is good to dull the noises in your head when you are focusing on one thing.
At times you encounter situations that make you have an a-ha moment or a question that is not yet fully formed. If that inquiry is potent enough, it stays with you, and you keep revisiting it till it becomes an actual question, and then you attempt to answer it. So, my creative process has mostly been about these a-ha moments.
What is the one piece of advice that you would like to give to budding interactive artists?
Talk to me because I want more of you! There is such a limited number of interactive artists in India and I would love to see this field grow. So, if you are an interactive artist or you want to be one, please reach out.
---
(Written by: Saman Waheed, Assistant Manager at the Office of PR & Communications, Ashoka University. She is a former Young India Fellow from the batch of 2022)