Igniting Social Impact: The Anitya Story
The President of Anitya shares its vision to foster a thriving social impact culture at Ashoka through perseverance, diversity, and personal growth
Reflecting larger realities, the social impact culture at our university has more often than not been overshadowed by the growing obsession over business, entrepreneurship, consulting and finance. The impact often becomes a neglected second-order corollary of these more 'corporate' pursuits, seen in workshops and boot camps on the above fields that include a brief session on social impact opportunities that may arise in their work. Anitya: the Social Impact Club, incubated under the Centre for Social Impact and Philanthropy, was founded as an outlet for our desire to spotlight the development space and create a thriving social impact culture at Ashoka. We wanted to give students a deeper insight into the realities of the impact space while also working towards connecting the talent at Ashoka with relevant opportunities in the sector. As a founding core team member and Club President at Anitya, I have witnessed our journey over the past year and a half—one of fulfilment and growth, yet fraught with challenges. So, it is imperative to reflect on these to ensure a meaningful journey ahead.
Right off the bat, we saw that our club had a lot of potential to bring value to Ashokans. Yet, meeting our potential and executing our grand plans to fruition required overcoming many organisational challenges like any other non-profit in the development space. The first challenge we faced was garnering member participation and sustaining their motivation. Students often juggle numerous commitments and assignments in the bustling Ashoka campus and the academically rigorous schedule. Thus, assembling a team that possessed the intrinsic motivation to invest time and energy in a social impact initiative, was not easy. We worked on crafting a compelling narrative around Anitya's mission, rooted in the vision of fostering community dialogue around social impact and how we, as students and future leaders, can generate value in our communities. To start, we organised a launch event for our club, which saw a resounding success among students who got the opportunity to network with professionals from organisations like Teach for India, Behind the Scenes NGO, Central Square Foundation and MyLoktantra, and also witness a mesmerising performance by the band, Manzil Mystics, who use music as a tool for social change. It was the first of our many initiatives to spark interest and demonstrate the tangible impact that collective action could achieve.
However, we swiftly realised that motivation could not thrive solely on altruism. We hit a rough patch when we struggled to ensure consistent effort and participation from our members. That also meant we had to take tough calls and let go of those who hindered our progress.
My key takeaway from this episode was that a good team and its members function on the foundation of the 3Cs: Connect, Competence and Circumstance. Competence is the combination of the ability to bring unique ideas, skillsets and the motivation to put your best foot forward every time. It is also crucial to hone in on people who connect with your cause, for they will stick with the team and pull through even when the collective might be struggling. The third factor, circumstance, is often out of our control. I had a conversation recently with a member who strongly ticked the boxes of competence and connecting with our cause. However, they respectfully stepped down from the club because of the time-consuming nature of their other commitments.
We also realised the need for nurturing our team with opportunities for personal growth and developing leadership skills. To achieve this, we actively encouraged our club members to take up personal projects within the ambit of social impact. That would enable them to delve into niches that interest them the most—whether it was taking up an idea in social entrepreneurship, woman empowerment or child education. By amalgamating social impact with personal development, we tapped into the intrinsic motivation of our members and witnessing them involved as socially conscious change-makers, empowered with new skills, was a reward that surpassed any obstacle we encountered.
Just as our club is trying to promote diversity in careers and motivations at Ashoka with the social impact space, I am proud of the fact that we have been able to reflect diversity in thought and the interdisciplinarity of our university: our members are from diverse majors like Economics, English, Sociology, Political Science, Philosophy among other disciplines, all channelling their unique perspectives towards a common purpose.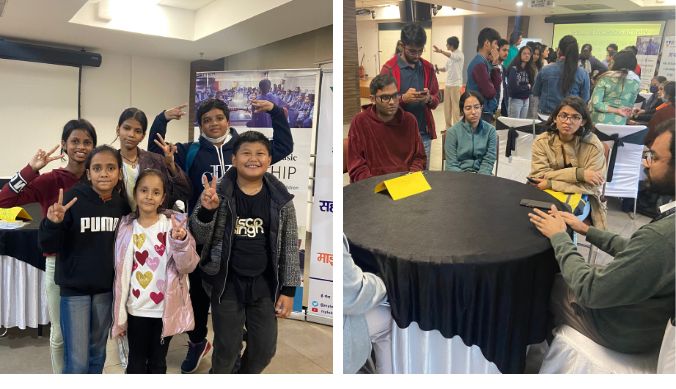 The past few semesters of growing Anitya have also been a significant personal learning journey. I developed my communication abilities as a leader—learning to tailor my message to resonate with different audiences, from members to potential partners and beneficiaries. Project management skills, from conceptualisation to execution, were learned with slow but steady determination as all of us straddled between our academic commitments and club responsibilities. Learning to be receptive to feedback and valuing the experience of those who had trodden similar paths ensured that we never strayed too far from our original vision. Our mentor and advisor from CSIP, Rekha Rathore, was crucial to this—giving us valuable learnings from her journey in the development sector.
In conclusion, the journey with Anitya has been one of resilience: not every project yielded the expected outcomes, and not every effort met with immediate success. But these moments of adversity became touchstones for growth, and the importance of perseverance, collaboration, and staying true to a noble cause will continue to resonate deeply in our future endeavours. With Anitya, we have attempted to create a social impact culture at Ashoka that will hopefully persist long after the current team has graduated—thereby attesting to the power of youthful idealism channelled into purposeful action.
---
(Ayush Shahi is the President of Anitya-The Social Impact Club. He is an undergraduate student from the batch of 2024 at Ashoka University)