Making education a seamless experience for students with disabilities
The Office of Learning Support has pioneered inclusion since 2016 in private education
'Studying at a university should be an exciting time for any student. Yet, for those who face learning challenges, it can be an anxious time. The Office of Learning Support (OLS) at Ashoka provides state-of-the-art support to ensure that every student has a fulfilling experience.'
Reena Gupta, Director,
Office of Learning Support at Ashoka University
Founded in 2016 with the backing of the founders, the OLS has evolved from supporting students with learning disabilities to including those with sensory impairments. 'Using latest technological advancements, we make sure we understand, procure and incorporate best practices in our services,' adds Gupta.
For instance, the OLS developed a special accessible microsite hosted within the main University website, which is compatible with screenreading software for visually impaired students. One such graduate, Shakul Raj Sonkar, who did his major in Mathematics is now working as a management trainee with Clix Capital. Watch him share his experience in the video below.
Shakul Rak Sonkar sharing his experience of how the OLS supported him in realising his goals.
'After assessing learning difficulties, the cognitive and academic profile of a student, we offer individualised support for specific learning needs,' explains Aditya Sen, Deputy Manager at the OLS. The Office continues to improvise by adopting latest pedagogic approaches towards disability services. Given it follows a non-disclosure policy, the support does not impact the student's academic records.
Not just students with special needs, even for regular students the course requirements can be overwhelming, especially if they need support to deliver at full potential. The OLS steps in here as well.
An undergraduate student from the class of 2020 shares, 'The OLS was instrumental in my daily functioning at Ashoka University, especially in my first semester. Although I did not require explicit help in the classroom, due to a learning disability or handicap of some sort, I used to get easily bogged down by the workload. The Office helped me in organising my workload by myself, and taught me to balance various responsibilities with academics. Their help made me more confident, both in the quality of work produced, and the relative ease with which I am able to approach professors and communicate with them directly about any problems I face.
Besides this, the OLS is also a good listener. From time to time, when I just needed to vent, they welcomed me. The best part is that there is no appointment system, which ensures complete approachability and freedom to speak about anything whenever a student feels the need. I am truly grateful to the OLS for providing support during my difficult times here, and I recommend it to those who need support of any kind.'
The OLS also conducts regular awareness programmes and drives. 'During the month of October, which is the Dyslexia Awareness Month, the OLS organised a workshop conducted by Reena Gupta and Sheileja Rao from the Psychology Department to improve student understanding about the condition,' says Assistant Manager at the Office Monika Bhalvani.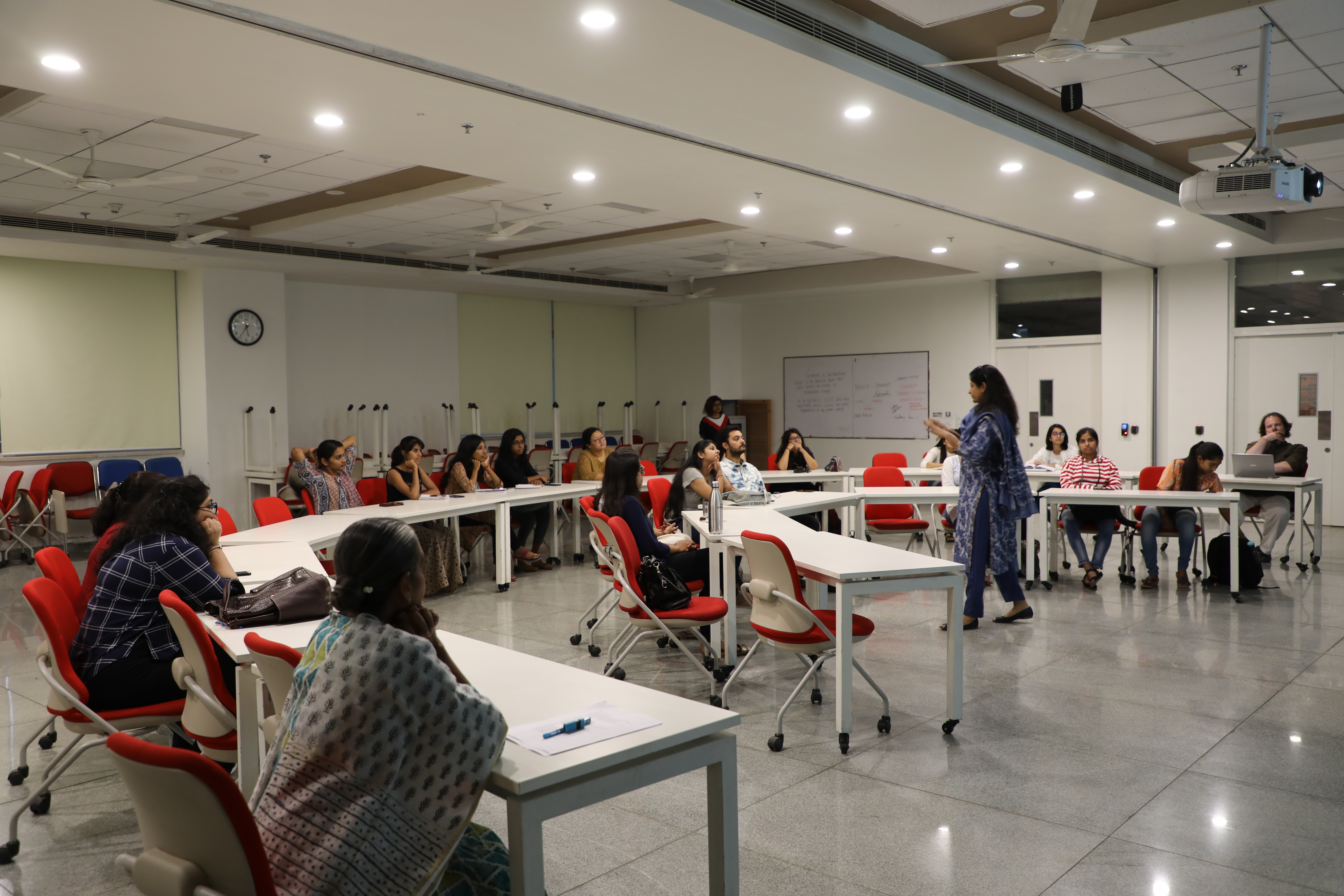 Through sharing success stories, and an experiential learning approach, Gupta and Rao raised awareness about dyslexia among students, debunking many myths.
Similarly, on 3 December, 2019, the OLS observed the International Day of Persons with Disabilities (IDPD), by organising a talk by Dr Alim Chandani, founder of Accio Mango Pvt. Ltd.: Access Mantra, an accessible Resource and Innovation Centre for the Deaf in India. This was followed by an improv comedy session and a movie screening addressing the subject.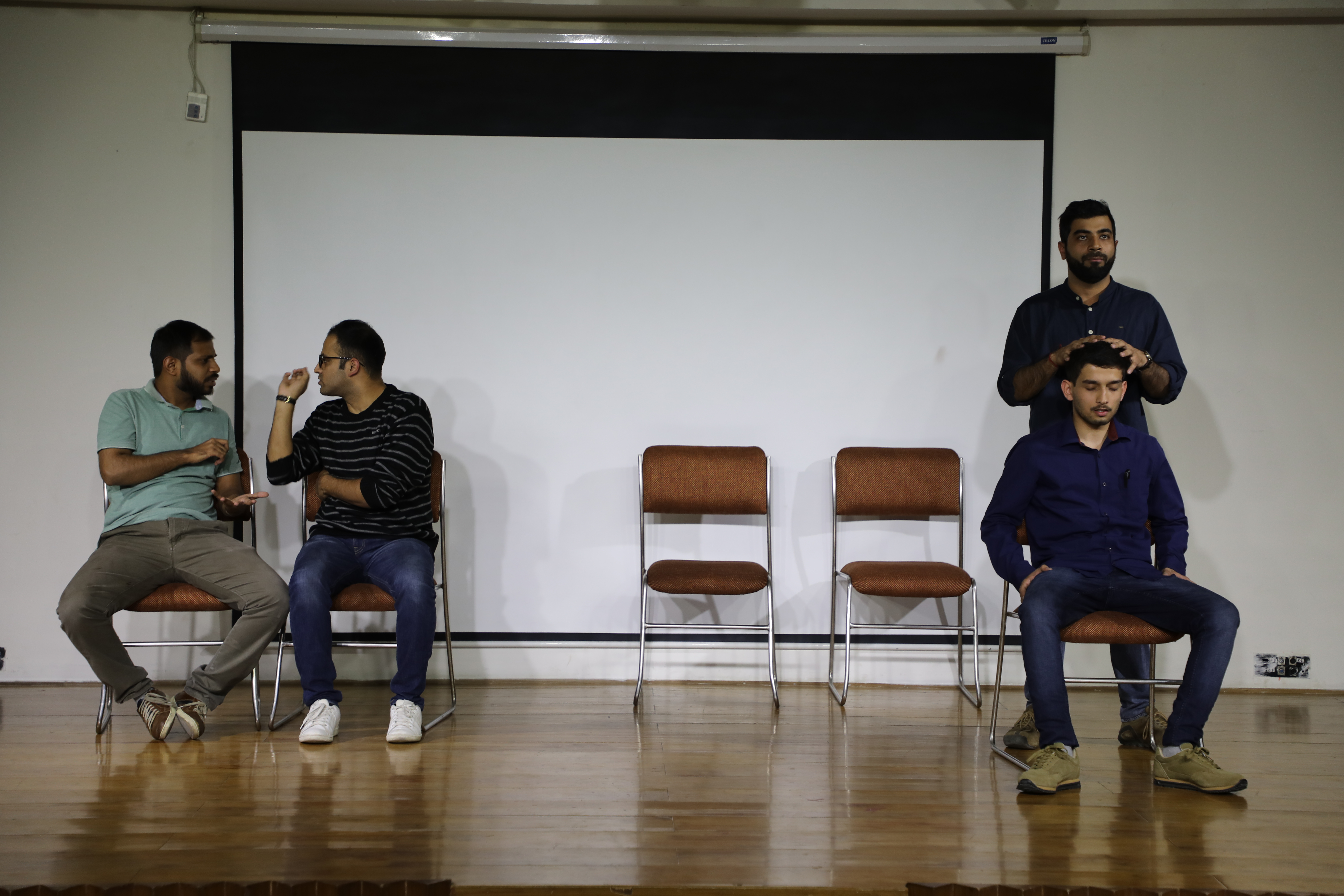 Playground Improv Collective show designed by Blessin Varkey, an accessibility expert.
Taking its cutting-edge work forward, the OLS at Ashoka University has recently signed an MoU with eight institutions (IITs – Delhi, Kanpur, Madras; IIM Bangalore; IIIT Bangalore; Xavier's Resource Centre for the Visually Challenged, Mumbai; Vision Empower; and I-Stem) to further strengthen the ecosystem for improving inclusion at higher education institutes in India at large, with a specific focus on STEM (Science Technology Engineering and Mathematics). The collective will create and share accessible Teaching & Learning resources among its members, while advocating for creating inclusive spaces.