Meet Arushi Aggarwal, YIF alumnus who is on a mission to uncover gender biases in medicine
This women's day, we bring to you an interesting story of a woman taking up the cause of other women and highlighting the sex and gender biases in our healthcare system. Read on…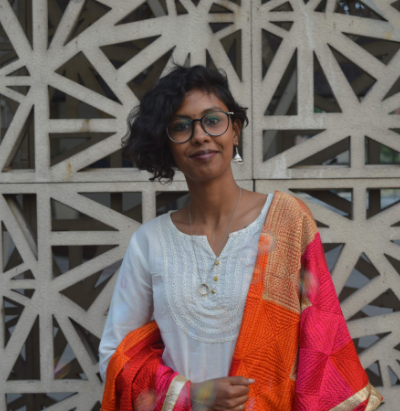 Meera C Govindan
8 March, 2022 | 4m read
Arushi is a fellow from the Young India Fellowship batch of 2018. Through her podcast With Her In Pain, she dissects medical history and explores how medical care can be more gender-inclusive.
"My podcast is an attempt to make information accessible, not just for women but across genders," says Arushi, who is a theater artist and a communications professional. Her journey started from her own experience of medical care. Arushi had multiple misdiagnoses and negligence while she was ailing from chronic appendicitis and interstitial cysts. These incidents prompted her to dig deeper into the healthcare system and realized that this wasn't a one-off incident but a reality for many women around the world.
She believes that there is a serious gap in the knowledge and awareness of medical care relating to women. "Women's pain is more likely to be brushed off because people including doctors believe that women exaggerate their suffering," she says. "Many a time, with medical conditions, it's difficult to pinpoint the lack of knowledge or awareness about diagnoses as directly relating to gender. This makes it harder for women to understand their own suffering as well as for society to provide adequate support to them."
In her podcast, Arushi hosts eminent guests with expertise in various areas of women's medicine as well as women who have themselves had traumatic experiences with medical diagnoses and treatment. While some episodes directly deal with conditions like ovarian cysts and urinary diseases, others question the socio-cultural understanding of women's bodies. With Her In Pain serves as a repository of knowledge and brings a fresh lens with which to view gender in medicine.
Arushi credits her critical writing course at Ashoka University as one of her key influences. Critically thinking and writing about medical anthropology made her reflect on her own medical experiences as well as those around her. She also came to understand the need and importance of support from the community. While Arushi was battling with her symptoms, it was her batchmate and friend Vedhika Anoora, who guided her in finding the right treatment. Vedhika had also suffered from similar conditions and was able to provide more support than medical professionals.
"Community and solidarity while undergoing such ailments is scarce because we don't have adequate conversations surrounding it," she says. The Ashoka community, in that sense, not only supported her through pain but also with the making of the podcast itself. She says that without volunteers and friends like her own batchmates Vedhika and Mihir Belgaonkar, the podcast would not have been possible.
With Her In Pain is currently available to stream on Spotify with seven episodes now live. Meanwhile, Arushi says that she is tirelessly editing lengthy hours of recorded interviews. She hopes that the easy accessibility of her podcast helps women find comprehensive information about their conditions with a simple search on the internet. In the long run, Arushi aspires to set up a media platform of her own and produce content that can shape alternative narratives and change the way that we perceive the world around us.