Nurturing Social Impact and Community Engagement at Ashoka University
Shridha Pai and Hiba Hasan break down how Anitya is building awareness, fostering connections, and inspiring change within the Ashoka community
We at Anitya have always centred our events and initiatives around one goal—fostering awareness and community engagement, ultimately striving to create a positive impact within and beyond the Ashokan University campus. From creating awareness about the social sector and careers to enabling students to get hands-on experience—our initiatives cover a broad spectrum.
Our introductory event, therefore, was a joyful little celebration of the Ashokan community. It was a thumbprint activity held right outside the mess, wherein everybody was encouraged to dip their thumbs in some paint, get their creative juices on, and make a little character (or two, or three, or as many as they fancied) out of their thumbprints on paper. These characters acted as tiny representations of us all and our ideas of the meaning of community. Every character came together to form a wacky little community in and of themselves!
The next event was "Social Impact 101". It aimed to address the immense gap between the passion pool for social impact and knowledge about relevant career opportunities. It provided a platform for students to learn about the diverse social impact careers available. The event featured Ashokan alumni—Arkoprabho Hazra, Mahima Goburdhun, Sreya Majumder, and Srajan Bhatnagar. They are all working in various spheres of social impact, such as research, strategic communications and governance consultancy. They shared their experiences and provided valuable insights into the on-ground work that goes into making a positive impact.
They also tackled common social impact career myths like the social sector not being viable for talented professionals and the impossibility of sustaining a financially stable career in this professional space. They also offered practical tips to help social impact enthusiasts navigate their career paths on topics such as dealing with stakeholders, navigating different vantage points, etc. The questions were geared towards student dilemmas and the panelists had the platform to share their experiences working in the field. We heard interesting on-ground stories about implementing the Foundational Literacy and Numeracy (FLN) learning programme in Uttar Pradesh and working in government offices.
Students also had the chance to connect with the alumni personally. They graciously stayed back for an hour and a half after the event to answer every minute question! The session ended with people making connections and sharing stories. Through these interactions, some students who had previously looked at the social impact space only as a volunteering-based opportunity left thinking about it in terms of fulfilling professional careers.
The subsequent Salaam Balak Walk conducted by the volunteers of the Salam Balak Trust made us look beyond the confines of campus and attempt to understand the lives of street children. Salaam Baalak Trust is an organisation that provides shelter, education and care for children formerly living on the streets of Delhi. Our gracious guides were themselves rehabilitated by the Salaam Baalak Trust. They shared accounts of how several children ended up on ruthless city streets.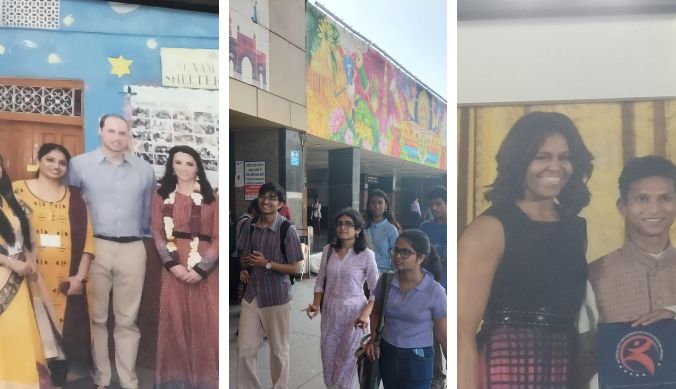 The Salaam Baalak Trust and other such organisations have opened shelter homes to help street children break this cycle. While sharing these insightful stories, our guide took us to their shelter homes and walked us through how they work with counsellors, social workers and the Child Welfare Committee. The walk started from a narrow lane in Paharganj and later took us to New Delhi Railway Station as they explained how they found most of the homeless children from areas like these. We also visited a temporary shelter home over the police station nearby. We then visited a permanent shelter home. They told us how many rescued children can be sent back home (provided the conditions at home were favourable enough). People from the organisation keep checking periodically to ensure the children are safe. However, many choose to stay at their permanent shelter home.
They also allowed us to look around their office to see the commendable work Salaam Baalak Trust does. A truly eye-opening experience, the walk echoed the voices of so many children battling life every day on the streets whilst also illustrating stories of hope and encouraging all of us to understand and create a better community for all.
The culmination of our semester's activities was ELEP, the Emerging Leaders Experiential Programme. We created it to facilitate the exploration of the Social Sector for Ashokan students through summer internships and volunteer opportunities. The response was overwhelming from both sides. Over 100 students registered for the programme, and we received more than 50 registrations from interested organisations like Central Square Foundation, Access Livelihoods, Givfunds, Indian School of Democracy, Manzil Mystics, Piramal Foundation, and Youth for Unity & Voluntary Action (YUVA) among others.
Our internship programme intends to provide opportunities and nurture student interest through collective holistic learning. To this end, we organised learning circles and conducted a reflection activity for participants. All selected interns attended learning circles facilitated by social sector experts. It offered them an opportunity to reflect on a career in the sector and provided a platform to share their internship experiences and learnings.
Our team, untiring in its efforts to connect students with the best internships, also learned about the inner workings of internship searches in the social sector. The ELEP was thus a pivotal programme for Anitya.
Anitya's journey in its first semester was one full of learning, both personal and collective. It has set the stage for future initiatives, including a Social Innovation Incubation Lab, increased field exposure for students and more networking opportunities. More importantly, we hope to make at least a small contribution to Ashoka University's culture of social impact.
---
(Shridha Pai and Hiba Hasan are the Partnership Head and Research Head of Anitya-The Social Impact Club respectively. They are undergraduate students from the batch of 2024 at Ashoka University)