The 10th YSP ~ a programme for High School students at Ashoka University
The Young Scholars Programme was founded with the vision to popularize and educate the community about the liberal arts learning model and give students a glimpse into what a great university experience involves.
Vanita Shastri
3 March, 2022 | 4m read
On May 22nd in the summer heat of 2016, 100 high school students from different parts of the world landed up in the outskirts of Delhi at the Ashoka University Campus. Their dreamy eyes were looking forward to the first week-long residential programme called the Young Scholars Programme or YSP. The programme was designed as an introduction to the academic and cultural environment of college life at Ashoka University. Its curriculum offered a sneak peek into liberal arts education for high-school students who also got a chance to experience university life.
The idea of YSP, a high school programme, came into existence due to the dire need to give exposure to the liberal arts pedagogy in India, where the concept was still foreign. For many, 'liberal arts' meant teaching music and dance! In such an environment a new liberal arts and sciences private university like Ashoka was attempting to take root. YSP was founded with the vision to popularize and educate the community about the liberal arts learning model and give students a glimpse into what a great university experience involves. This initiative proved to be transformational for the kids who came to YSP. YSP provides a good bridge from a school curriculum to experience what a university like Ashoka has to offer in its undergraduate programmes.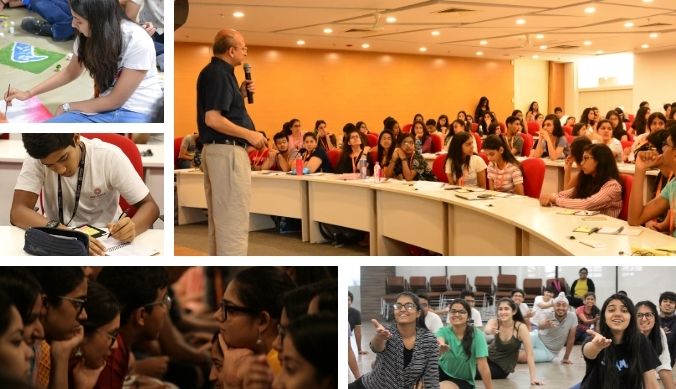 A liberal education at Ashoka University allows students to experiment with various subject combinations that expands their horizons of learning. A math major can do a performing arts minor, a literature major can take computer science, a physics major may be combined with philosophy; the options are endless. Through this, students develop a broad base understanding of disciplines while diving deep into one of two specializations. Thus, they become nimble and adaptable to numerous sectors and career paths. The YSP provides talented high school students a preview into the magic of a liberal arts & sciences education. The one-week immersion and exposure to learning at YSP may seem ephemeral and fleeting in the physical sense, but it actually leaves deep and long-standing imprints on the participants.
"YSP was a life changing opportunity for me. Until the summer programme, I didn't know what a liberal arts education meant. For me, it opened up many doors in terms of what I wanted to do and who I envisioned myself to be," says Sanjay Sudarsan, YSP 2018, UG 2022.
The YSP students get an insider's view of liberal arts and sciences at Ashoka which aids their ability to apply for admissions to its undergraduate programme. In the first two years almost 100 per cent of the YSP class applied to Ashoka, thus adding a pipeline of good candidates to the application pool. This has been a huge part of the impact of the YSP programme.
YSP-2022 is the 10th YSP that Ashoka University is proud to host. Since its founding in 2016, YSP has touched the lives of more than 1500 high school students from across India and abroad. It has grown 35 per cent year-on-year, engaging over 50+ faculty, enrolled students from over 736 schools from across 28 states in India. YSP attracts young women who comprise 60 to 65 per cent of the cohort. It offers a safe space to them to voice their opinions and blossom in unique ways. In keeping with the mission of inclusivity and diversity at Ashoka, YSP offers financial aid and has partnered with several NGO schools from where students attend the programme.
What began as a one-week-in-person on campus programme soon expanded its offerings based on popular demand. The team put together YSP-Advanced (YSP-A) a two-week deeper study of subjects with real life projects. It soon added the YSP-Urban Lab, which explored social impact and change, in 2021 and this year is adding a one-week science programme called 'YSP-Sciences.'
But it's had its share of challenges. One of the biggest challenges to YSP came in March 2020. The team had begun planning and designing YSP 2020 in October of 2019. However, with Covid 19 travel became out of the question. The team discussed various options including an online version and proposed it to the board. They got the green signal on April 3rd to conduct YSP Online.
It was hard to imagine, at first, how to take an in-person programme to a fully online one, for that meant a completely new programme! A large number of students had already been enrolled and paid the fees for the regular 'on-campus' YSP. A significant number of those withdrew from the programme when they were told that the programme would be online. The team had to rethink content, engagement, outreach, marketing and branding YSP Online in a new way!
However, the exceptional circumstances of the global pandemic and lockdown, presented to the team an opportunity to think out of the box and carve out ways to offer the programme remotely to bright and enthusiastic learners in high school. YSP-Online thus provoked an expansion of the creative vision at Ashoka and brought innovations to modes of learning in the digital world to YSP.
Avyana Jain, YSP 2020 and UG 2023, recalls: "YSP 2020 was the best online experience for me. It helped me choose my subjects in college and career path."
The YSP programme has made a name for itself, firstly by spreading the idea of liberal arts education in India and secondly by showcasing how a bunch of curious students can be engaged in well-structured academics. During YSP, students are exposed to different disciplines through experiential and hands-on learning. The programme covers a range of activities including presentations, workshops, discussion groups, project-work and performances.
This year, YSP-2022 is scheduled to take place from May 16 to 20. The programme will offer an intimate learning experience by world-class faculty to the students.
"I am excited about doing the 10th YSP this year and adding the sciences as a special week-long offering. It has been a transforming experience for the participants and each YSP scholar takes something meaningful for their own academic journey from the programme," added Prof Shastri.
Student Testimonials:
"Never have I ever had such a fulfilling and liberating experience in my life. The lectures were super interactive, creative and engaging. The infrastructure of Ashoka was terrific….. the YSP programme rejuvenated me as much as it made me open to various perspectives and exposure."
–Yash Goyal, YSP 2018
"By spending a week here, I built a firm foundation in analytical and critical thinking……I also learnt the art of listening…"
–Nikhil Manohar, YSP 2018, UG 2022
"Two things that I would like to take away from YSP are, a clear understanding of what I want to do in college life and how to interact and socialise with people coming from different backgrounds."
–Harshit Abhichandani, YSP 2019
"YSP gave me loads and loads of new knowledge, a broader view of the world, confidence to speak up and question, a new perspective towards learning, and the knowledge that there is so much to study outside the textbooks."
–Ishita Gupta, YSP 2020, Class 12, Delhi Public School
(Vanita Shastri is the founder of YSP and Dean of Global Education and Strategic Programmes at Ashoka University)