The Great Ashokan Library
The library at Ashoka University is one of the most sought-after places to study, relax, research and collaborate. Read on to find an insider's experience at this magical place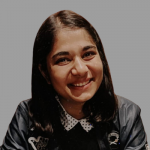 Saman Waheed
6 September, 2022 | 4m read
From a young age, I have sought comfort and companionship in books. There is something so fascinating about them that I somehow gravitate in their direction. Maybe, it is the smell of those crisp pages or maybe, it is something else—I am still trying to figure it out.
However, my relationship with books has not always been hunky dory. It has seen its fair share of rough patches when I have not been able to finish a book for two entire months. But, there is one thing that has remained constant over all these years. After everything, whenever I return to them, I find them patiently waiting for me.
They have always had my back, making me feel all sorts of emotions at the most opportune moments. Needless to say, I am grateful that books exist.
Because I love books, libraries hold a special place in my heart. Owing to the pandemic, a major part of college took place online for many of us. That robbed me and countless other college-goers of various irreplaceable experiences that one might associate with college. Visiting college libraries was one of them.
After a forced hiatus of almost two years, I had the opportunity to attend college offline as a part of the Young India Fellowship at Ashoka University. I found myself overwhelmed by this new space, new people, and new surroundings when I came to campus in the February of 2022. I was unsure how and where I would fit in here. However, the one thing that captured my attention was the massive library building.
When I went inside for the first time, it was to issue a few books. But there was something about the library that kept calling out to me. I kept visiting it, time and again—studying, reading, relaxing, and just being there. I spent countless nights and (sometimes) days tucked in some or the other corner of the library.
'The Great Ashokan Library', as a dear friend of mine likes to call it, is a magnificent place with treasures ready to be unveiled, in every corner. In the recent past, the library has expanded from the original Shanghvi library to the two floors in AC-04. This has been done to accommodate more readers, resources, activities, and exclusive spaces for studies, research, and collaborations.
There are more than 58000 print books from myriad genres, also including several collections of rare documents on John Keats and Percy Bysshe Shelley. For ardent fans of Romantic poetry like me, this comes as a cherry on the cake. In addition to this, the library also provides access to more than three lac e-books, magazines, journals, archives, and other digital resources. It also has an exclusive section for reference books, personal collections, Bhasha (vernacular) books, and books by the Ashoka faculty.
With designated places for digital curation, research support, database training, and multimedia reference, the library serves as a great platform where fruitful collaborations can happen.
For us students, the library became a place where new friendships were forged and old ones were rekindled. When we had assignments to write, we would camp inside the library going on frequent relaxation breaks on the library stairs, which reminded most of us of the MET steps. The stolen minutes of muffled conversations inside the library, when all of us had the spectre of deadlines looming large over our heads, are some of my fondest memories of the Fellowship.
I can now surely say that the library was and will always be a safe haven and happy place.
(Saman Waheed is currently an Assistant Manager at the Office of PR & Communications, Ashoka University.She is a former Young India Fellow from the batch of 2022.)