The Magic of YSP in Winter!
The Office of Global Education and Strategic Programmes (GESP) ended 2020 on a high note by launching the first YSP-winter during the December school break.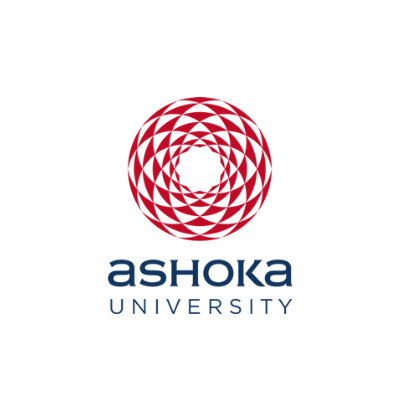 Office of PR & Communications
31 December, 2020 | 13 min read
The Office of Global Education and Strategic Programmes (GESP) ended 2020 on a high note by launching the first YSP-winter during the December school break. This certified online programme had a range of activities, including faculty presentations, writing and discussion sessions, creative workshops and social unwind time all in a virtual mode.
After a successful Young Scholars Programme (YSP) held online in the summer, GESP ran YSP for the second time in 2020. In its fifth successful year, the Young Scholars Programme or YSP, a unique pre-college programme which introduces high school students to a liberal arts and sciences education, was offered as a winter edition. The programme was open to students studying in classes 9, 10, 11 and 12 and was held from December 26 to 30. YSP-Winter had a cohort of 102 students who hailed from 61 different cities and 76 schools. 
Academics at YSP-Winter
Young Scholars got a chance to hear from 11 of Ashoka's stellar faculty, who presented sessions specifically designed for YSP. The students from across the country got a good understanding of both the range and depth of multi-disciplinarity at Ashoka University.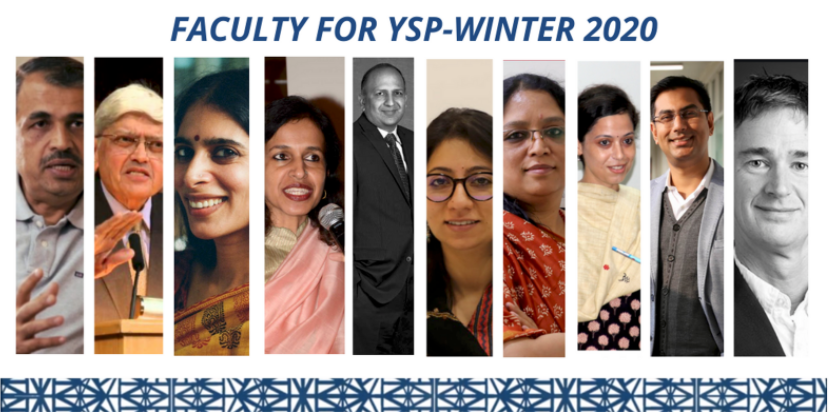 The faculty sessions at YSP-Winter were engaging and inspiring. Here are some of the highlights from these sessions. The programme kick-started with the first session by Prof. Pratap Bhanu Mehta, who quizzed the young scholars on different aspects of electoral democracy and their role as citizens.
Prof. Gopalkrishna Gandhi's talk on the interconnectedness of civilizations across time and space was mesmerizing. Prof. Aparna Vaidik's session, where she explored how the Mowgli story is an allegory of colonization, was very popular with students. Madhavi Menon used IX Ways to Think about Love to demonstrate how any issue can be viewed from multiple perspectives and quoted Shakespeare who said that, "the course of love never did run smooth."
Talking about the dangers of surveillance, Prof. Debayan emphasized in his class that wherever the system is built by the government there has to be a balance between security and privacy. Students found the session on Gender and Ecology by Kanika Mahajan very thought-provoking, she explained how women's lives are intricately interlinked to nature and thus they are the primary victims of environmental degradation.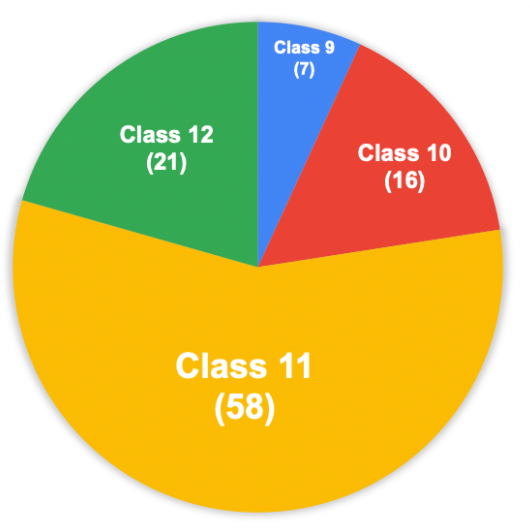 Another popular session with students was Prof. Clancy Martin's session on The Paradox of Self-Deception where he discussed with the young scholars important nuggets on true and false beliefs and showed them how false beliefs helps in managing our psychological wellbeing. In her session on Drone Warfare and Global Security, Prof. Ananya Sharma highlighted how drones conducting surveillance and killing from distance dehumanizes life. With fun games, Maya Saran introduced students to graph theory and connected it to subway maps across several cities of the world. Student's excitement was clearly visible in the live chat box during the sessions.
Writing and Discussion Sessions
Writing and Discussion Sessions are a crucial aspect of the YSP programme. Students are divided into smaller groups in order to enable maximum engagement and participation. The cohort was divided into small classes for the writing sessions each focussing on specific aspects of everyday writing. These covered, creative writing, how to write a good story and the art of description. Arunava Sinha (writing faculty), Shubham Gupta and Akriti Todi (both ICT faculty) taught three sessions each. Under their guidance students discovered a hidden writer within. Amaya Gupta, a participant said, "these sessions helped her understand "the difference between description and analysis, as well as the method by which [one] can construct a good argument." 
"I can write anything if I WANT to. Writing is one of the things I feel is a burden in my life that just has to be carried along. The writing workshop changed my perception, I could do wonderful things while writing if I WANT to. I discovered that I can write." – Ishaan Varior, Neev Academy, Grade 9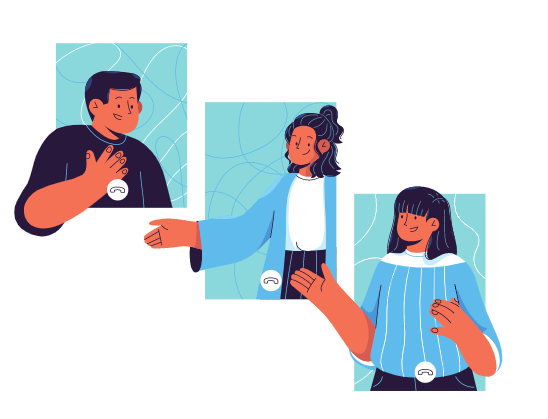 Discussion sessions (DS) are integral to students' learning at YSP as it gives them a chance to bring together thoughts, reflections and questions from the academic sessions. The process of debating and sharing ideas with their peers gave them a chance to reassess or reaffirm their own ideas and takeaways. The Academic Counsellors conducting these sessions continue to set a high benchmark in guiding discussion and dialogue on a variety of complex issues, thereby broadening the horizons for the students. One young scholar, Diya Mira Vikram said that the DS experience, "was eye-opening; listening to other perspectives, was also empowering as it gave me a stage to speak my mind."
YSP Ateliers and Unwind – Workshops and Social Engagement
Student engagement at YSP is a unique combination of creative workshops and fun activities in the evening. The students met their Counsellors for the first time after their YSP orientation during which the Counsellors had planned a fun cohort naming activity. The theme for the winter was street food and the student cohorts came up with very creative names like, Y S(ev) P(uri); Yikes! Son Papdi; which matched the acronym of YSP!!  In this edition, morning icebreakers were also introduced. As students logged in for the academic sessions, the Engagement Counsellors greeted them with brainteasers, like word games and puzzles. Students participated enthusiastically solving these together. On the last day, they solved a crossword puzzle themed on YSP itself! 
"From the Ateliers I learnt how you can perceive movies, comics and even the children's books at another level. By looking at the small details, which all add up to something so different and beautiful, you start appreciating, in true sense, the art and its artist." – Simeryn Sohi, Greenwood High, Grade 12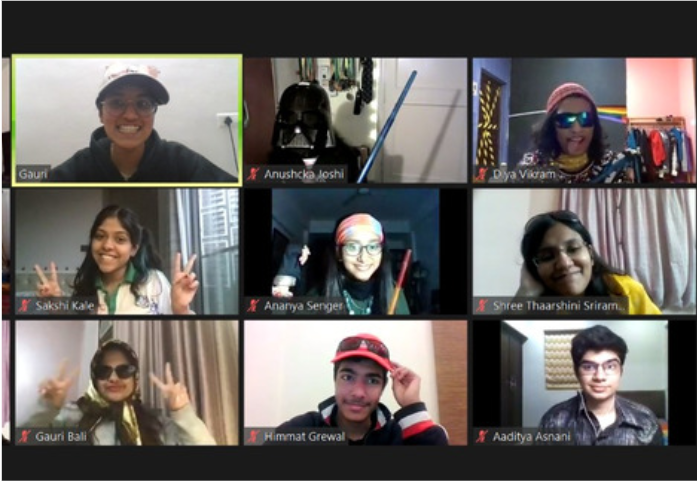 Workshops were conducted online during the YSP Atelier – a virtual studio space. Each young scholar attended 3 workshops, which ranged from sessions on critically analysing comics, children's literature or cinema. Students were also introduced to game theory and stock market. Skill based sessions like Zoomprov, an online improvisation workshop and Demystifying Brahmi, a workshop where students learnt to read and write the ancient Brahmi script, were very popular among the young scholars.
YSP Unwind was planned creatively with new activities every day. The dedicated and enthusiastic group of counsellors found innovative ways to observe YSP traditions like Wobble, Open Mic, Kabootar Jaa, take cohort photos and much more. From playing games like Mafia, Among Us and Pictionary, to pet parties, the cohort thoroughly enjoyed the Unwind sessions. Many students participated in the Open Mic which concluded with some impromptu performances. The treasure hunt organised on the last day was a hit with the students which culminated in a performance of the Wobble.
An Insight into Ashoka
YSP-Winter also featured Founder Talks by Ashoka founders who presented sessions for the young students. Vineet Gupta, Founder and Trustee of Ashoka University, discussed the rationale behind the founding of Ashoka University, the place of liberal arts education in India and how students should prepare themselves for higher education and careers. Pramath Raj Sinha, another Founder and Trustee of Ashoka University led a session that involved a game through which he imparted essential life lessons for the students. These included: not jumping to conclusions; one may not always have the right answer; how to listen to others and not be swayed by them; attempt to ask rather than tell and how you think matters more than what you know!
The young scholars in the winter session also had a presentation by Mercia Prince and Rahul Sreekumar from the Ashoka Admissions team on what it takes to apply for undergraduate admissions to the university. They covered, what does the holistic review and admission process mean, the different components of the application form and the timeline from application to acceptance! The students had several questions which the team patiently answered.
Student Testimonials
"This programme taught me a lot of things; not only on the academic side of things but also towards the social side of things. By doing…these sessions and trying my best to expand my mind, I began to feel fulfilled and happy…. I cannot put into words how much this experience has changed my life." – Soha Aftab, The Choice School, Grade 11
"YSP was amazing. Being a person who struggles with public speaking and interacting with new people, I was really happy to see that the discussions were occurring in small groups, as that made it a lot easier for me to speak up." – Ananya Solanki, Neerja Modi School, Grade 11
"The takeaway that I value the most would be a complete different perception about a lot of different subjects that weren't of my interest in a positive way. It gave me a sense of revaluating my future possible college courses….It helped engage with professors and students from all over the country and it is safe to say that I am a better version of myself than I was before YSP." – Yashonandan Kakrania, La Martiniere for Boys, Grade 11