The Novelist as Professor: In Conversation with Saikat Majumdar
From an inquisitive young reader in Calcutta to his emergence as a globally renowned academic and writer, this Ashoka Professor's journey will make you fall in love with words all over again
It's 5 PM on a Wednesday evening. As customary, Professor Saikat Majumdar has just wound up his day of teaching English and Creative Writing at Ashoka University, albeit in a virtual mode. The sun is gradually inching towards the horizon and the campus wears a deserted look, almost like a forlorn lover ~ patiently waiting for the students to return and transform it into an oasis of knowledge and bliss that Ashoka is synonymous with.
There is a sense of euphoria in the air, a sparkle in Prof Majumdar's eyes as he appears on the screen for this interview. A household figure in Indian publishing and easily one of the most accomplished South Asian novelists, Prof Majumdar's name is bound to send shivers down the spine of his interviewer.
But the advantage of being a seasoned academic is that one is able to transform any gathering into a classroom, and lest we forget, Prof Majumdar's classes are known for being conversational as opposed to ones that are framed around monologues and lectures. With his simplicity and down-to-earth approach, his presence immediately uplifts the atmosphere and allows the interviewer to draw him in on a range of subjects, reflecting on a life around words and teaching while also setting the context for his latest offering. But I may be getting ahead of myself.
Born and raised in what was then Calcutta, some of Saikat's earliest adventures were centered around books. By the time he was in the twelfth standard, he was already an inquisitive reader, devouring classics and other books that appealed to the then teenager. The British Council Library came as a blessing to the young lad as he now had access to many more books than he could have fathomed. What is also noteworthy here is that Saikat was reading a lot of Books in English as well as in Bangla ~ one of the exclusive advantages of growing up in the Cultural Capital of India.
And then he met Purushottama Lal, known for his transcreation of the Mahabharata, who was also the founder of publishing firm Writer's Workshop. This was no ordinary meeting for the memories remain vivid even over a decade after Lal's passing. He encouraged Saikat to write and published some of his earliest stories too. Who could have then thought that the world was his stage and fate had much greater plans for Saikat?
He would spend most of the following years in the West before teaching at Stanford University, and being named a Fellow at the Humanities Centre at Wellesley College. In the shoes of an academic, Prof Majumdar has since touched and inspired many young minds and has found a home for his creative talents at Ashoka University where he is Head of the Department of Creative Writing.
But writing isn't something that he only teaches, it is also a very personal and experiential journey for him.
"It is a very isolated activity," he quipped, before adding that literature is the most intellectual of all art forms because all other art forms are very sensual as they appeal to the senses directly. Literature, he maintained, is the only art form that happens through a medium that is entirely artificial, language.
And so is the personal journey of a writer; it can't be picked up like Engineering but is more of a process of self-training and discovering the realms that cannot be taught. "There is something wild about writing, it's a lot like life that happens everywhere and you cannot leave any slice out," said Prof Majumdar, who has earlier authored acclaimed novels The Scent of God, The Firebird, and Silverfish, besides publishing a book of literary criticism ~ Prose of the World, a general nonfiction book on higher education ~ College: Pathways of Possibility, and co-edited a collection of essays ~ The Critic as Amateur.
He loves teaching but the advantage of being at Ashoka University is that none of the professors here are just teachers, they are researchers, scientists, writers, public intellectuals and are actively contributing to their respective fields. This liberty is perhaps what has kept the fire alive in the novelist of our subject and what better way to assess the heat than turning the gaze on his latest offering ~ The Middle Finger.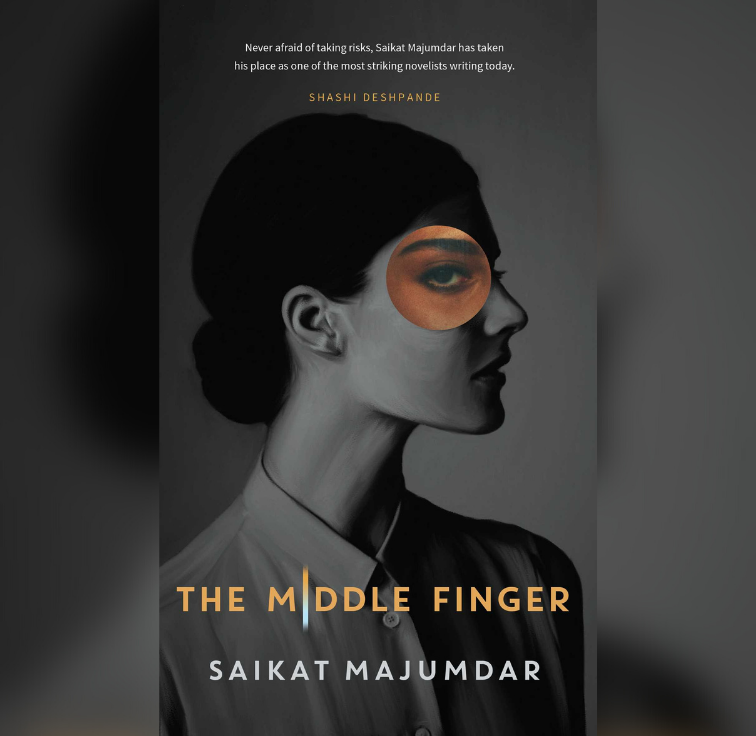 This novel is the melting pot of a writer and a professor, set in a campus and told through the eyes of two female characters. Though it is a fictional story, the experiences that he has had teaching in both India and the West must have found their way somewhere in the manuscript. On being probed about the distinction between fiction and nonfiction and whether a novel set in a campus allows a greater degree of freedom for the writer who also happens to be a professor, he said that he was drawn to the idea of imagining the Ekalavya myth in a contemporary college campus, particularly with the debates around equity and access to education, and those around the nature and limits of the student-teacher relationship.
There is something more about The Middle Finger that will intrigue you to visit the nearest bookstore and grab a copy. This novel is Prof Majumdar's closest brush with poetry; he says he has never been a poet but the protagonist of The Middle Finger is a poet, which takes us back to what he said earlier about writing ~ that there is something wild about writing that can only be discovered through the very act!
---
(Written by Saket Suman)