Working for an archive: A view from the other side
My tenure as an Associate for the Archives of Contemporary India has made me aware of the numerous processes which go into the making of an archive, writes Madhav Nayar
Every student of history knows the importance of an archive. However, seldom do they realise what goes into the making of one.
While working on my Masters' dissertation on Student Protest and Resistance in Colonial Amritsar and Lahore, I had the opportunity to consult records in 4 different archives. These included the British Library (London), National Archives and Nehru Memorial Museum & Library (Delhi) and the archives of the Sikh History Department Research Centre, Khalsa College Amritsar. Working in these archives as a research scholar I was oblivious to the story behind how these records came to be arranged, categorised and catalogued.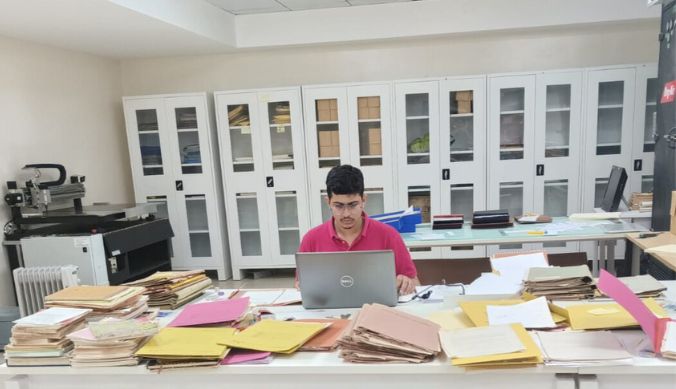 My tenure as an Associate for the Archives of Contemporary India at Ashoka University has made me aware of the numerous processes which go into the making of an archive. These range from boxing and preliminary sorting to processing, creating abstracts, pagination and digitization. Working for an archive has also made me sensitive to the massive scale of an archivist's labour.
To give an example, I along with my colleague worked for 6-7 months to catalogue the N.D. Jayal papers, a collection that spanned nearly 65 archival boxes. The material for some collections can even go up to 200 archival boxes or more! More importantly, the art of archiving is one of categorization. By organizing a mass of material under different categories, an archivist determines the future of records that belong to the past. Going through a mass of files running into hundreds of pages can be a daunting task. Scanning files/records and creating abstracts for them lies at the heart of the cataloguing/archiving process. As a senior colleague put it the challenge is to ensure that a description captures the soul of a file.
A skilled archivist is sensitive not only to the context in which records are produced but the conversation they are a part of. Archiving at one level involves 'listening' to and making sense of the conversation going on in different files/records. During my work on N.D. Jayal papers I learnt about the history of the anti-Tehri Dam campaign. The files I read told me about the legal, political and technical aspects of the Tehri Dam controversy. Records of the past then 'speak' to an archivist, if they are careful enough to listen.
Working for an archive has transformed my perspective on archives. They are not only repositories of historical records/primary sources but a place where history 'comes alive.' The most exciting aspect of archiving especially for a student of history is the opportunity it gives to go through never before accessed primary sources. Archivists process the raw material of history so that it becomes digestible for a historian.
They are a selfless tribe who quietly and working behind the scenes contribute to the growth of historical scholarship.
(Madhav Nayar is an Archives Project Associate at the Archives of Contemporary India)