A frank assessment of the media industry
The Department of Media Studies at Ashoka University recently organised a Media Fest that enabled students to engage and interact with prominent media personalities, writes Mannat Chhabra
Journalists from different media formats — print, broadcast and digital — came together at the day-long event to give the students of Ashoka University an insight into what a career in media industry looks like. The first session, moderated by Amaan Asim of the UG '22 batch, was on freelancing, fellowships, and the future of journalism.
The panel had Anubha Bhonsle, an ICJ Knight Fellow, author and founder of Newsworthy; investigative journalists Nitin Sethi who founded the Reporters Collective; Pooja Prasanna, who is the head of reporting at the prominent Bangalore based digital news platform NewsMinute; and Ashoka Alumni Kartik Sundar who set up a culture magazine venture with friends.
During the session, the panelists talked about the advantages of fellowships, their worth and how to access them. A career in freelance journalism was also discussed, but most panelists converged on the value of working in a big newsroom at the beginning of one's career – both to learn, and to understand good media practice. Hearing about all these different experiences was very fruitful for students who are thinking about a career in the media industry.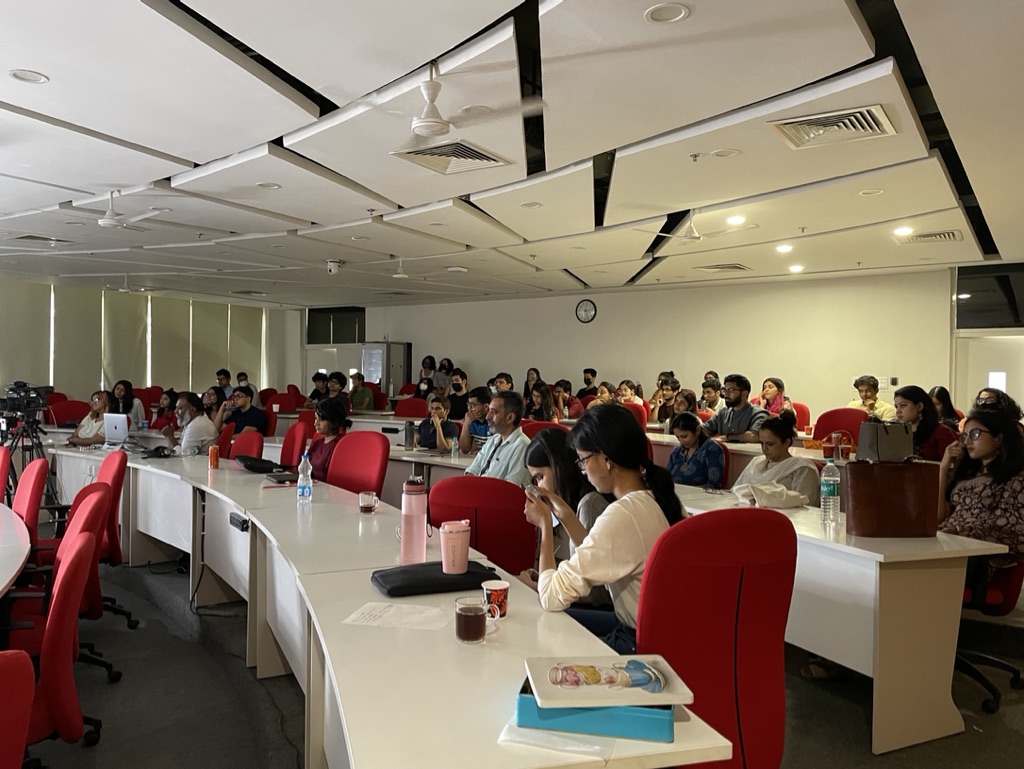 The second panel looked at existing opportunities and how to draft the right resume. Arunava Sinha from the Department of Creative Writing and an award-winning translator, visiting faculty Purnima Mehrotra who has vast experience in advocacy and campaign design, Keshav Suryanarayanan from Ashoka's Centre for Climate Change and Sustainability (3CS), and Ashoka alumni Karantaj Singh, currently working at KPMG lent insights into the use of media studies courses in possible careers in writing for television/ OTT platforms, publishing, and marketing and advocacy.
Keshav Suryanarayanan offered Ashoka University's media studies students a chance to apply for internships at 3CS to use and manage social media for the Centre.
The session concluded with visiting faculty and data designer and illustrator Nithya Subramanian displaying student projects in the Environment Communications course that have been selected by the prominent website Mongabay, and telling students about the importance of internships and grabbing opportunities in the media. This session was moderated by Ashoka Scholars Programme (ASP) 22 student, Ariba.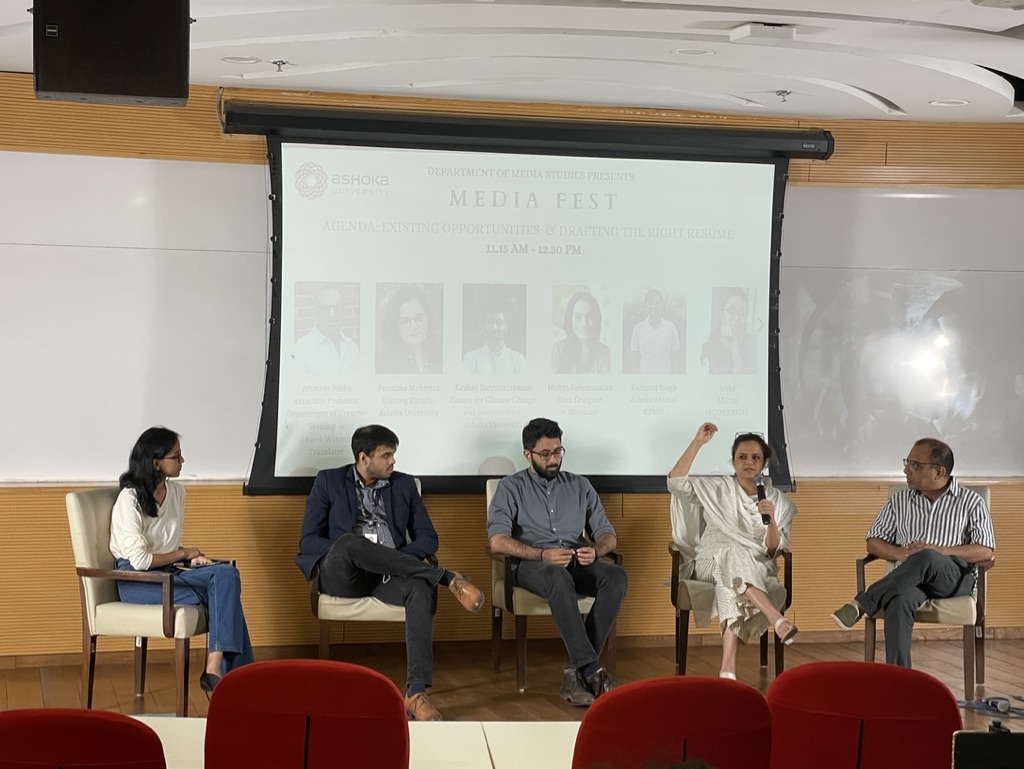 While the morning focused on careers, challenges, and opportunities for students to be prepared for, the afternoon took a deep dive into the state of news media today.
The third session "Who gives us the news, really?" was a conversation between NDTV Senior Editor and Anchor Ankita Mukherji, and Newslaundry's host and writer Meghnad. Moderated by UG '22 student Abhiir Bhalla, this post-lunch session was a favorite amongst students as the two panelists debated the merits and demerits of old-style television news vs. on-demand digital news platforms and news videos on YouTube by individuals who do not consider themselves journalists.
They elaborated on the nature of the formats of communication, the challenges for viewers about how to judge credibility, and how the consumers influence the news we watch and how it is delivered.
The last session — a much-awaited Young Reporters Roundtable — was moderated by UG '22 student Akanksha Mishra. This was another treat for Ashoka University's media studies students. Arunabh Saikia of Scroll.in, Jyoti Yadav from The Print and Adrija Bose, senior editor at the fact-checking platform Boomlive, spoke eloquently about the realities of fieldwork for young journalists today.
Jyoti Yadav and Adrija Bose, in particular, offered relevant insights into the problems women journalists in India face while reporting. Jyoti Yadav also detailed some of the particularly difficult experiences of reporting during the second wave of Covid 19 pandemic last year.
This was the first time Ashoka University's Media Studies department has hosted such an event for students and by students. For us, it was fun, engaging, and enriching to come out of two years of Covid 19 induced online classes. The day-long fest enabled us to learn about the scope of both work and research opportunities in the media industry at this juncture.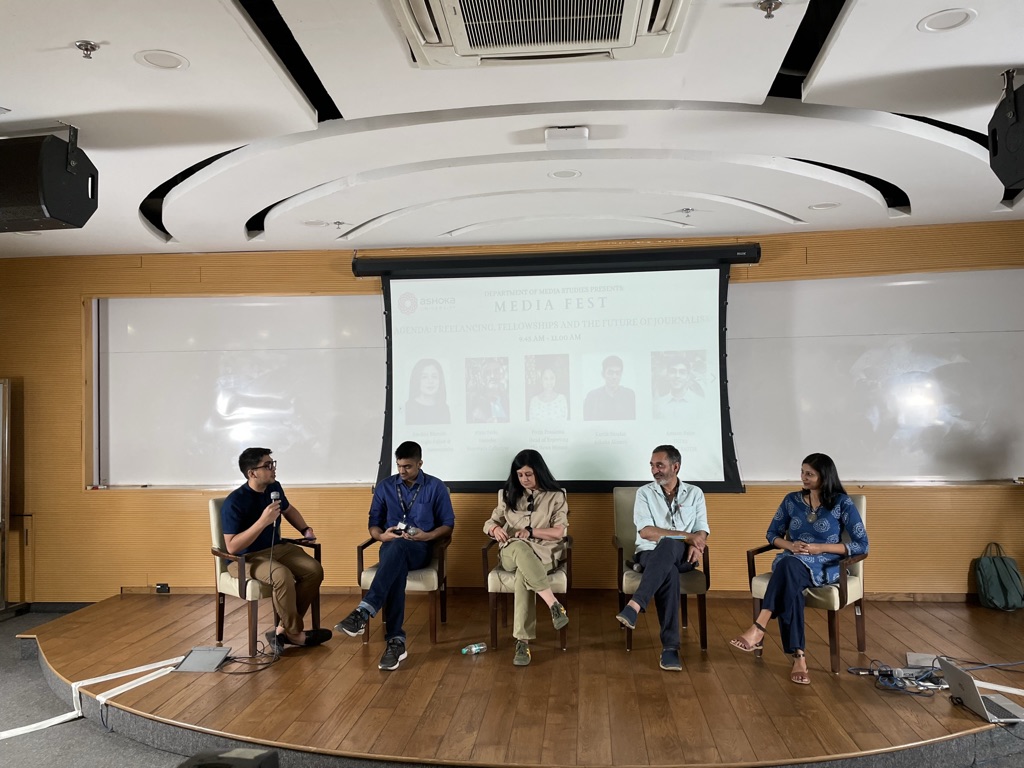 We ended the day with a treasure trove of stories and ideas to sharpen and develop, a frank assessment of the state of journalism, and information on how to approach careers in the media.
Mannat Chhabra is a first-year student of political science with a minor in media studies. Her other interests include reading books and writing.