Ashoka University and Amherst College (USA) faculty exchange bears fruit
Continuous efforts are being made to build stronger relations between the two institutions with the Faculty Exchange Programme at the centre of limelight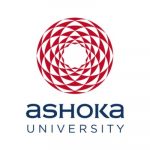 GESP
3 August, 2022 | 4m read
Under the aegis of the Faculty Exchange Programme between Ashoka University and Amherst College, the first Ashoka faculty, Maya Saran, an assistant professor of Mathematics, visited Amherst in April 2022. A reputed liberal arts institution in Massachusetts, USA, Amherst College has a large number of takers for its mathematics courses, which is what made Maya Saran's visit all the more important.
Since signing the Faculty Exchange MOU with Amherst College in 2019 two Amherst professors have visited Ashoka University.
Prof. Rhonda Cobham-Sander was the first one in November 2019. While she was at Ashoka she sat in on several undergraduate courses and said, "I was blown away by how articulate the undergraduate students were and impressed with the intellectual rigor of the coursework."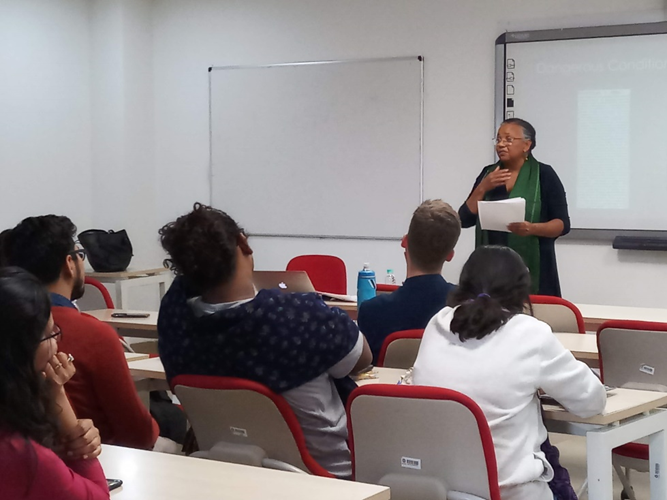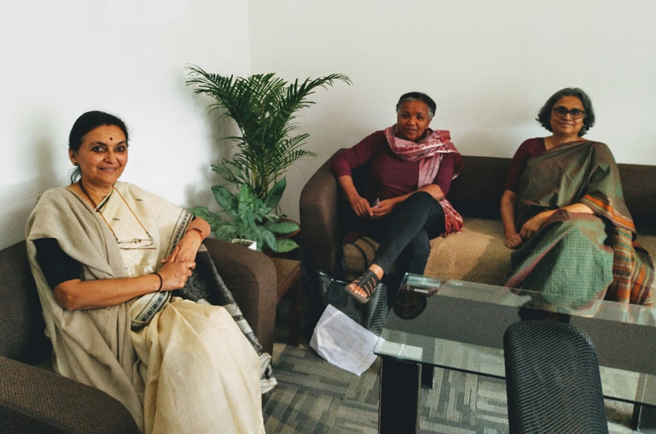 "Possibly the highlight of my visit was the Postgraduate students…Their familiarity with cutting-edge approaches to issues of gender, caste, and nation, combined with their facility in Indian and European languages, gave their work a breadth, relevance, and sophistication that I found intellectually stimulating. I came away with lots of notes about new works I hope to incorporate into my courses."
As a result of these conversations, Prof. Cobham-Sander agreed to be on the Ph.D. committee of G. Antony Arul Valan of the English department at Ashoka. Valan completed his dissertation prospectus defense on May 20th, 2022, and will soon be submitting his revised dissertation plan.
It was during this visit by Prof. Cobham-Sander that Prof. Saran discovered that the math major at Amherst College had evolved from "ten geeky students" to become the department with the largest enrolment rates among colleges in the US, measured as a proportion of the institutions' undergraduate populations. Prof. Saran wanted to learn what had made this change possible.
During her visit which was rescheduled from April 2020 to Spring 2022 due to the pandemic, Prof. Saran was able to understand how the Amherst Mathematics faculty had managed to rejuvenate their programme. She said, "many factors acting in concert lead to the vibrancy and popularity of the math programme: the design of the major, good experiences in early math courses, the support offered to both students and faculty, and the overall institutional commitment to pedagogy and inclusion," all of which create pathways for students to take math courses based on their interest and degree requirements.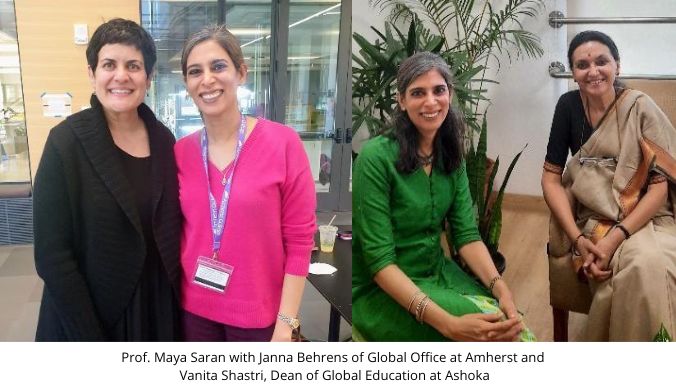 The second faculty member from Amherst College was Prof. Amrita Basu who engaged with Ashoka through virtual presentations from November to January 2021-22. Professor Amrita Basu is Domenic J. Paino 1955 Professor of Political Science, Sexuality, Women's and Gender Studies. Speaking about her experiences, she commented, "I thoroughly enjoyed interacting with the wonderful Ashoka University community. I was especially impressed by the students' thoughtful comments and questions. I look forward to returning to the Ashoka campus and to having some Ashoka faculty visit us in Amherst in the near future."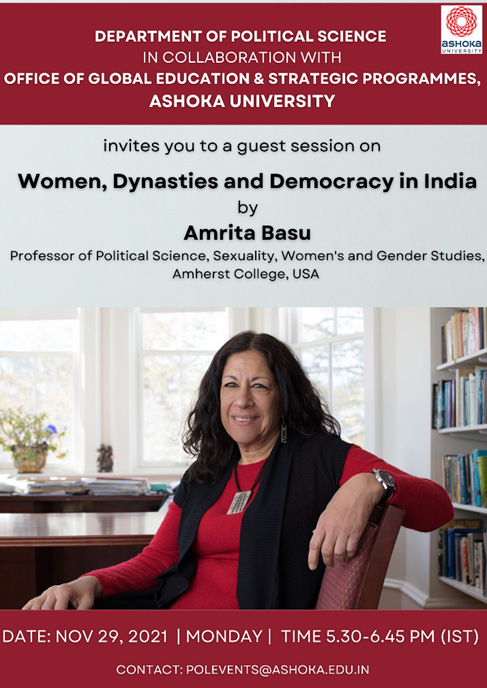 As a result of these visits, Asst. Prof. Gilles Verniers from Ashoka University will be at Amherst College for the Fall semester of 2022 as the Karl Loewenstein Fellow and Visiting Professor. While this is outside the Ashoka–Amherst faculty exchange it is important that continuous efforts are made to build stronger relations between the two institutions.