Ashoka University signs MoU with Max Healthcare to use genome & data analysis to study complex diseases
The collaboration aims to build a joint research program on genome analysis and data analysis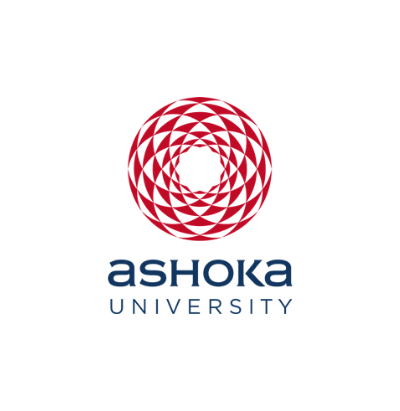 Office of PR & Communications
9 May, 2022 | 4m read
Ashoka University has announced that it has entered into a Memorandum of Understanding (MoU) with Max Healthcare Institute Ltd (MHIL) to initiate long term, high quality research collaborations on clinically relevant diseases. 
The collaboration aims to build a joint research program on genome analysis and data analysis including AI, ML and deep learning of various genetic and life-style diseases like cancer, asthma, diabetes, hypertension, heart failure, kidney problems, autoimmune diseases, chronic metabolic disorders etc.
This is the first-of-its kind project undertaken by both the Institutions.
The partnership aims at advancing interdisciplinary research to accelerate the development of lifesaving prevention, treatment and management tools and solutions against the diseases that are of public health priority in India, through joint research activities and academic interchanges.
As part of this engagement, Max Healthcare will provide its expertise in clinical research in human subjects and will serve as the clinical center for data and/or sample collection from individuals who would agree and give their written consent to volunteer to share their data for the purpose of research studies. The data samples provided by Max Healthcare will be used for further processing and analysis.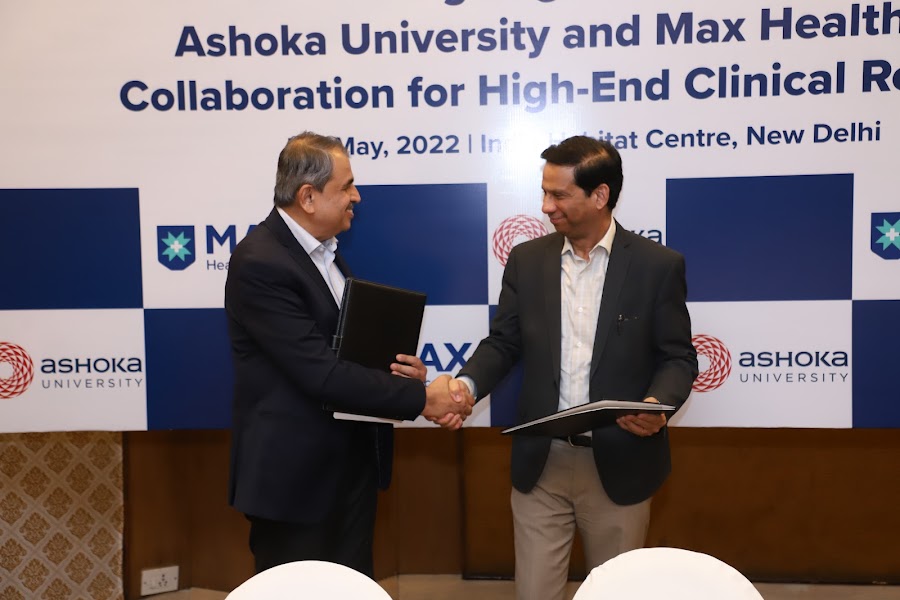 Ashoka University will provide its expertise in data analysis, biomedical research and public health expertise in data collection, data analysis and sharing in research. It will further ensure access to a vast network of scientists, academicians, data analysts, public health experts, students, clinical data, equipment technology platforms, core facilities etc. and engagement with relevant industries, start-ups, innovation centers and other relevant Indian institutions for accelerating joint research initiatives.
Ashoka University will also arrange for a series of structured joint workshops, mentoring programs and academia-industry interactions for capacity building and formulation and conduct of research and publications using the technology and information gathered from joint projects.
On the signing of the MoU, Prof. Malabika Sarkar, Vice Chancellor, Ashoka University, said "This is a critical milestone for Ashoka. As a University committed to health research as one of its major focus areas, this collaborative agreement which will enable research with clinicians and the opportunity to train a large number of people to help the nation to systematically support healthcare is an exciting step forward. With excellent academic programmes at various levels at Ashoka, I am confident that our collaboration with Max Healthcare will further strengthen research, education and training in health science research at Ashoka."
"The bioscience revolution is converging with digital transformation and data-science towards a new wave of progress in healthcare and wellness. Interdisciplinary collaborations and partnerships, such as the one between Ashoka and Max Healthcare, ensure that India successfully rides this new wave," Prof. Anurag Agrawal, Dean, Biosciences & Health Research, Trivedi School of Biosciences, Ashoka University added.
Dr. Sandeep Budhiraja, Group Medical Director, Max Healthcare, said "There is a lot to discover in the field of genetic and lifestyle diseases. With the coming of data science and genomics, it has the potential to provide efficient, cost effective solutions and transform the way we look at modern medicine today. It will open immense opportunities in research under this collaboration with Ashoka University which is aiming to solve important scientific problems."
Apart from research, the institutions will also explore the possibility of conducting joint training, fellowships, exchange visits, knowledge and technology transfer for cross-learning & capacity building to build leaders in the fields of biomedical science and arenas of public health. The partnership will also facilitate knowledge sharing and communication among scientists, epidemiologists and other stakeholders having mutual interest in the discipline. Both the organisations have committed to research for public good and will adhere to applicable statutes, regulations and policies and uphold highest levels of research ethics.
Prof. L S Shashidhara, Dean of Research and Professor of Biology, Ashoka University and Mr. Sachin Sharma, the Registrar of Ashoka University signed the MoU with Dr. Sandeep Budhiraja, Group Medical Director and Dr. Mradul Kaushik, Senior Director, Operations and Planning and COO from Max Healthcare on 7th May, 2022 at the India Habitat Centre, New Delhi.
About Ashoka University:
Ashoka University is India's premiere liberal arts and sciences university located in the National Capital Region, New Delhi. Ashoka University is built on the finest global best practices of institution and university governance. Accomplished leaders, philanthropists, thinkers, and academicians with expertise in varied fields have come together to create the university. It brings the best contemporary values and practices in higher education, in the tradition of the world's leading universities, to India. With a strong emphasis on multi-disciplinary learning, development of skills and leadership attributes for the 21st century, Ashoka is preparing students to be critical thinkers and ethical leaders in an increasingly diverse world. It is a private, non-profit University, established under the Haryana Private Universities Act, 2006, having its place of business at 2 Rajiv Gandhi Education City, Sonipat, Haryana 131029 in India.
For further information, visit www.ashoka.edu.in
About Max Healthcare:
Max Healthcare Institute Limited (MHIL) is one of India's largest hospital chain operators (considering only income from healthcare services) in fiscal 2021. It is committed to the highest standards of medical and service excellence, patient care, scientific and medical education.
MHIL has a major concentration in North India consisting of a network of 17 healthcare facilities. Out of the total network, eight hospitals and four medical centres are located in Delhi and the NCR and the others are located in the cities of Mumbai, Mohali, Bathinda and Dehradun. The Max network includes all the hospitals and medical centres owned and operated by the Company and its subsidiaries, partner healthcare facilities and managed healthcare facilities. These include state-of-the-art tertiary and quaternary care hospitals at Saket, Patparganj, Vaishali, Rajendra Place, and Shalimar Bagh in Delhi NCR and one each in Mumbai, Mohali, Bathinda and Dehradun, secondary care hospital in Gurgaon and Day Care Centres at Noida, Lajpat Nagar and Panchsheel Park in Delhi NCR and one in Mohali, Punjab. The hospitals in Mohali and Bathinda are under PPP arrangement with the Government of Punjab. In addition to its core hospital business, MHIL has two SBUs – Max@Home and MaxLab. Max@Home is a platform that provides health and wellness services at home and MaxLab offers diagnostic services to patients outside its network.
For further information, visit www.maxhealthcare.in