Bridging the gap between crypto and people
Ashoka Alumni and co-founder of Sahicoin, Melbin Thomas, shares insights on entrepreneurship and cryptocurrency.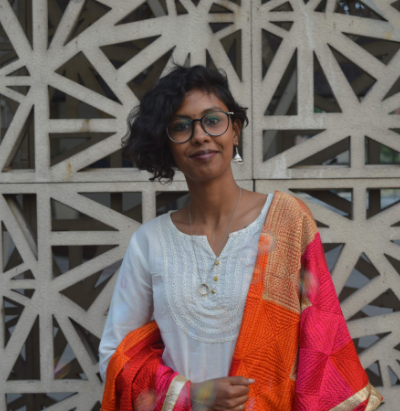 Meera C Govindan
22 February, 2022 | 4m read
Melbin Thomas (YIF '13) is the co-founder of Sahicoin, a social platform for crypto users. Sahicoin recently landed $1.75M seed funding from Alameda Ventures, Better Capital, and other investors. In conversation with the ARO, he delves into what he's been up to since Ashoka, his interest in the finance industry and what Ashoka means to him.
As a Fellow from the second batch of the Young India Fellowship, Melbin's association with Ashoka spans for close to a decade. Reflecting on this journey, he thinks that the initial few batches defined the ethos of Ashoka and of YIF as a program. "The main thing that the Ashoka community fosters is participative decision making. This not only brings the community together but also gives incentive for Ashokans to be invested in the future of the University", he says.
Melbin had completed his Bachelors in Engineering from IIT Kanpur in 2011, but was haunted by the feeling that something was missing in terms of what he had learnt in college and how the real world worked. That's what led him to the YIF. "That and my passion to work in the football industry", he jokes. Post the Fellowship, this passion led him to ISL team Bengaluru FC where he headed the Soccer Schools and played a key role in scaling it up to 1000 students within a year. He then worked with Digital Green, an agri tech non profit, on creating an Uber-pool solution for farmers in Bihar and Maharashtra.
His journey in crypto and blockchain technology started in early 2020 while he was working with Teller finance, a crypto start-up. He witnessed first hand the impact of crypto and blockchain in disrupting the finance industry. He was also able to pinpoint the resistance in mass adoption of the technology. "I realized that one of the key issues was that it was complex and difficult to understand. There weren't many tools that would simplify it for people", he says. As he was pondering on this, he reached out to his batch mates from IIT Kanpur — Amit Nayak and Ankush Rajput who had also independently been building their own thesis for their investments.
Sahicoin was born out of long conversations among the three founders on how they could make crypto accessible. "We realized that people only invest if they get trusted signals from within their network. Sahicoin is built on one simple idea: Simplify crypto investments by investing and learning from people you already trust." He draws strong parallels between the crypto industry now to the internet boom of the mid-90's and believes that the next generation of innovations is set to take place in this space. Sahicoin has raised $1.75 million in the latest seed round led by Alameda Ventures (FTX), Better Capital, and others.
As a co-founder of not one but two start-ups, he believes that entrepreneurship is a journey not a destination. He believes that while an entrepreneur must have conviction in their ideas, it is important to seek feedback and build on it.
He signs off with a note to aspiring entrepreneurs, "Once you decide to become an entrepreneur, it is a lifelong journey of learning, breaking down your own biases, and rebuilding from scratch. An entrepreneur cannot do everything on their own. A major insight over here is to build conviction in your team about your vision as well as inspire them to achieve their own dreams."