Chamba Tsetan's ASFL takes the lead in creating eco-friendly adventure sports events in Ladakh
Chamba Tsetan (YIF'19) gives us insights into his journey as an entrepreneur in the social impact sector as he navigates the intersection of sports and sustainability
Chamba Tsetan (YIF'19) hails from a small village in eastern Ladakh, not far from the border of China. Coming from a place where the resources are seemingly sparse, he remembers his early schooling involving only a rudimentary blackboard, carpet, and tent. Brought up in a nomadic, pastoralist family, he would frequently relocate and enroll in makeshift schools to complete his education. A national ice hockey player now, Chamba was introduced to the sport at SECMOL, an alternative school he joined in his 10th grade that emphasises sustainable living. As time passed, he found himself slowly growing to love the sport.
While ice hockey has taught him many lessons on sportsmanship, dedication and teamwork, it most importantly kindled Chamba's interest in the realm of sustainability. The effects of climate change have been deeply pronounced in Chamba's life. Due to global warming, there has been a considerable decline in snowfall as glacial ice has started to melt. This has had a direct impact on his career as a sportsman as the period for playing ice hockey has gotten significantly reduced. Moreover, as a resident of Ladakh, Chamba could never engage in an abundant lifestyle due to the perpetual dearth of resources. This scarcity has only become more acute as rivers are starting to dry up, fodder is running out for the livestock and there is a general decline in precipitation. With climate change affecting not only his livelihood but also his profession, Chamba recognised this pressing problem and wished to come up with a fix that raised awareness about global warming and sustainability while also combining his love for ice hockey.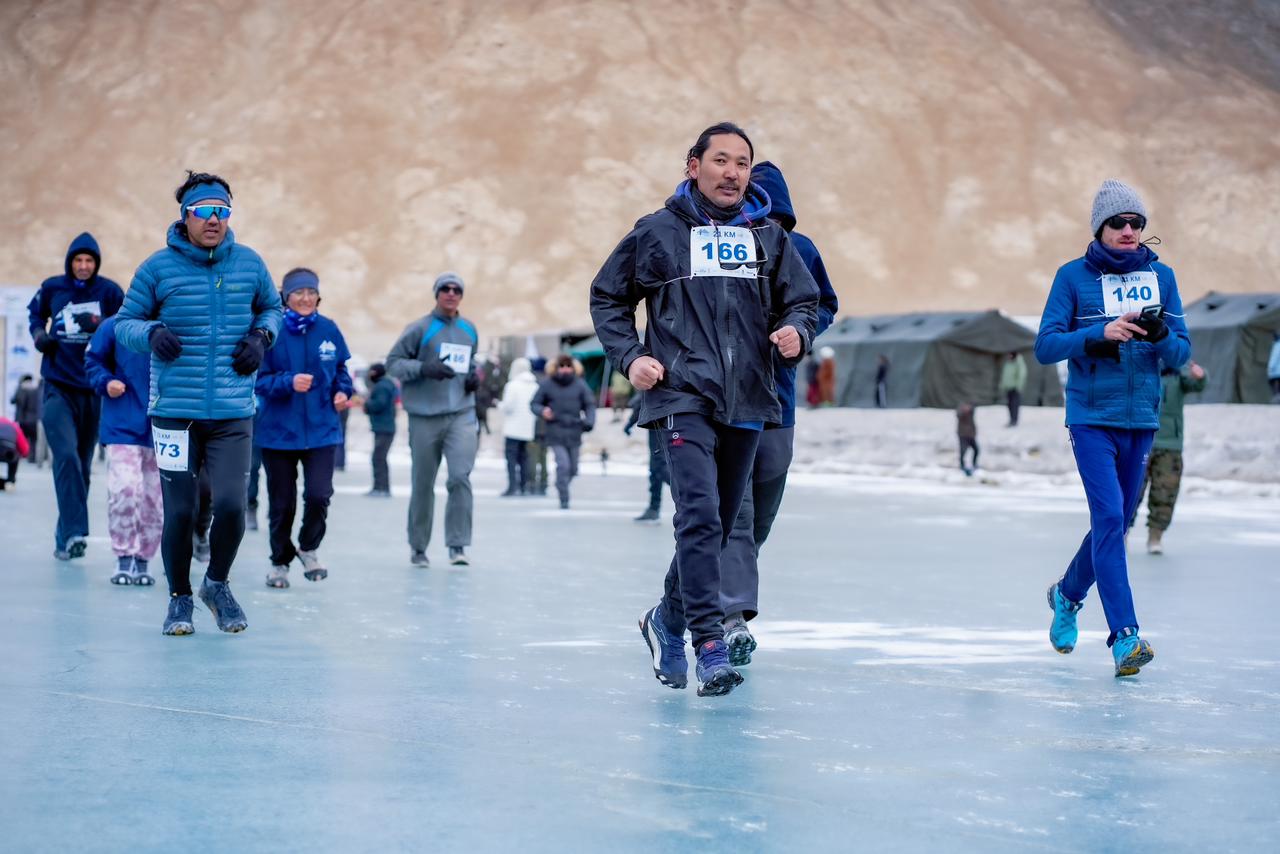 Chamba created a niche space for himself at the juncture of sports and sustainability through his organisation, Adventure Sports Foundation of Ladakh (ASFL). The organisation was established in an effort to encourage sustainable behavioural changes and promote environmental responsibility through sports. The foundation conducted its inaugural trail running event, the Pangong Frozen Lake Marathon in February 2023. It was called 'The Last Run' implying that this could be the last run on a frozen lake as the glaciers are rapidly melting due to global climate changes. The marathon brought together passionate runners from all over India and helped raise awareness about the depleting resources in Ladakh. ASFL received the Guinness World Record for organising the world's highest frozen lake half-marathon. Such an accolade helped provide coverage to Chamba's unique mission to raise awareness about climate change through the avenues of sports while simultaneously bringing winter tourism to Ladakh.
All participants were made to stay in local homestays and relish the native delicacies of Ladakh. The programme also inculcated eco-friendly practices such as a 'no plastic bottles' policy and carpooling. Chamba and his team also took the participants around Ladakh, showing them the Ice Stupas of Ladakh in an effort to raise awareness about the water shortage problem. Through the avenues provided by his marathon, Chamba turned his participants into sustainability ambassadors as he highlighted the ramifications of climate change. The participants responded with enthusiasm and many shared their own set of ideas on sustainability for future marathons.
An entrepreneur and changemaker at heart, sustainability has always been fundamental to Chamba. "The Young India Fellowship introduced me to an incredibly diverse and talented cohort. Conversing with them not only inspired many discourses about sustainability but also taught me so much about business and entrepreneurship", says Chamba. "The course Indian Ecosophy taught by Professor Aseem Shrivastava helped me understand more about the human-nature relationship", reminisced Chamba as he looked back on his YIF journey.
Committed to shaping his career in the social impact sector, Chamba was selected for the prestigious Mother Teresa Fellowship as a Young India Fellow where he received intense training as part of a talented cohort of established industry professionals in the developmental sector. The fellowship provided him with important lessons on mentorship, capacity building and community building that have played a prominent role in the establishment of his organisation today. An 18-month-long fellowship for Ashoka University graduates committed to working in the social development sector, the Mother Teresa Fellowship is a values-based programme that aspires to lay the foundation for future leaders who have a nuanced understanding of the confluence between social impact, society and self.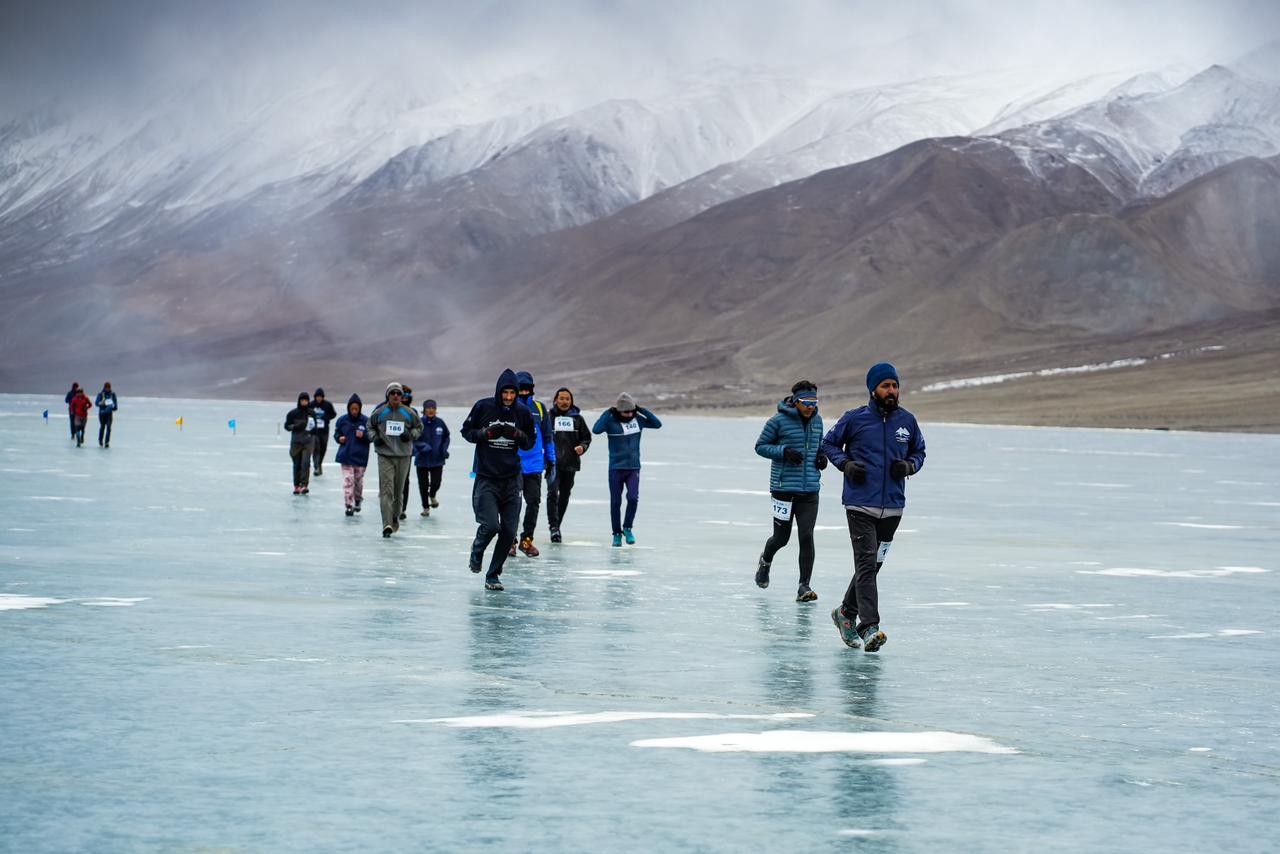 When asked about his future plans for ASFL, Chamba had a lot to share. An avid sportsman, Chamba wishes to inculcate a love for adventure sports and fitness in the youngsters of Ladakh. "We want to encourage students of local schools to participate in adventure sports such as mountaineering, hiking and of course ice hockey", shares Chamba. The ASFL has established the marathon as an annual event, with the next one in the month of August. Titled 'Rezang-la Full Moon Marathon', the midnight marathon is meant to honour the brave soldiers of India. Additionally, the organisation has also launched a month-long research project to understand water usage in Pangong. Chamba wishes to understand the questionable water usage practices that plague Ladakh and come up with a strategy to intervene and cultivate sustainable changes. He also wishes to expand on a global scale and collaborate with sports foundations across the world in order to organise the first-ever Ice Marathon Championship. With many more exciting plans in the books, Chamba wishes to make an even bigger impact in the space of adventure sports and sustainability.
When asked about what advice he would give to young and aspiring entrepreneurs, Chamba said that the key to a good entrepreneurial venture is that one must ensure that whatever they do, it must be something they are passionate about. "Impact will naturally follow wherever there is passion", asserts Chamba.
---
(Written by: Saairah Mehta, a second-year student pursuing Political Science and International Relations at Ashoka University)