Child Rights Fellowship Hosts Convocation Ceremony for its Second Cohort
The Fellowship is a strategic collaboration between Ashoka University and Delhi Commission for Protection of Child Rights (DCPCR), aiming to transform the lives of children in Delhi NCR
Child Rights Fellowship (CRF), a strategic collaboration between Ashoka University and the Delhi Commission for Protection of Child Rights (DCPCR), hosted the convocation ceremony for its second batch at the Indian Habitat Centre, Delhi. The 9 Child Rights Fellows graduated on this occasion. In the second year of the Fellowship, the Fellows made significant contributions to more than 10 projects across three focus areas of education, health & nutrition and juvenile justice.
Some of the achievements include bringing more than ~1 lac students back to school through an Early Warning System, receiving ~13,000+ grievances, and sharing ~5000+ information packets to families under the Helpline 2.0 Project. Further, launched the Accessibility Handbook & Web Portal to ensure the rights and entitlements of ~25,000+ Person(s) with Disabilities. The ceremony was attended by Hon'ble Justice Rajiv Shakdher; Ms Vandana Bagga, Director General of Health Services Govt. of Delhi; Mr Ashish Dhawan, Founding Chairperson, Board of Trustees, Ashoka University; Mr Vineet Gupta, Founder, Ashoka University; and Mr Anurag Kundu, Chairperson, DCPCR; along with dignitaries from civil society organizations like Save the Children and Salam Baalak Trust.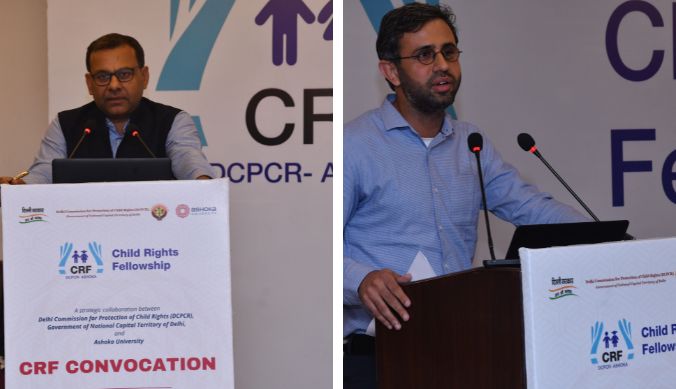 Sharing his thoughts on the graduation of the second batch of the Child Rights Fellowship, Vineet Gupta, Founder, Ashoka University said, "As a Founder of Ashoka University, I am proud of our collaboration with DCPCR for transforming the lives of children in the areas of Education, Health & Nutrition, and Juvenile Justice. Ashoka's vision is to create changemakers who give back to society. The second cohort of CRF fellows have exemplified hard work and dedication to the cause of the children. As they graduate, I wish them success in their future endeavors."
Speaking on the occasion, Anurag Kundu, Chairperson, DCPCR said, "Child Rights Fellowship has been an instrumental programme in strengthening child rights reforms in Delhi. The programme structure allows the fellows to work closely with the government while gaining considerable support in career development. I am proud of the contribution of the current cohort and look forward to another set of brilliant young professionals to bring a tangible impact on the ground."
The CRF is a strategic collaboration between Ashoka University and DCPCR, supported by Pernod Ricard India Foundation (PRIF), to engage young professionals to work on child rights and child welfare in Delhi. The programme offers a unique opportunity for the Fellows to drive systematic impact and transform the lives of children in Delhi. The Fellows are guided by a robust Programme Management Unit (PMU), and there is an active support of senior government officials at DCPCR and Ashoka University.
For further information about the fellowship, please visit: https://crf.ashoka.edu.in/