Discovering India through Ashoka University
For many internationally renowned universities and colleges, Ashoka University is the gateway for robust and lasting relationships in India
Vanita Shastri
3 August, 2022 | 4m read
Several eminent institutions are looking for a partner in India that can deliver outstanding courses, has world-class infrastructure, is safe, provides easy access to accommodation and living experiences with several additional opportunities for their students and faculty. In all these aspects, Ashoka University is very well placed for any visiting faculty or student to just plug and play.
Having the global DNA from the very inception, Ashoka University invited visiting faculty to come and be part of the bold initiative to transform the higher education landscape in India. To do so, it put in place processes that made it easy for any visiting faculty to come and teach at the university. From hassle-free airport transfers to providing fully furnished accommodation, free food, WIFI and state of the art amenities, Ashoka University is home to everything that the faculty require to come and teach.
Prospective partners are looking at Ashoka from a variety of perspectives. Some like Dr. Teun Dekker, Professor of Liberal Arts and Sciences of University College Maastricht, are impressed with the courses and programmes.
He said, "we are very happy to explore this partnership in India. I have a very positive impression of your institution, and think our programs would be highly complementary for your students."
Others approach Ashoka because they know the faculty and see a synergy in course offerings.
"We are particularly interested in Ashoka because there are several scholars there whose work we know…like Amita Baviskar, Mekhala Krishnamurthy, Gilles Verniers, and also because…our department offers a combination of classical Indology and sociology/anthropology of contemporary India."
–Prof. Nicolas Martin, Department of Indian Studies, University of Zurich.
After a recent visit to Ashoka, Sarah Besky, Associate Professor, Cornell University, USA said, "A Cornell-Ashoka partnership offers a unique opportunity to build and promote research collaborations and student mobility between our academically diverse institutions. Researchers across Cornell and Ashoka are attending to climate crisis as one of the most pressing concerns for people worldwide. While there are numerous potentials for an Ashoka-Cornell partnership, understanding environmental change from an interdisciplinary perspective—one that attends to soils and sociality, land and labor, economics and ethics—is one area of collaboration and discussion that we are excited to see emerge."
"The Faculty of Arts at University of Melbourne is looking forward to collaborating and developing joint courses focused on South Asia and ecology for students at both universities. We are also excited about collaborating with the Centers at Ashoka University, like TCPD and others. One of the goals of our partnerships is to focus on building student exchange programmes with Ashoka University."
–Dr. Dolly Kikon, Deputy Associate Dean (International – India) at the Faculty of Arts, University of Melbourne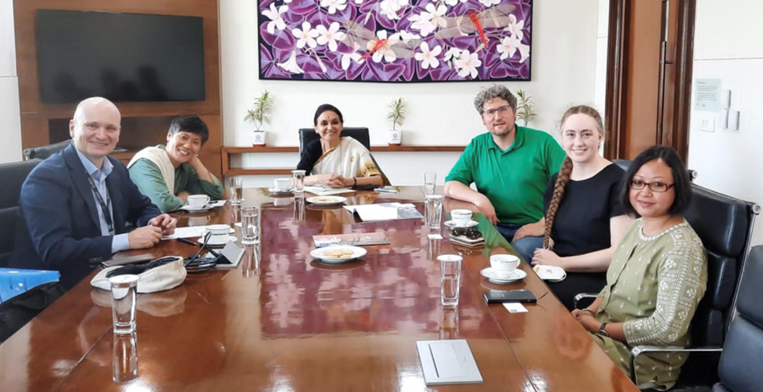 After a Joint Virtual Immersion Programme held by Ashoka and NUS, Singapore on Sustainability and Climate Change, where the Ashoka students presented the Minecraft project and a short movie on its making, Foong Sin Chooi, Senior Associate Director at NUS said, "This reminded me of my visit to Ashoka University back in 2019, and its beautiful campus. But this is even a lovelier story since it's the work of students and demonstrates the required skills for the 21st century!"
In the same way, the Visiting Students Programme (VSP) for incoming students on exchange or otherwise find Ashoka an easy destination to come and take courses. It welcomes international students to spend either summer, a semester or a full academic year at Ashoka. The VSP programme is open to students from partner and non-partner global institutions. It is specifically designed to foster the exchange of ideas between the undergraduate students of international institutions and those at Ashoka.
Over the years several international students have come to Ashoka and used it as a base to discover India. The courses they take are a view into subjects about different areas of the country whether its Indian civilizations, history, people, media, environment and more. The visiting students get a global perspective through discussions and discourses both inside and outside the classroom and contend that they get to hear a south-south view on global issues, like climate change, nationalism, post-colonial theory and more.
In between courses they find time to explore Delhi and its surroundings, whether it's the Red Fort, Chandni Chowk, Jama Masjid, India Gate or the Gandhi memorial and more. They take also weekend trips to get a glimpse about the culture, food, colors of the very diverse and multicultural experience of India.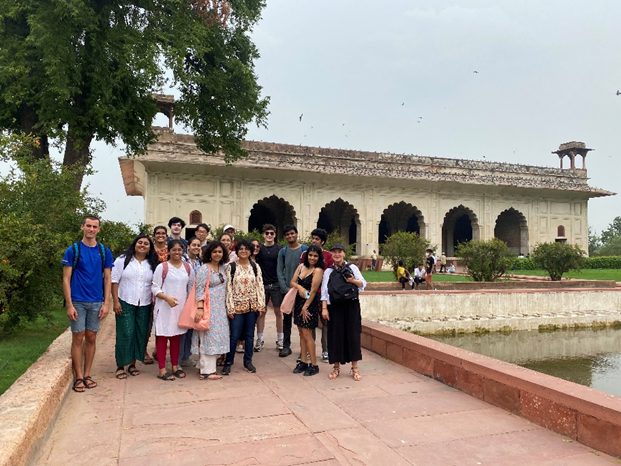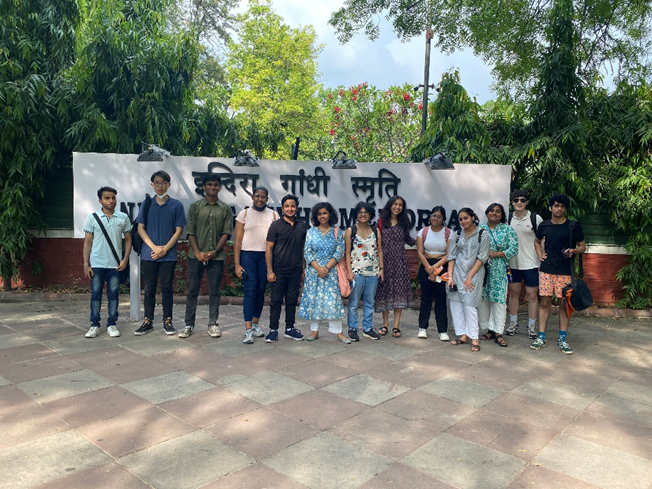 Here are some students' voices about their experiences:
Tahj Lakey was a rising Junior at Yale University in 2019 and studied Ethnicity, Race and Immigration back home. As part of the summer VSP Programme at Ashoka, he took 2 courses, a psychology course on 'violence as human behavior' and second, a media studies course on documentary and video storytelling. Of the professor who taught the media course, he said, "she did a really good job of teaching us the basics and the fundamentals of documentary storytelling before having us complete our final project. So, I feel like I've definitely gained a lot of Knowledge from being in the class. The one word I would use to describe my experience of Ashoka is community."
Holly Standring from University of Sheffield in England who studied history and sociology at Sheffield was happy with the campus life at Ashoka. She said, "There's a lot going on all the time. One thing that I went to regularly were the film screenings, every Wednesday held by the Film Society, which was really good. There were really good films with a discussion afterwards, which was really interesting. I also went swimming quite a few times. The facilities here are really good, so swimming, particularly when the sun is setting, that was one of my favorite things to do. Probably the one word I would use to describe my trip to India is an eye-opener."
Maxine Cole, a second-year student from Sheffield University from the UK chose Ashoka because it's in India. She said, "I really wanted to come to India. I've never been to Asia before. So, I really wanted to come here. I really like the courses, and on campus, there's lots of activities and things that are organized for us. I played Cricket once and it was good fun. There's always something going on and tons of stuff to do on campus."
The Ashoka University residential campus provides a great opportunity to learn with students from India. Sharing a room with an Indian student leads to building friendships that lasts beyond their time in India. The local students invite the visiting students to their homes, accompany them on trips and play a great role of being ambassadors for their country.