Diversity. Inclusion. Equity: A Growing Culture at Ashoka
Ashoka University is uniquely positioned to lead the way in India to further the cause of inclusion at a systemic level, writes Reena Gupta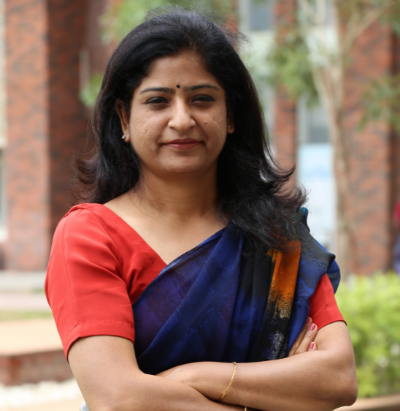 Reena Gupta
6 April, 2023 | 4m read
"The problem is not how to wipe out the differences but how to unite with the differences intact". – Rabindranath Tagore
Diversity exists all around us in the form of human differences
Inclusion makes way for everyone in every activity
Equity ensures people get the support they need to succeed
The Office of Learning Support (OLS) creates this diverse, inclusive, and equitable culture on campus that values individual differences. We started our journey seven years back with a dream of a well-resourced world-class support system for students with invisible disabilities. Today, we see students with all kinds of abilities and challenges applying and becoming an integral part of the diversity at Ashoka, contributing towards building a truly global university with its heart at the right place.
The office engages with many stakeholders within as well as outside Ashoka, and thus we've had the opportunity to learn, unlearn and relearn along with our students as well as from their families, educators, industry experts and policymakers.
Some Statistics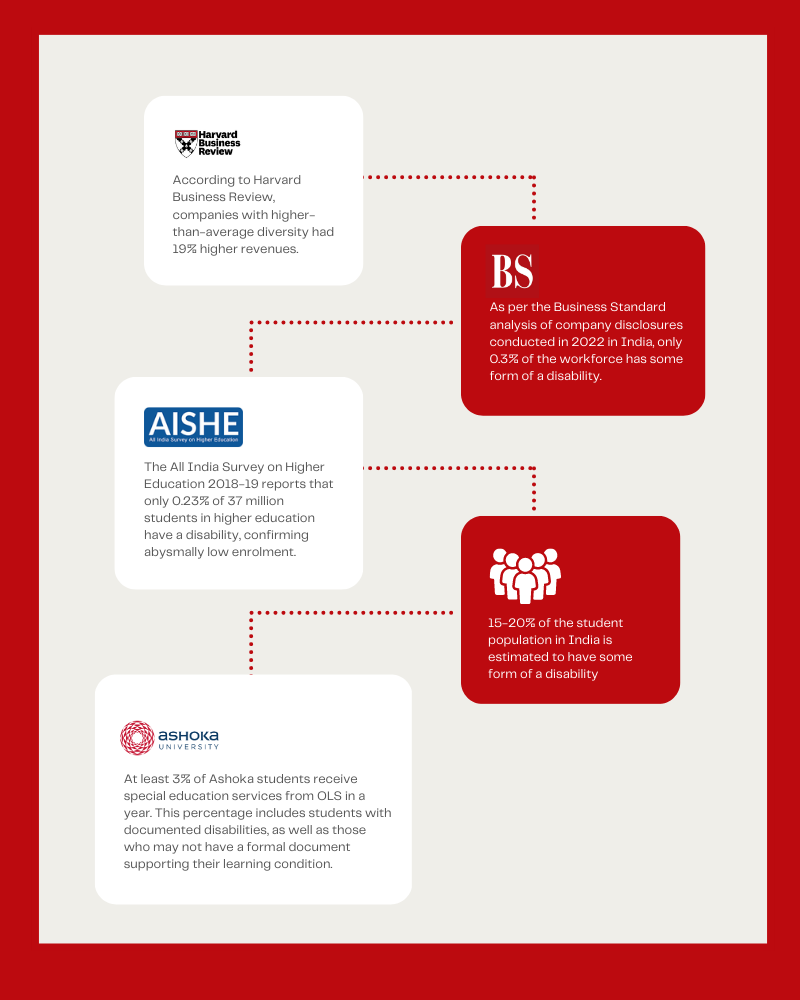 These statistics clearly indicate the enormity of the challenge of bringing students with disabilities into the higher education system. Many of them discontinue their education after high school owing to several barriers. These include limited availability of resources and support systems and a lack of awareness about their strengths and capabilities.
A systemic change across different levels of educational institutions as well as regulatory frameworks is needed to harness the abilities of these students. Challenging the status quo is precisely what Ashoka University initiated through the Office of Learning Support (OLS) in 2016.
Our Approach
The OLS follows a two-pronged approach in its work.
Student-centred approach within the Ashoka community
Systemic-shift approach with the community outside Ashoka
Within Ashoka, the range of our work covers awareness and sensitization to daily academic and residential support to career planning for students registered with us. Learning Support is available to all Ashoka students who struggle with different aspects of their academics, unrelated to disability too.
Besides the students with disabilities, another 3 per cent of Ashoka students receive support from the office with respect to their study skills, time management, specific academic skills related guidance, and managing overall academic rigour.
Our biggest achievement so far has been about building a culture of inclusion and allyship on campus. Today, the student community has come together to learn from and along with their peers who may learn differently or have specific needs. This allyship is empowering them to take meaningful action and include everyone in all campus life activities and programs.
Outside Ashoka, the OLS has initiated and steered crucial conversations around the inclusion of students with disabilities in higher education. We convened the first pan-India online summit that initiated a deliberation around best practices and helped spearhead collaborations with like-minded institutions. The conversations delved into discussions on policies, solutions to major systemic and infrastructural barriers, research, and technological advancements.
We also organised the first-ever conference on the inclusion of students with dyslexia in higher education institutions in India in 2021. The virtual conference aimed to spotlight dyslexia through lived experiences, explore its acceptance in HEIs in India and look at its future in the realm of employment. It brought together academicians, practitioners, industry experts, parents, students, advocates, and policymakers to share best practices, knowledge and lived experiences to enable effective support systems for students with dyslexia across the HEIs.
Through its College Readiness Programme (CRP), the OLS is building capacity to strengthen the educational ecosystem for people with disabilities. The programme that's conducted online twice a year over three days engages various stakeholders – schools, career counsellors, parents, students, and professionals in a virtual learning series. It equips students with the skills required in higher education and be future-ready.
On the Policy side, the OLS, along with the members from different organisations across the country, participated in the committee formed by the then Chairman, AICTE. The committee prepared a report on the need to strategically focus on the inclusion of students with SLDs in higher education institutions. Those recommendations were approved and are in the process of being implemented in technical colleges/universities.
Looking Ahead
We believe that Ashoka, with its vision, its eminent place in the HEI eco-system and its proven credentials and experience in fostering an inclusive environment, is uniquely positioned to lead the way in India to further the cause of inclusion at a systemic level. Moving forward, we plan to collaborate with organisations interested in bringing about this much-needed change in our society and establish a system that promotes an in-depth understanding and acceptance of neurodiversity and the dissemination of best inclusive practices in higher education institutions in India.
---
(Reena Gupta is the Director of the Office of Learning Support at Ashoka University, leading a unique initiative to establish a comprehensive inclusive education framework supporting students with specific learning needs at the university level.)