Finding a home beyond borders and boundaries
Intertwined in the travesty of love, care, warmth, solidarity, support, kindness and safety, I think I have learnt what home means to me outside the clear-cut borders of space but into the blurriness of human experience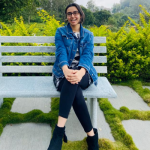 Aliya Fathima Sheriff
29 August, 2023 | 4m read
Dearest Reader,
I hope this letter finds you well. I apologise for not writing earlier; it has been one hectic year! I am now in the dining room at my grandparents' house in Chennai, with the sound of the pressure cooker wailing, my little cousin playing with his red toy monster car, the crunch of medhu vadai being devoured by my grandfather and the distant bustling of vehicles on the main road outside. Amidst this familiar commotion (a stark difference from the silence in the Rajiv Gandhi Educational City), I sit to reflect on my YIF experience with my laptop embellished with Ashoka stickers and a good cup of chai.
What was this year? It all went by so quickly, how am I to even begin unpacking it?
Just a year ago, I was in this house violently washing utensils after my YIF interview, absolutely sure that I would not get in. Now I am back here after the convocation ceremony of my YIF batch. A year ago, I was worried about what I would do with my life, how I must somehow leave home, how and if I would ever find the perfect professional fit—and now I surely have some of the same lingering anxieties, but if not anything else, I am confident that I will do something and figure it out.
This does make me think how ironic it is that I always craved to leave home, to explore and find out who I am outside of familial expectations. I did get that chance to experiment, explore and learn, but at the same time also found a home through this one year at the YIF. In the corners of my room amidst my plants, in the soft giggles and lopsided smiles of my peers, in the letters exchanged, in the Happy Birthday choruses in the Common Room, I have found and built a home. My home. Our home. Intertwined in the travesty of love, care, warmth, solidarity, support, kindness and safety, I think I have learnt what home means to me outside the clear-cut borders of space but into the blurriness of human experience.
When on my period dying of cramps, a friend brought me dark chocolate, it felt like home. When I fell and twisted my ankle during a campus tour for the YSPs, I was gently taken to the infirmary and pampered for the whole week, it felt like home.
When at the first batch party, a bunch of us women looked out for each other ensuring that all of us reached the hostel safely;
when I'd play Turk, my ukulele, with my roommate late into the night;
when we would celebrate festivals together as a batch, be it Bihu or Eid;
when we would stay up to do assignments together;
when people showed up to cheer us on our wins;
when we comforted one another when we rushed to make it to the last shuttle at Jahangirpuri together making sure no one was left behind even if it meant begging driver bhaiyya to wait a little longer;
when a fellow picked up laundry for me; when someone came over to my room after writing "Does anyone at IIT have milk" on our WhatsApp group;
when I learnt to sketch from a fellow; when we collectively cried about IIT wifi;
when we wrote SOPs and helped each other with job interviews,
when friends brought back mutton nihari from their Dilli outings and we rushed to lick the dish clean:
When we are YIFs, together, it feels more than home.
I carry parts of this shared safe space wherever I go. And I am ever grateful.
As the cooker stops its siren and the smell of Chicken curry makes its way to the dining room, it seems like my cue to go devour some good home-cooked food and reminisce about the garam garam parathas at IIT and the disappointing chicken at Ashoka – the process of reflecting would not stop, I promise! But before I go, I would like to leave you with one of my most coveted learnings from the YIF. It does not have to be an and/or, it can very well be a both/and!
Lots of Love,
Aliya
---
(Aliya Sheriff is from the Young India Fellowship batch of 2023 and is currently pursuing her MLS with a concentration in creative writing and will be going to Sciences Po for an exchange semester in Public Policy: Culture Policy and Management)