GESP tracks Graduate Admissions of Ashoka students
The Office of Global Education and Strategic Partnerships is proud to share the achievements of Ashoka Alumni as we track Undergraduate Students and Young India Fellows over the recent years.
In the spring of each academic year, the Office of Global Education and Strategic Partnerships (GESP) at Ashoka conducts a survey of the graduating students to collect information on where students are headed for higher studies. This year as well, GESP tracked over 92 students of which 79 students have received admissions to prestigious universities across the globe, including universities like Princeton, Yale, University of Chicago and Columbia University in the USA and LSE, University of Cambridge and Oxford in the UK. This includes 28 ASP students, 18 UG 3rd year undergraduates, 13 fellows, 4 masters and 16 Ashoka alumni.
The Graduate Admissions cycle starts with GESP hosting numerous information sessions, in the monsoon semester with workshops and panel presentations covering post-graduate studies, the application process, requesting letters of recommendation (LORs) and writing SOPs, scholarships and more. These sessions are well attended by seniors, across all programmes, at Ashoka. In addition, the GESP office offers guidance and advice and answers questions of Ashoka students planning to apply for higher studies both in India and abroad.
GESP tracks the students and follows their journey from start to final acceptances into graduate admissions. The results of this survey are shared with the Board and the larger Ashoka community.
Here are some highlights from 2022:
Majority of the students have been admitted to MSc and MA courses. For a second year in a row, the USA is the destination of the majority of graduating Ashoka students, with the UK coming a close second. The Ashoka UG departments and majors that had the most students getting accepted to international universities this year are Economics (16), followed by Political Science and IR (14), then English (13) Fellows (10) Psychology (9).
For the first time, this year, two Ashoka students have got into PhD programmes at Princeton University, both the very first students admitted into their subjects, Paroma Roy Chowdhury (MA Eco 2022) in Economics and Arush Pande (ASP 2020) in English.
Two students got into Yale; Kartika Puri for a Ph.D. in English (UG 2019 & MA English 2022) and Namya Meshram (YIF 2022) for Masters in International and Development Economics.
Overall, 6 students got into Economics Ph.D. programmes, apart from Paroma, they are Anahita Karandikar (University of British Columbia), Ashish Kumar (Johns Hopkins University), Namita Goel (Georgia State University), Nikhilesh Prakash (Stockholm School of Economics) and Saloni Taneja (University of Southern California).
Similarly, we have 8 Ashoka alums who have got into PhD programmes in English, apart from Arush Pande and Kartika Puri, they are Ailin Jain (University of Pennsylvania), Himadri Agarwal (University of Maryland), Salik Basharat (Vanderbilt University), Sayali Palekar (University of Cologne), Sonal Rana (Rutgers University) and Srija U, (Columbia University).
Ashoka Alum, Dhruv Agarwal, got admitted into an integrated Masters – Ph.D. program in Computer Science at Cornell University, USA. He graduated with a Magna cum Laude in Computer Science from Ashoka University in 2020 and then spent two years working at Microsoft Research.
Dhruv also won the prestigious Quad Fellowship in 2022. He is part of the first cohort of 25 students from India to be part of the 100 exceptional STEM graduate students to receive the Quad fellowship. This is a first-of-its-kind scholarship designed to spur interdisciplinary scientific and technological innovation while building ties amongst and empowering the next generation of STEM leaders. The Quad Fellowship is a joint initiative of the governments of Australia, India, Japan and the United States that sponsors 25 exceptional fellows from each Quad country
In addition, Sushmita Thakuri, has got into an integrated Masters – Ph.D. programme in Biology at NYU in USA.
Lalchhanhimi Bungsut, UG21, got an admission to University of Oxford to do a masters in Social Anthropology and also received the Inlaks Scholarship in 2022.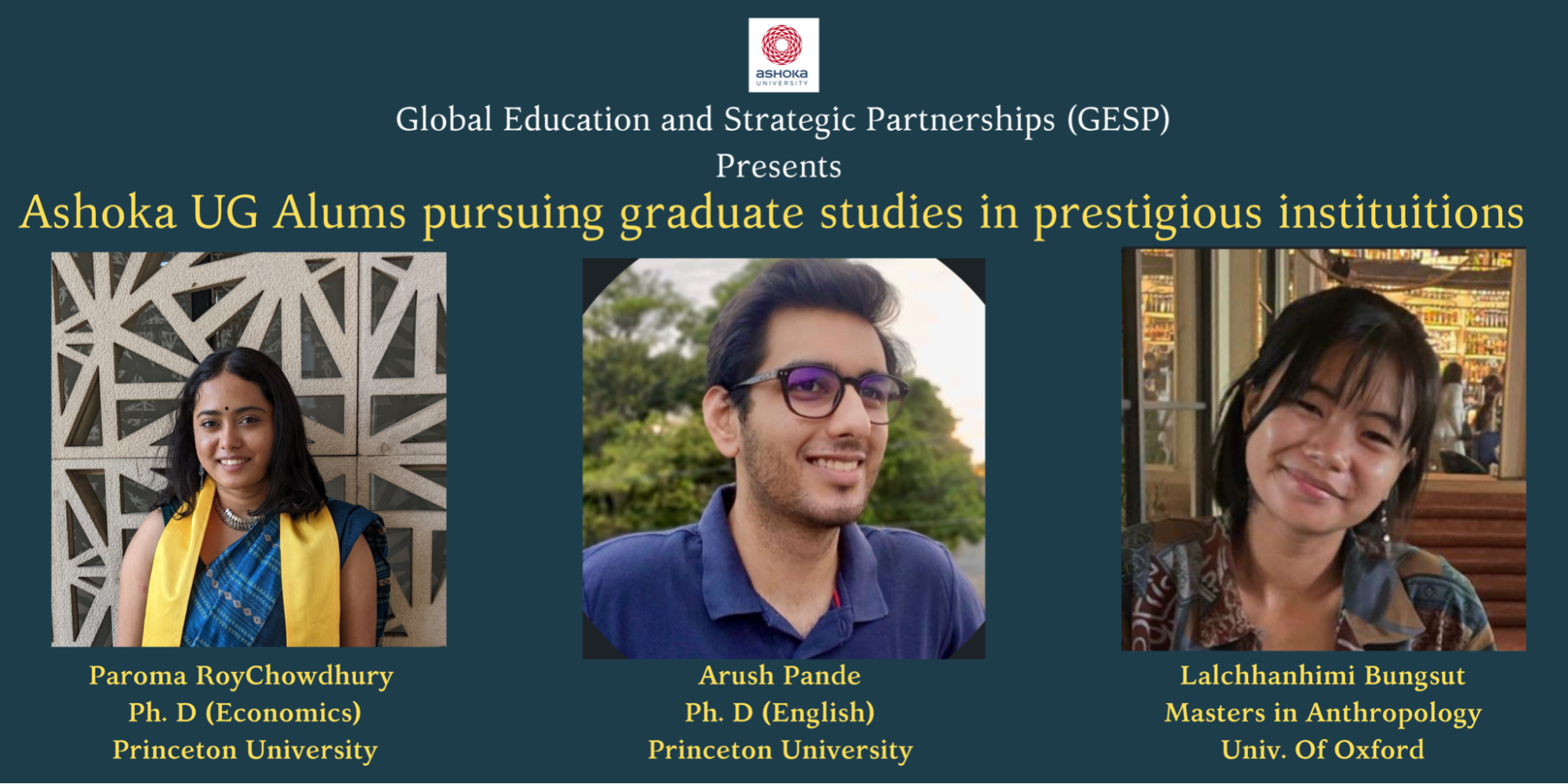 This year, Ashoka students have got accepted into some unique and interesting new areas of study. This includes, Bachelor in Veterinary Medicine (Rayeena Ray, UG22); Diploma in Screenwriting for Film, TV, and Video Games (Mruthyunjay Khumbumattu, YIF22); Masters in Ethnomusicology (Roshan R, UG21); Masters in Migration and Diaspora Studies (Apala Mandal, YIF22); Masters in Artificial Intelligence, (Ruthu Rooparaghunath ASP22); MSc in Human Computer Interaction (Tanuj Sood, ASP22) and Masters in Engineering (Vrinda Khandelwal, ASP22)
Worth mentioning are the students from Math's who got placed at prestigious schools this year. Manas Srivastava (West Virginia University), Pratik Apshinge (University of Bonn), Naina Praveen (University Cambridge) and Ojas Kumar (Indian Statistical Institute).
3 students have got into Law, Ishaan Khosla (ASP22), Kripi Dua and Amisha Singh both UG22.
Management Studies – A few students have received admission into specialized management programmes. These are Masters in Finance, Shashwat Jain and Dhrupad Damni, in Essec Business School and LSE respectively; Masters in Quantitative Economics, Malika Chandra ASP22 at University of California at Los Angeles; M.Sc in Marketing Management, Suhina Ahuja, Esade Business School; and 2 are pursuing an MBA, Steven Thomas and Pallab Doley both YIF 22 at XLRI and York University respectively.
Here are some notable YIF alums who worked at Ashoka University or elsewhere after graduation and have been accepted into prestigious postgraduate programmes:
Aanath Daksnamurthy, YIF '17, worked at multiple institutions like the The Print, Institute of International Education and Govt. of Tamil Nadu  and is off to do his Master's of Science in Publishing and Media Studies as a Fulbright Scholar at New York University, USA 
Palki Bhattacharyya, YIF '16, worked at the Young India Fellowship programme for 6 years and is off to do her Master's at Harvard Graduate School of Education, Harvard University, USA
Vandit Kunapareddi YIF'20 worked with the Pro-Vice Chancellor's office at Ashoka and is now off to do a Masters in Finance at Baruch College, USA 
Ayush Gandhi, YIF '20, worked at IIT at Gandhinagar for 2 years and is off to do his Master's at Harvard Graduate School of Education, Harvard University, USA
Krishna Shekhawat (YIF '18) has been accepted to do a PhD in History at University of California at Berkeley
Kartikeya Bhatotia (YIF '18) is pursuing an MPP at Harvard University  
Prateek Rastogi (YIF '18) is doing his MBA at Harvard University
Subhechha Chatterjee (YIF '18) is also off to do his Master's at Harvard Graduate School of Education, Harvard University, USA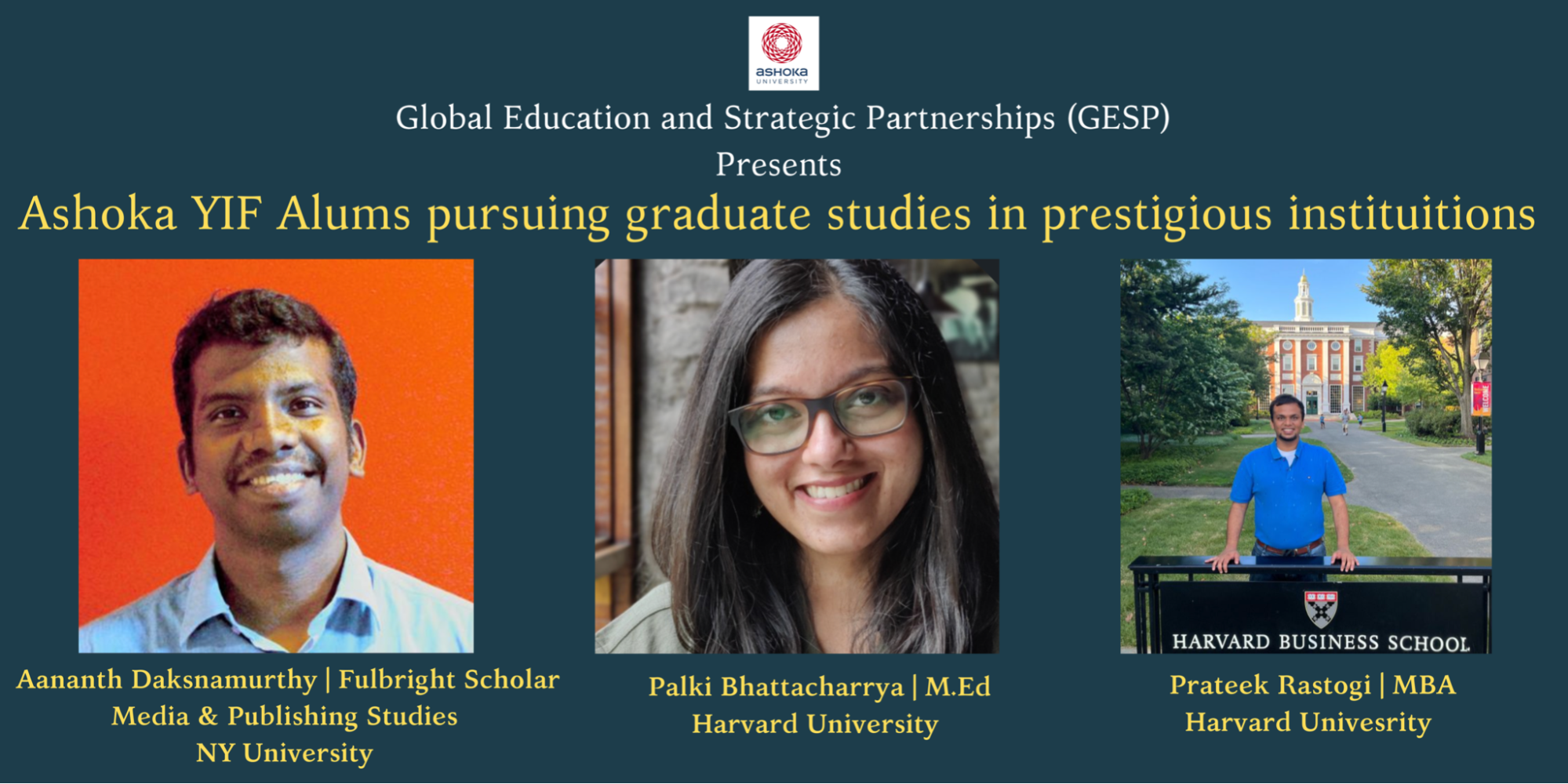 Note: The data for this piece is based on self-reporting of students in response to a GESP survey.