Learning Evolutions: How Versatile Creative Programmes Shape 'Teaching Writing'
Sampurna Dutta reflects on how CWC's Creative Programmes serve as a pedagogical driver, engage diverse publics, foster research discussions, and offer tutors a unique classroom experience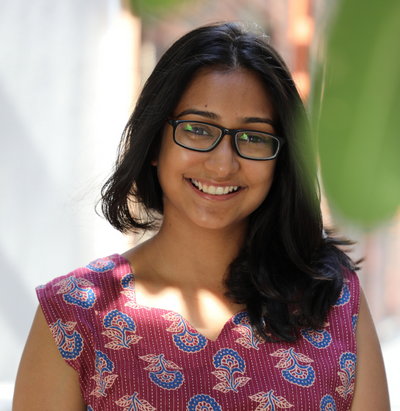 Sampurna Dutta
16 November, 2023 | 4m read
CWC's core role as a "teaching-adjacent academic writing Centre" often leads the University community to primarily associate us with "neutral" and transferable writing instruction. However, our Creative Programmes, along with the Annual Conference, Summer and Winter Schools, help us explore the inherent feedback loop between teaching transferable writing and pedagogical commitments more broadly. These programmes do not just supplement our writing instruction; they actively inform our understanding of the field itself.
For instance, a recent workshop titled "Citation as Feminist Praxis" dwelt on the politics of citation, how it can gender textual silences, and how a "citational chain" establishes an abstract academic authority. This discussion was particularly relevant given the recent launch of CWC's inaugural online module, the "Introductory Course on Academic Integrity and Ethics." It considered the "intent" behind citations in fluid texts like recipes and anecdotes, challenging the conventional view of citation as a rigid standard practice. This workshop troubled the fixed nature of academic citation by linking it to broader political realities of gender and caste.
The Creative Programmes also fulfil CWC's commitment to public-facing instruction and learning. Tutors and Fellows talk about their own research through these programmes while engaging with audiences in the University and beyond. Writing can become a solitary craft, and these programmes foster cross-disciplinary conversations with students and staff members alike. Nearly all programmes have a substantial workshop component. We try our hand at different genres of writing together, experiment with guided freewriting exercises to jumpstart our process and share feedback on writing-in-progress with peers from all over campus. These interactions allow us to experiment with an informal, supportive, Writers' Café-style environment and help to flesh out our ideas for new listeners.
While we have offered a number of "craft" talks and guest lectures (such as "Thinking Body Dancing Mind: A Lecture-Demonstration", and a talk titled "Why Are Adivasi Writings Still On The Margins of Indian Literature" by Akash Poyam), currently, our Creative Programmes focus on broader thematic concerns in teaching writing, rhetoric, and composition. For instance, we are considering a series on Theorising Creative Non-fiction in Academic Writing, drawing on genres such as ethnographic field notes, archaeological diaries, reportage, and memoirs. This series would respond to recent currents in academic writing—negotiating the objective and the subjective, theory and the personal—while also speaking to the work of other Centres at Ashoka University. Additionally, we're working on a core roster of skill-focused reading/writing workshops as an extension of our Creative Programmes offerings, with the goal of producing original teaching resources tailored to Indian learning contexts.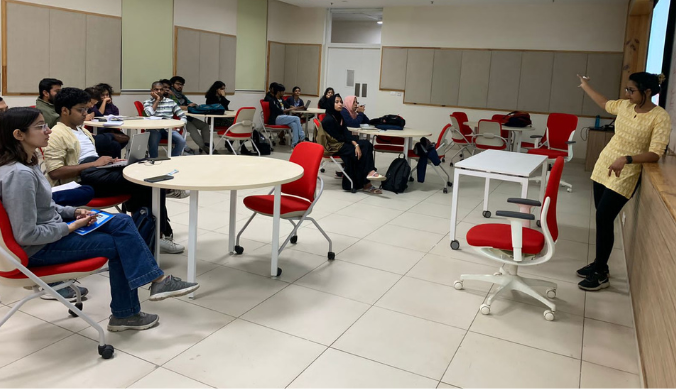 Through our Creative Programmes, we meet students across cohorts and disciplines who may not see how writing instruction is intuitively "useful" for their own work. These interactions, however, often spark fresh forms of lateral disciplinary thinking. A recent workshop on Storytelling in International Development: Critical Reflections in Narrativising Social Change drew on Rhetoric and Composition studies (to deconstruct both the "act" and "purpose" of storytelling) and ethnography, resulting in self-reflexive, respondent-oriented writing. In both iterations, this Programme addressed an ethical concern shared not only by social science majors but also by professionals such as CMGGAs involved in public-facing and stakeholder-sensitive policy work. Similarly, another workshop titled DIY Apocalypse drew students across media studies, literature, and space design as we reflected on how apocalyptic affect undergirds popular reportage, urban planning, and conflict writing around the world.
These programmes not only provide students with the opportunity to engage with experts, sparking their curiosity and offering insights into various fields, but they've also been quite the learning curve—especially for younger tutors. Having closely monitored the outcomes of my own programmes, I appreciate the importance of putting learners at the centre of the classroom experience—and the value of collaborative, provisional thinking within that. Witnessing the students' curiosity and adaptability has been very affirming, and it is wonderful to see how readily they assume positions of authority in the classroom with empathy and accountability to their peer group. While these programmes deal with critical thinking and writing at large, pedagogically, they also enact critical listening—listening in an active, engaged, empathetic way and being able to isolate multiple perspectives and logics in the classroom.