Startup Ashoka 2023: A 24-Hour Entrepreneurial Odyssey
Startup Ashoka 2023, as part of the first edition of "The Entrepreneurship Weekender," turned out to be a thrilling rollercoaster that Ignited Passion and Innovation in Ashokan students
The Halloween season brought a unique treat this year with The Entrepreneurship Weekender '23. A big part of this weekender was Startup Ashoka 2023, an event that ignited the entrepreneurial spirit within every student. This 24-hour non-stop startup pitching competition, hosted by the InfoEdge Centre for Entrepreneurship, provided a platform for aspiring entrepreneurs to bring their innovative ideas to life, connect with industry experts, and network with like-minded individuals. Whether you were a newcomer to the startup scene or a seasoned enthusiast, Startup Ashoka offered an unforgettable experience. Let us take a closer look at this exhilarating event that unfolded on the 27th and 28th of October.
The excitement kicked off with an inaugural panel discussion moderated by Ekanto Ghosh (Asst. Director of the Centre), featuring two extraordinary entrepreneurs, Pallavi Barnwal, Founder of Get Intimacy, and Atul Khanna, Founder of Kathika Cultural Centre. Their insights laid the foundation for an event that promised to be extraordinary.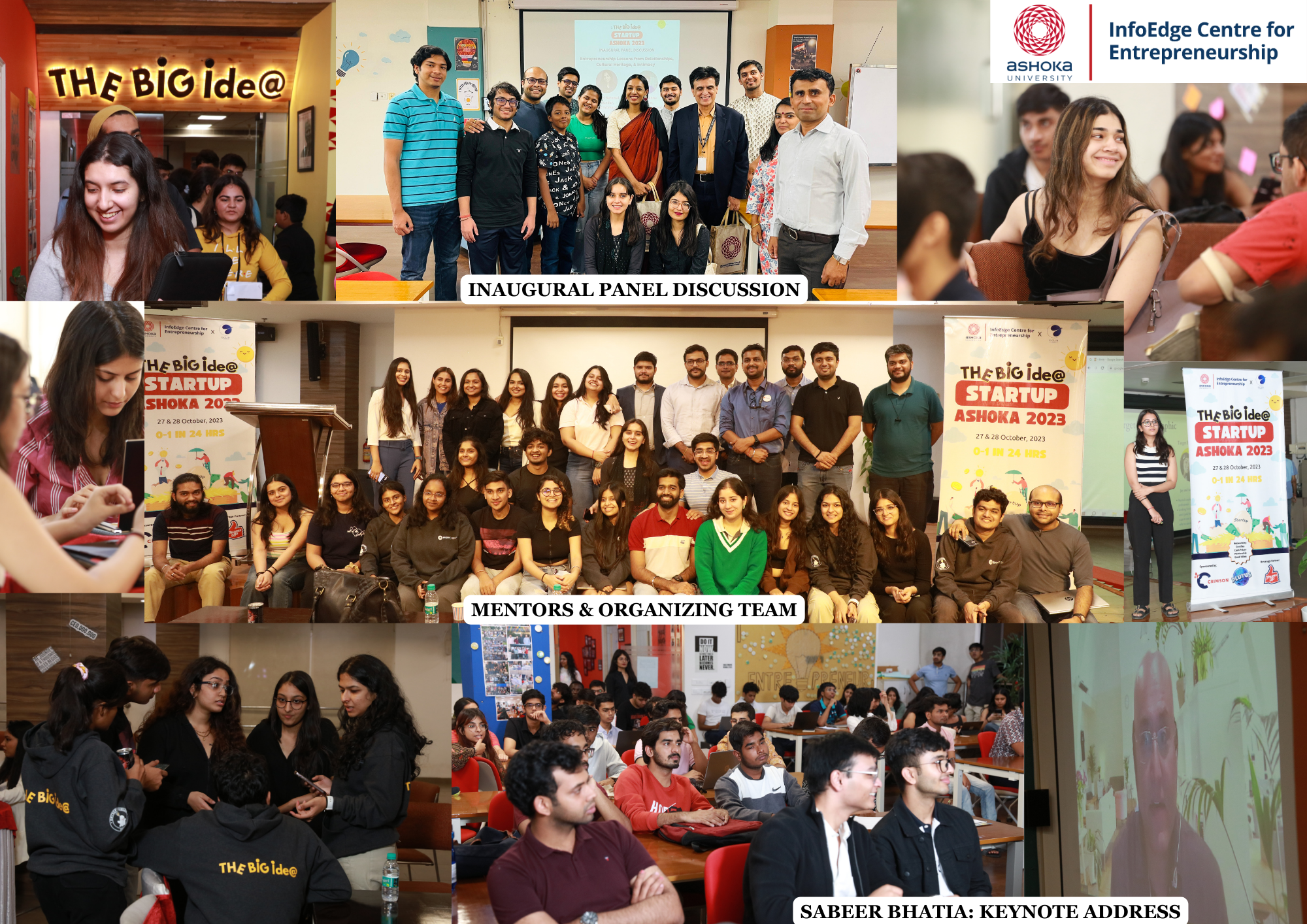 With 120+ participants in attendance, the ice-breaking session created an atmosphere of camaraderie and collaboration. It was here that networking began in earnest, with participants connecting, sharing, and forming teams. The elevator pitch session followed, setting the stage for participants to introduce themselves and their ideas, and the energy in the room was palpable.
The keynote address was a well-kept secret, and the anticipation was electrifying. The surprise guest speaker turned out to be none other than Sabeer Bhatia, co-founder of Hotmail and a legendary entrepreneur. His presence, albeit online, injected a heavy dose of inspiration and left the audience hanging on to his every word.
One of the standout features of Startup Ashoka was the personalised mentorship offered by a diverse group of seasoned professionals. Aniket Agarwal, Apurva Sharma, Gates Aggarwal, Ajay Etikala, Mohit Dua, Tanvi Goenka, Devangi Agarwal, Ravi Kaushik, Ravi Sharma, Coneenika Choudhuri, Abhijeet Pathak, and Mili Anand Agarwal, among others, provided invaluable guidance. They helped students shape their ideas into potential ventures and imparted skills that would help them not only in the competition but also in life. This mentorship extended late into the night, reinforcing the event's commitment to nurturing the spirit of entrepreneurship.
After the mentorship session, participants began working on their pitches, a critical step towards transforming their ideas into reality. These pitches were to be submitted by 7 AM the following day. The pressure was on, and the atmosphere was charged with creativity.
The top 12 teams had a unique opportunity to present their ideas in front of a panel of esteemed judges. This was the moment of truth, as Anu Meena, founder and CEO of Agrowave; Himanshu Malik, Founder and Managing Partner of Startup Sherpas; and Jatan Bawa, Founder of Perfora, evaluated the concepts. Their feedback and insights provided participants with the chance to fine-tune their ideas and enhance their entrepreneurial skills.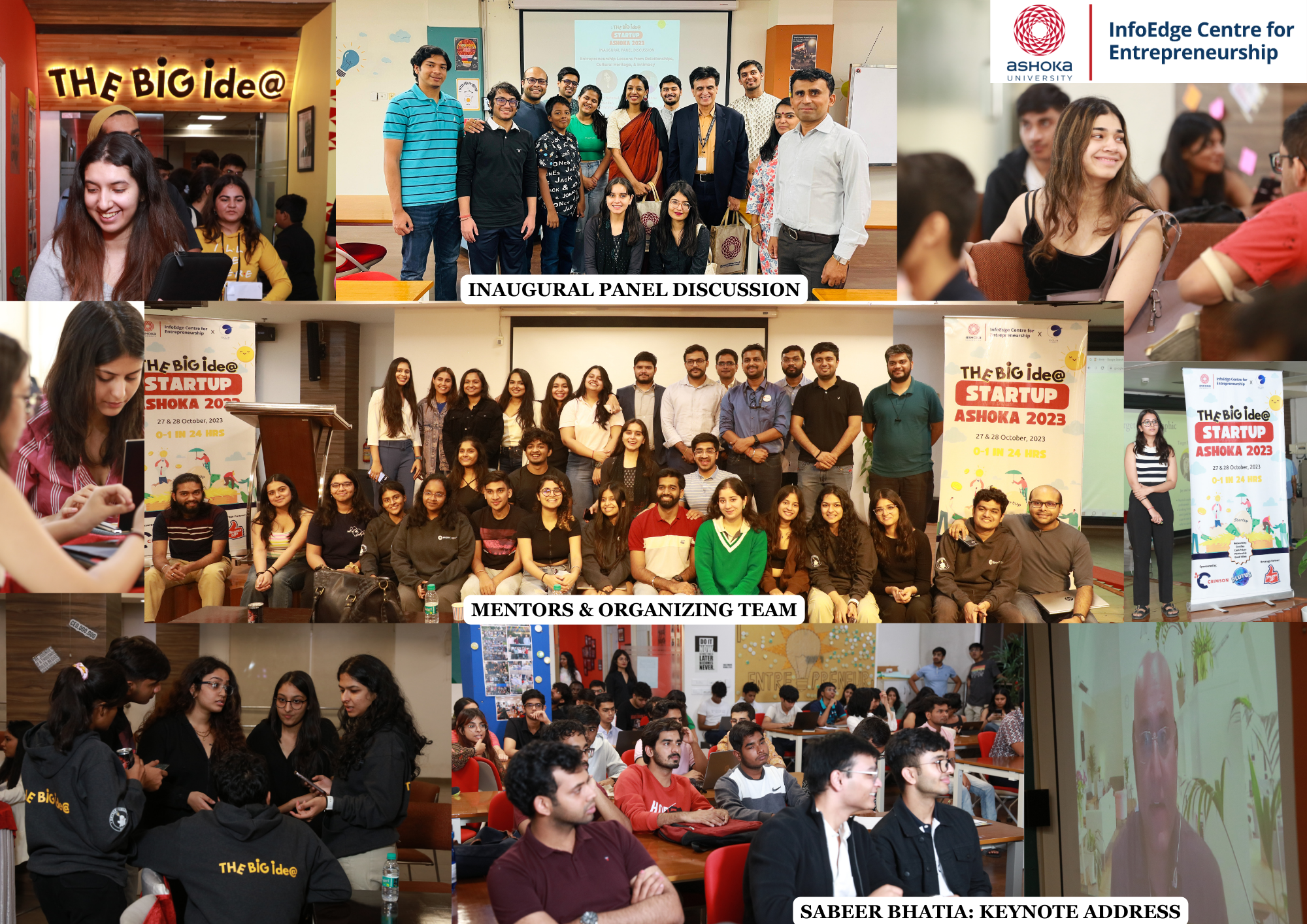 The event reached its zenith with the final pitching session, where the most promising startups were unveiled. The winners of Startup Ashoka 2023 (Winner: Team Pawstel; 1st Runners up: Team Deposit 2 Profit; 2nd Runners up: Team Nova Eras; Special mentions: Team Lovesi and Team Vikara) were announced amidst thunderous applause, marking the culmination of this thrilling entrepreneurial journey. The event was an undeniable success, witnessing innovative ideas spring to life, participants forging lifelong friendships, and the creation of unforgettable memories.
To add to the festive environment, Ashokans also enjoyed The Entrepreneurship Haat set up on the 27th and 28th October. The Haat was started as a space to display the efforts of growing startups and provide them with a platform to gain more traction. This time it saw over 15 startups across food, crochet, handicrafts, temporary tattoos and more, along with stalls from sponsor vendors like Cremica, Crimson Education, Krispy Kreme, Plutus and Thumbs Up! Set up in the Atrium, this was a perfect addition to Startup Ashoka in an attempt to encourage more ideas and innovation within the Ashokan community.
Startup Ashoka 2023 proved to be a launchpad for countless aspiring entrepreneurs, igniting their passion and providing a platform for innovation and collaboration. It was an event where simple ideas were transformed into potential startups, strangers became close friends, and unforgettable memories were created. The InfoEdge Centre for Entrepreneurship's dedication to nurturing the entrepreneurial spirit was evident throughout this remarkable event. As we look forward to the next edition of Startup Ashoka, we cannot help but be inspired by the potential and creativity of the next generation of entrepreneurs.
---
(Written by Vanshika Agarwal, an undergraduate student from the 2023 intake at Ashoka University)