The Green Wave: The Surge of Sustainability in India's Startup Ecosystem
Riddhima Sharma, a student of "Entrepreneurial Strategies for Climate Action" along with Shaifali Singh, Deputy Manager of CfE, who is also the TA for the course, represented Ashoka University at the Sustainability Summit 2023 organised by TiE Delhi NCR
Sustainability as a concept has seeped into almost all academic and intellectual domains reflecting the increasing imperative to confront climate change. With the rising emphasis on environmental consciousness, the start-up industry is observing a boom in the sustainable sector as an opportunity to make "green money" and capitalise on the market opportunity through innovative and enduring transformation. The InfoEdge Center for Entrepreneurship recently provided me with the opportunity to attend the Sustainability Summit organised by TiE- Delhi NCR on 13th October 2023 at the India Habitat Centre, Delhi.
As a co-founder of Fertile Beeghas, a startup operating in the field of regenerative agriculture, collaborating with farmers throughout North India, this summit offered an exceptional platform for me to explore how Indian startups and investors are actively responding to the pressing demand for sustainable growth.
I had the opportunity to forge valuable connections, engage with numerous investors and like-minded entrepreneurs, and gain profound insights into strategies for scaling up and improving the operations of my startup.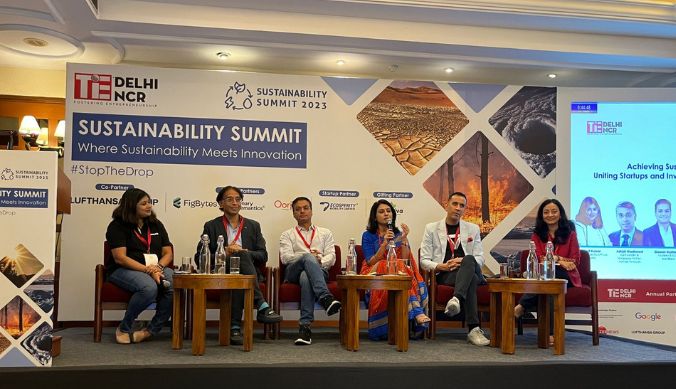 Amidst a sea of ideas and innovation, the central theme revolved around the convergence of investors and startups in the sustainability sector. The driving force behind this union was the compelling fusion of technology, innovation, and the pursuit of profitability, all while remaining environmentally conscious, which holds the potential to spark positive change. Ruchira Shukla, the Regional Lead of South Asia for Direct Equity and VC Funds at IFC, underscored the burgeoning significance of sustainability for investors. She pointed out that, as stakeholders increasingly prioritise sustainability, the economic value of adopting sustainable practices skyrockets. This, in turn, paves the way for the emergence of new industries with distinctive innovations and lucrative business models. Regenerative development is rapidly becoming a flourishing industry with immense growth prospects.
Smita Mishra, the founder of Fandoro and the moderator of the panel titled "Achieving Sustainable Success," posed a thought-provoking question to the panellists: "What is the price of sustainability?" The ensuing discussion was replete with valuable insights. As an entrepreneurship student, I have long learnt how every market gap is an opportunity for success and innovation. However, every seemingly pullback or barrier can also be an opportunity that was very intriguing to me.
Commonly, the pursuit of sustainability is viewed as a hindrance that can negatively impact profits and hinder rapid expansion. There exists a prevailing misconception that the only way for businesses to scale is through greenwashing. However, the panel debunked this notion and emphasised that, in today's global context, investing in a sustainable strategy can indeed be profitable. This is because people are increasingly conscientious about their choices, and the investment in sustainability, when compared to the long-term costs of not being environmentally conscious, is minuscule. Sustainable development is not only an imperative for our planet but is also a rapidly burgeoning sector with profit potential. These two realms are inextricably linked, where sustainable practices not only contribute to environmental well-being but also accelerate economic growth, fostering a synergy between financial prosperity and eco-friendliness.
Anjalli Ravi Kumar, the Chief Sustainability Officer of Zomato, shed light on how the company effectively harnesses its vast user base to address the crucial social dimensions of sustainability, exemplified through initiatives like Zomato's "Feeding India" campaign. This strategic alignment with societal well-being stands as a pivotal factor in the discourse on sustainability. Notably, with India's recent descent from the 107th to the 111th position on the Global Hunger Index, the imperative of social sustainability becomes increasingly evident for a more promising future. As Ms. Kumar talked about the entrepreneurial game of keeping the consumer, investors, and employees at the centre while driving sustainable initiatives to do justice to all stakeholders; I realised the value of ensuring that all people involved in my startup, the farmers, their families, middlemen, are being met with their expectations of a better outcome.
The summit provided me with exposure to conscious entrepreneurs developing their ideas globally while aligning with investors who share a common purpose in supporting sustainable businesses. Diverse seminars encompassing topics such as built environments, water sustainability, food innovation, and large-scale manufacturing have enriched my understanding. They have provided me with insights on how to infuse innovation, customer-centricity, technological sophistication, and ambitious vision into my startup. As a student of the course, Entrepreneurial Strategies for Climate Action taught by Prof. D.V.R Seshadri at Ashoka University, I have acquired substantial knowledge in formulating strategies for sustainable businesses such as integrating Blue Ocean Strategy and transcending conventional entrepreneurial standards to build lasting businesses. This summit gave me first-hand experience of how the climate-conscious, Indian entrepreneur is doing that. I take pride in being part of this momentous journey, alongside the dedicated team at the InfoEdge Centre for Entrepreneurship and the Indian startup industry, as we collectively drive the charge towards a greener and prosperous future.
---
(Written by Riddhima Sharma, a student of the Ashoka Scholars Programme from the batch of 2024 at Ashoka University)