The Social Sector Talent Management and Compensation Database
The aim of the data portal is to bring the social sector an inch closer to the larger goal of data transparency
One of the many paradoxes of the social sector in India is the coexistence of passionate calls for data transparency and a careful, obsessive guarding of their own data by organisations. As the formal and informal discourses increasingly focus on the 'sharing of data for the common good', the age-old habits of overwhelming secrecy around their own data prevent organisations from building and strengthening the evidence ecosystem in the country.
This paradox is even more stark when it comes to compensation data. On the one hand, the arguments for building norms for equitable and competitive compensation are loud and commonplace. On the other hand, only a few organisations are comfortable with normalising the practice of sharing compensation benchmarks, even among their employees. Yet, some organisations intend to and can (due to adequate funding support, etc.) set their employees' salaries at par with the convention of the sector but have vocalised the absence of such data, benchmarks or norms.
Owing to its commitment to informing sector strategy through credible and accessible data, CSIP carried out an ecosystem study to facilitate the development of talent management and compensation norms in the social sector. The study was conducted in collaboration with the Indian School of Development Management and created a first-of-its-kind knowledge on talent management and compensation practices in the Indian social sector. Recognising that equitable compensation structures require benchmarking against similar types of organisations and roles, the study included a sector-level benchmarking of compensation in Indian social sector organisations. While the reports emerging from the study were launched in September 2022, one of the most important outcomes of the study is an online, publically accessible at no-cost, searchable database. The portal, developed by Dhwani IRS, was launched on 19 September 2023.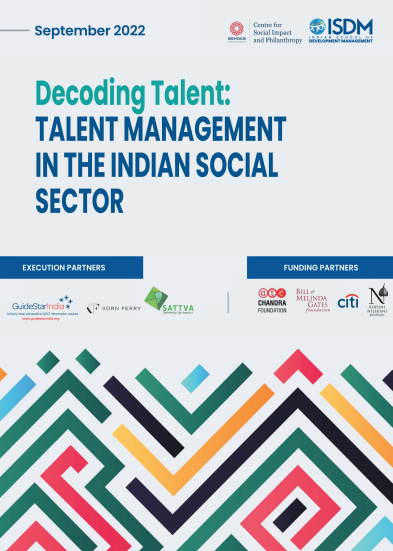 We take great pride in starting this first-of-its-kind, social sector-focused portal in India. Hosting aggregated compensation data for 10,251 personnel from 75 Social Purpose Organisations (including NGOs and social enterprises, funding organisations, and ecosystem support organisations), the portal allows social sector organisations to benchmark employees' salaries against similar roles in similar organisations.
We are grateful to the participant organisations for sharing their compensation data with us.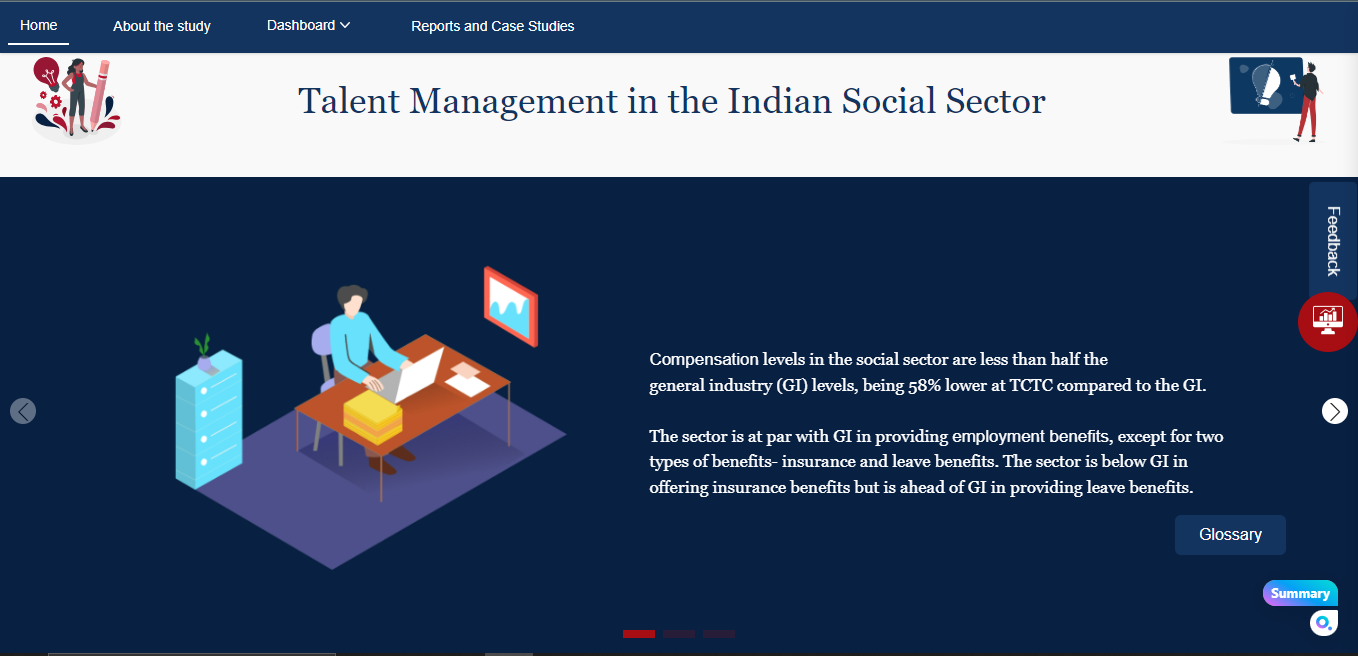 How is the portal useful for various stakeholders?
The portal hosts static and dynamic dashboards that illustrate compensation data across roles (in terms of hierarchical level, function and scope) and types of organisations (in terms of region, funding size, thematic area and headcount size). That will empower multiple stakeholders to formulate and encourage competitive compensation practices. Additionally, it is a repository of knowledge on talent management practices in the Indian social sector, as one can read seven sector-level related reports, three literature review papers and 12 case-lets ( six more to be added soon). Together, it is a one-stop destination for critical information that informs civil society organisations, philanthropists, foundations and the whole development ecosystem to create an enabling environment to attract, nurture and grow talent in the social sector. The portal has value propositions for all stakeholders of the Indian Social Sector.
NGOs and Social Enterprises: Insights from this portal will enable organisations to understand the key drivers of talent and attract the best talent at market-appropriate rates. It will also help to re-orient talent management practices and serve as the first step in the overall efforts to harmonise talent compensation across organisations in the sector.
Funding Organisations: By pointing towards market-appropriate talent management and compensation practices, the portal will enable funding organisations to support their partners in attracting the best talent. It will also help identify priority/ gap areas for investment pertaining to talent.
Ecosystem Support Organisations: The study builds an understanding of various drivers of talent in the sector for informed action and enables them to customise their service offerings on talent attraction, identification, recruitment, development and integration.
Social Sector Aspirants: This portal shall empower social sector aspirants to have a more robust understanding of the sector in terms of sector compensation to make desirable career choices.
Academia and Research Community: The study is a critical step towards developing a shared vocabulary on talent issues in the ecosystem. It also aids in expanding the knowledge of current practices, challenges and strategies for talent management. This freely accessible dataset will help researchers for future research in understanding talent and compensation in the sector.
We hope that our effort into building this data and offering it for no cost in an accessible form brings the social sector an inch closer to the larger goal of data transparency. The data represents only a minuscule percentage of the total sector workers at its current stage. However, we hope it is a small but significant step towards realising our goal of creating and offering data for setting norms.
---
(Neha Nimble is the Senior Manager–Research at the Centre for Social Impact and Philanthropy, Ashoka University. She is an intersectional feminist and a social science researcher)