BTS to YIF: Navigating a Path of Passion and Purpose
Eshani Bora (YIF'24) recounts her experience at the Korean Art Foundation and all that led up to it
Eshani Bora is a Young India Fellow from the batch of 2024. Recently, she attended a fully sponsored, week-long 'International Art Workshop' by the Korean Art Foundation.
In our conversation about her solo trip to Korea, she reminisced about her adventurous journey to the Young India Fellowship after a postgraduate degree in Korean Studies from Chulalongkorn University, Thailand.
"For me, Thailand was a stepping stone, a way to test the waters before diving headfirst into Korean culture. My fascination with K-culture ignited in 2013 when I watched Boys Over Flowers, featuring Lee Min-ho, the nation's heartthrob. But it was in 2016, after listening to BTS '피, 땀, 눈물' (Blood, Sweat, and Tears), that I became an ardent fan. Along with entertaining me, BTS music intrigued me with its references to deep concepts like persona, identity, Jung's map of the soul, Greek mythology, and Hermann Hesse's 'Demian.' Their overarching theme of 'Love Yourself' resonated deeply within me, and it became the starting point for my master's thesis on BTS and K-pop in Northeast India.
The most thrilling part of my research journey was conducting in-depth interviews with K-Pop fans across Northeast India, unravelling their love for Korean music and culture. As my thesis neared completion, my advisor suggested I join an art workshop under the 'Korea Foundation'. This workshop was a month-long endeavour, requiring participants to submit an essay on their chosen topic and connect it with their workshop experience. In my case, I wrote about BTS and their multifaceted references in their music. This essay earned me a ticket to a week-long art workshop in Korea and coincided with my acceptance into the YIF programme," shares Eshani.
After months of meticulous preparation and coordination with the YIF team, Eshani participated in the Korean Art Workshop earlier this month.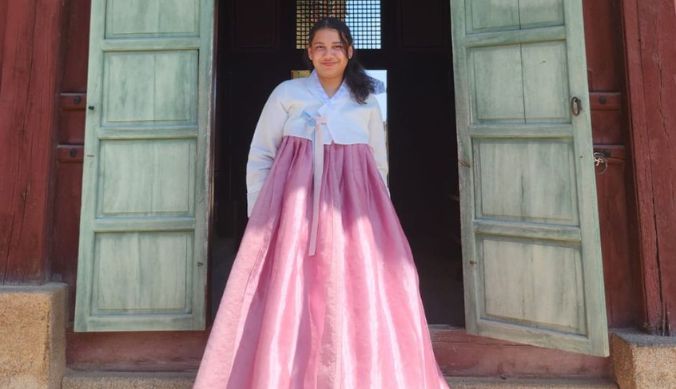 "The autumn sky in Korea was a breathtaking spectacle. Among the 18 participants from around the world, I had the privilege of attending the opening of the 'Seoul Biennale', exploring the MMCA Gwacheon '젊은 모색 2023: 미술관을 위한 주석' exhibition, visiting Studio Heech at Heechan Park's Engineering Club cafe, attending lectures by Professor Yeom Shim Chung and Hyun Yi, and meeting esteemed professors from Seoul National University's College of Fine Arts and experiencing the finest galleries and museums at KIAF and Frieze. My visit to the Hoam Museum was breathtaking as I had the privilege of viewing Artist Kim Whanki's 'A Dot a Sky' exhibition. The artwork titled 'Where, in What Form, Shall We Meet Again' had been a dream to see in person, and it did not disappoint. The entire week was a journey of exploration, understanding, learning, and unlearning, shared with newfound friends from around the globe. What stood out the most was my ability to converse in Korean, engaging in conversations that stretched from minutes to hours, often in the quaint little cafés around Insadong," shares Eshani when asked about her most cherished moments at the workshop.
When asked about her ongoing YIF experience, she said, "Returning home to Ashoka, I have seen my perspectives shifting. So far, my journey at the fellowship has been nothing short of a thrilling roller coaster ride. Surrounded by a diverse and creatively inclined peer group from all walks of life and academic backgrounds, I am humbled and excited to build lasting bonds, learn, collaborate, and grow into a more self-aware, joyful, and enlightened individual."