My Tryst with Entrepreneurship at Ashoka: What is Your Idea of a Perfect Workplace?
Avnie shares her experience with Entrepreneurship at Ashoka as a student and now at a workplace while being a startup founder too
As a student at Ashoka University, I was fascinated to find out that the university had something called the Centre for Entrepreneurship or CfE as it was called. Coming from a public university, with the fire of being an entrepreneur inside of me, a centre such as this one seemed too good to be true. I was part of the flagship program of the university – The Young India Fellowship, which gave me little time to do anything outside of the program. However, whenever I would get a chance, I would engage with CfE such as by participating in Startup Ashoka (I must mention that the learnings I got from just this 48-hour event guide me while I conduct workshops and programs to this day).
Fast forward, I work at CfE while I am penning this down. One fine day while I was working on Elucidation Today (a career coaching and skill development firm I founded), I received a message from a team member at CfE asking me if I would like to apply for a position here. This was a pleasant surprise and I was elated. However, I bought time. Thoughts on mind: CfE can offer me the stimulating environment I have been craving, I could be among entrepreneurs all the time, and work would be so much fun as anything I do would be about entrepreneurship which I love. But what about Elucidation Today? Would I be able to do justice to the time I need to invest in my firm? I discussed my role and time commitment at length with the team member from CfE who had approached me. CfE offered time flexibility for at least some days of the week. I would be in NCR which gives me the opportunity to network with great entrepreneurs in the capital. Considering these and other factors, I made up my mind and decided to pursue this opportunity. It also meant that I would have to leave my city and move to NCR. I quickly started looking for some employees who were willing to work from home for Elucidation Today and after weeks of search, I was able to find some good folks (great folks now that I know them more). I appeared for the interview at CfE. While the director seemed to like my profile, he was worried (as expected) about my time commitment. I remember him asking, "Avnie, you have a full-time firm to run. It's like having a baby waiting for you back home. Will you really be able to manage your time?" I was impressed with his honest question and as the answer was crystalline in my mind, I was able to clear his concern.
CfE has offered me the flexibility at work I needed to work on Elucidation Today. In the initial few days of coming here, I got a fracture (and an eventual 8 weeks plaster cast) which has hampered my ability to get closer to my goal of networking but I am sure my upcoming months will offer me ample opportunities.
I have seen courses and engagement at CfE scale up exponentially. We have expanded from 2 courses a term to 20 a term. For the courses conducted at CfE, I love preparing the content to be taught, choosing the case studies to be circulated, guiding budding entrepreneurs, inviting and having discussions with some insanely successful entrepreneurs, assessing the assignments submitted, and of course, contributing to my alma mater in such a satisfying manner.
And things are not always rosy. I have had students fight with me because they scored less, faced last-minute 'mic has stopped working' issues, handled cases with just 15 students present in class (because it was Saturday evening) and a stellar faculty had to come to teach. But I call CfE a perfect workplace for me because all these experiences are shaping me into a better individual and team player (ah, I work in a team where we are there helping each other out all the time). My CfE experience is bringing out the entrepreneur in me in ways I could never have imagined. Most importantly, our director makes me feel that I am valued at my workplace. Do I need anything else?
Ending this with the treat a faculty member gave me. That's a Subway wrap, chocolate cake (which by the way is by an Ashokapreneur and my fellow Teaching Fellow, Shubha Mahajan), and Pepsi can that you see in the picture.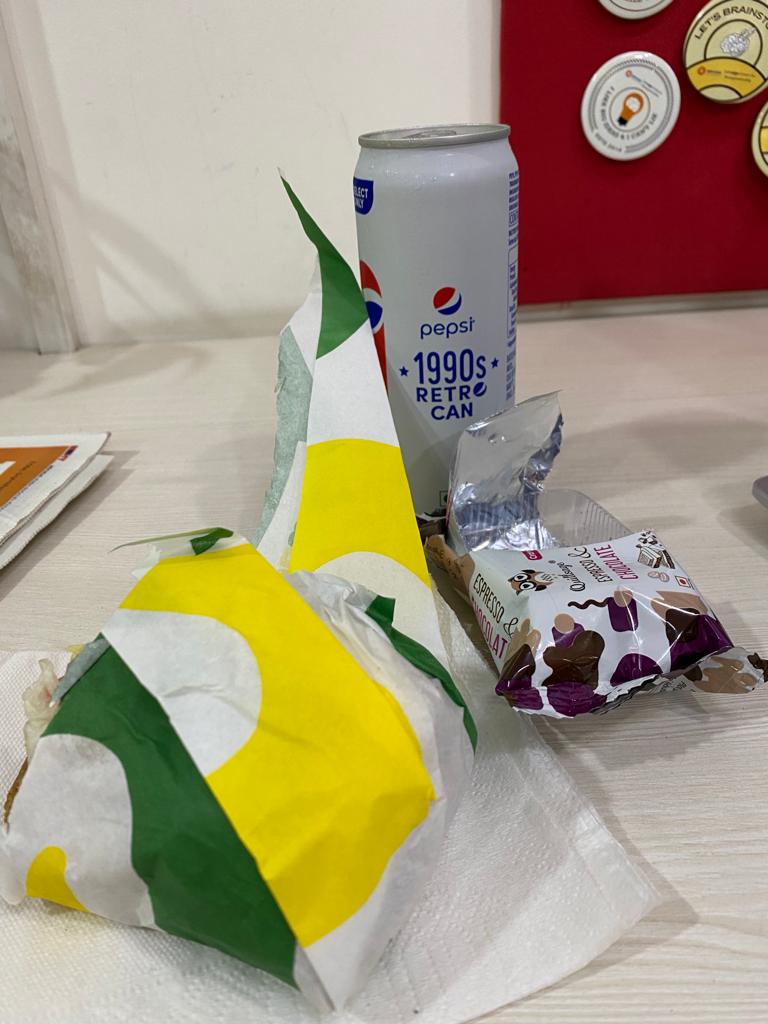 ---
Avnie Garg is a Young India Fellow from the batch of 2020.