What's New at the Young India Fellowship: A Sneak Peek into the Upcoming Class of 2024
The Young India Fellowship (YIF) is Ashoka University's flagship graduate programme in Liberal Studies that trains 100 exceptional individuals from India and abroad to become effective leaders and change-makers of the 21st century. At the YIF, Fellows study around 20 courses from diverse domains to gain intellectual breadth on their journey to become socially conscious leaders and visionaries for the 21st century. Course domains range from literature, art and leadership, to international relations, artificial intelligence and behavioural science. The list of notable faculty teaching Young India Fellows at Ashoka University has now expanded to include more course domains.

NEW FACULTY AND COURSE DOMAINS
Several new course domains have been added to the YIF curriculum, in continued efforts to remain topical and offer Fellows a wider range of perspectives. These include:
For a longer list of courses at the YIF, click here.
CROSS-LISTED COURSEWORK: CENTRES FOR ENTREPRENEURSHIP AND WELL-BEING
To curate a holistic experience and a deep dive into the world of entrepreneurship and well-being, Fellows can now take cross-listed coursework at the Centres for Entrepreneurship and Well-Being for credits outside of the YIF curriculum. Courses taken up by Fellows 2023 through the pilot initiative include:
THE CROSSOVER SERIES: IMMERSIONS WITH STALWARTS
An initiative which encompasses dignitaries and stalwarts spending a day at the Ashoka campus for immersive interactions with the Fellows. Fellows get a chance to learn about the craft, personal journeys, and motivations that have allowed these individuals to become leaders in their respective fields. This is a valuable opportunity for Fellows to be inspired and take away key learnings for implementing it in their own lives and professions. So far, guests have included, but are not limited to, veteran classical singer Shubha Mudgal, philanthropist Amit Chandra, advertising professional and author Swapan Seth, Ambassador Shyam Saran and Teach for India founder Shaheen Mistri.
ALUMNI-IN-RESIDENCE: ENGAGEMENTS WITH HIGH-IMPACT ALUMNI
Through this initiative, high-impact YIF alumni visit campus for a few days to enrich Fellows through workshops, lectures, mentorship and informal interactions. Alumni also engage with various stakeholders on campus and often attend faculty lectures. This provides valuable opportunities for Fellows and others to learn from the experiences of alumni and gain insights into different career paths. Most recently, Dr. Srishti Sardana (YIF Founding Batch, Global Mental Health Research Fellow, Johns Hopkins University) conducted an experiential seminar series on global mental health, and Ashweetha (YIF '13, TED Speaker, Social Entrepreneur and Former Consultant, The World Bank) conducted workshops with the Ashoka community. Next up is Samarth Mahajan (YIF '17, National Award Winning Filmmaker) who will conduct a series of screenings and workshops related to film and fundraising.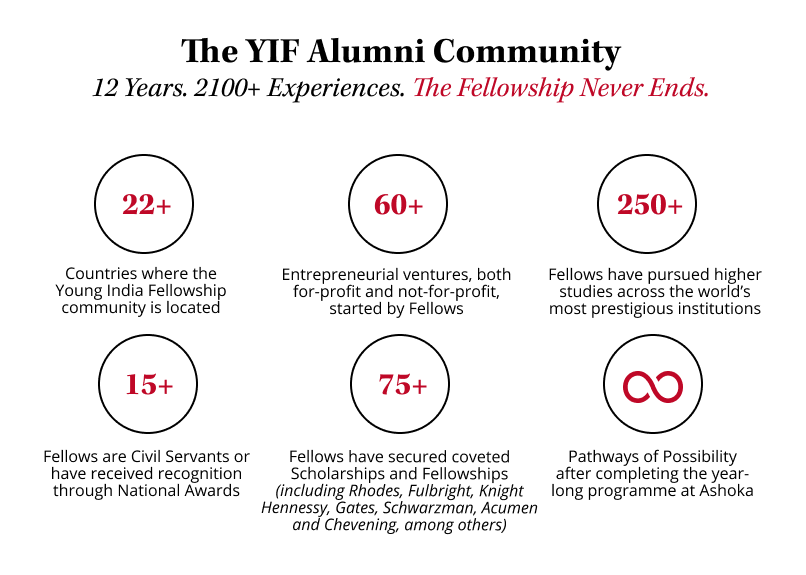 CLASS OF 2024: INTAKE, ELIGIBILITY AND SCHOLARSHIPS
The Class of 2024 will comprise around 100 Fellows. Candidates of all age groups and nationalities, across diverse academic, professional, geographical and socioeconomic backgrounds, who have a recognised undergraduate degree in any discipline by July 2023 or earlier (can be a final-year student at the time of application) are eligible to apply for the YIF.
Two kinds of scholarships will be awarded to offer holders in the Class of 2024: Ashoka University's need-based Financial Aid (partial and full funding on all components of the fee), and the recently introduced Chancellor's Merit Scholarship (fully funded programme fee). 65% of the current batch is on some form of need-based financial aid, to ensure that an Ashoka education is accessible to students from all walks of life.
FINAL APPLICATION DEADLINE: 2nd April 2023
---